New Munster head coach Graham Rowntree says he doesn't expect to make any further additions to his squad ahead of the new season.
With a number of players promoted from the academy to the senior team, Munster have also drafted in centres Malakai Fekitoa and Antoine Frisch, along with English hooker Chris Moore, who joined from Exeter University.
And although they appear light on experience in areas, particularly tighthead prop, Rowntree says their business is "all done" for the season.
"I've been impressed by how they've adapted to a different environment, different climate, different way of doing things, different people," the Englishman said of his three new arrivals.
"Chris [Moore] has come from a university background and fitted into a pro rugby team very well. Malakai's reputation is fantastic and he's fitted in very well with the young guys. Antoine quietly goes about his business but he's classy, a classy player.
"In fact, all three of them are classy players. I've been impressed by how they've fitted in on and off the field, importantly."
Rowntree has also been tasked with bedding in a new coaching team.
After the departure of Johann van Graan, Stephen Larkham and JP Ferreira in the off-season, he stepped up from his forwards brief to become head coach, with Munster's former hooker Andi Kyriacou moving from the academy coaching ticket to the senior squad, and Mike Prendergast (below) and Denis Leamy returning to their home province.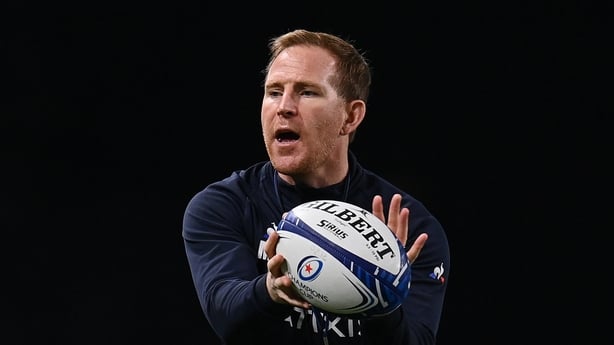 Having served in assistant roles for the last 15 years, this will be Rowntree's first head coaching position, and he says while he will also be doing some specialist coaching on Munster's scrum, he is happy to delegate the team's attack and defence strategy to Prendergast and Leamy.
"He's [Mike Prendergast] the brains, he's got free-reign to run the attack, Denis the same, Kyri with the forwards.
"I'm still coaching, I don't think I'll ever stop coaching. I'm always on the field.
"They're very much cracking on with it, and have grabbed the bull by the horns. Crikey, they've got some energy on the field, and in meetings as well. The lads can really appreciate, the lads are feeding off that and we've had some good discussions in our meetings, and some good training," he added.
And while he admits he has made several changes to the way they approach the game, he says they are adjustments rather than sweeping changes.
"It's gone pretty good. Not perfect, but so far so good. We made quite a few changes in what we're doing on the field and within the environment, but the lads have adapted well. I can't fault their energy. The lads have been fantastic, but they're just getting used to how we train.
"Just in terms of how we train, what the working day looks like, just putting my stamp on it, and you'll hopefully see on Friday night the fruits of our labour, without trying to give anything away. I'm not trying to re-invent the wheel by any means, but obviously there are a few little changes and adjustments to how we train and how we play that you will hopefully see come through."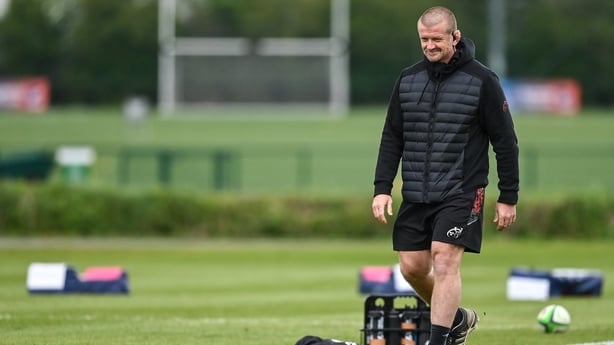 The province begin their pre-season campaign on Friday night when they take on Gloucester at Musgrave Park, but will be without their international contingent from Ireland's tour of New Zealand, who only returned to training in the last fortnight, and will become available for selection in the opening rounds of the United Rugby Championship.
Earlier today, Munster also confirmed three new additions to their academy coaching group, with the province's former flanker Tommy O'Donnell filling the role left vacant by Kyriacou when he moved to the senior squad.
O'Donnell retired from playing in 2021, before starting his coaching career last season with UL Bohemian in the Energia All-Ireland League.
Former Munster and Connacht player back row Brendan O'Connor has been appointed as an elite player development officer, while Matt Brown who coached Munster Women to an Interprovincial title last season, is the province's new pathway development coach.