John McKee says Ireland must clinch back-to-back victories against Japan in Tokyo on Saturday if they wish to rank their historic tour as 'really successful'.
Ireland produced a stunning comeback in their series opener in Shizuoka, rallying from 15-0 down to claim a nine-try 57-22 success.
The sides meet again in Tokyo this weekend and former Fiji head coach McKee, who joined the Ireland management team as technical advisor and defence coach for the Japan tour, has pinpointed a number of areas for improvement.
McKee told RTÉ Sport: "Another week together, we'll be better, certainly with our combinations.
"There were a couple of things that broke down combination-wise [which] we'll improve on, but I don't doubt they'll get better as well and look for some opportunities to exploit us.
"We're doing a quite a bit of work on our defence this week, shoring up those connections, but also we are wary that if we do give them opportunities on the edges, they're pretty quick and can exploit that.
"We're still working hard. The team are very focused on the historic nature of this journey, the first overseas tour for the Ireland Women's XV, and to really make a mark.
"We made a mark in the first game but for it to be a really successful tour we need to make a mark in the second Test as well."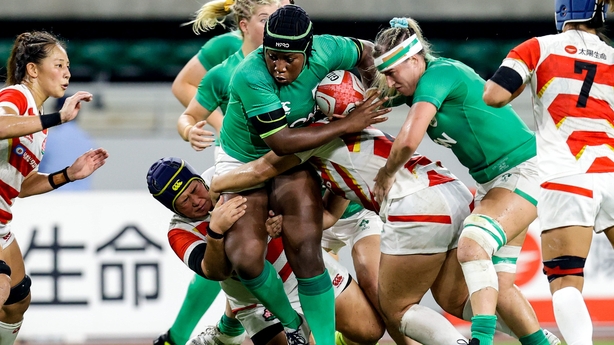 Nicole Cronin has been ruled out of the second Test due to the injury sustained during the second half of last weekend's match.
Vicky Irwin, who made her Ireland bow against Scotland in this year's Six Nations, has been called up to the squad.
McKee was encouraged by the mental strength shown by a new-look Ireland side – containing four debutants in the starting XV and a further two on the bench – as they responded to the setback of going 15-0 down early in the first Test.
Hooker Neve Jones formed part of an impressive pack performance, scoring a hat-trick of tries off the back of dominant mauls.
"I'm lucky enough to be working with quite an experienced group of forwards," said McKee.
"We changed up a few things that they'd done through the Six Nations and it has strengthened us up. Certainly against a team like Japan, that physical nature of our forward play paid dividends.
"The really exciting thing for me around working with this group is that it's such a young backline. To see such a group of young players come in and play their first Test for Ireland at this level, some of whom are aged 18 or 19 years old, and to not be daunted by the occasion and be able to play well and bounce back from the early pressure - it's a pretty good sign for the squad going forward."