Ireland head coach Greg McWilliams says his youthful back line showed they can be "the future of Irish rugby", after his side produced an emphatic nine-try win against Japan in Shizuoka.
Ireland survived a horrendous start, conceding 15 unanswered points inside the first 11 minutes, but it proved to be nothing more than an early blip as they powered to a 57-22 win against the Shakura XV.
The head coach had shown his faith in youth for the first Test, handing 18-year-old Dannah O'Brien a debut at out-half, while also giving debuts to Aoife Dalton, Méabh Deely and Natasja Behan.
Dalton and Deely both crossed for tries in the rout, while O'Brien steered the ship with an assured performance, kicking six conversions from nine for a personal tally of 12 points.
"She's 18 years of age, a lot to learn, but we've got a generational player there - we've got a few of them," said McWilliams of his new out-half.
"Our job now is to develop Dannah, and there are still areas of her game to work on.
"I'm thinking about her family, her rugby club (Tullow RFC), they can be very proud of what they've done to develop her. She's a special talent, and one of a few. I can't wait to see where she gets to as an individual."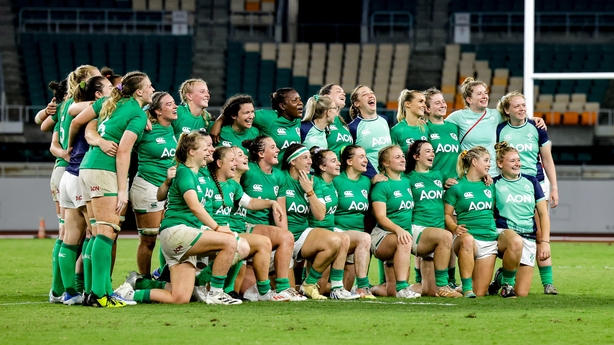 There were further debuts for Ulster's Taryn Schultzer and Leinster's Leah Tarpey, and McWilliams says his six new caps showed the future is bright for Irish rugby.
"You look at Taryn who came on at the end, and Leah Tarpey, and Aoife Dalton, Méabh Deely, Tash Behan, they're the future of Irish rugby, and they've come through the club game, and are showing they belong at this stage.
"We gave young people an opportunity and maybe poeple questioned it, but when you're seeing it day to day, after that performance you can see there is a special group forming.
"It was also important for us to show what we're made of as a group, particularly now going to the Rugby World Cup.
"When we went down 15-0 at the start, many teams could drop their head, but to show the composure they did shows they're confident in each other, confident in what we're trying to do, and I'm just very proud as a head coach to represent Ireland," he added.
An Ireland win, let alone by 35 points, seemed highly unlikely after the first quarter of an hour, when Ireland found themselves 15-0 behind, having conceded two early tries and a penalty.
The comeback actually surpassed their previous record turnaround of 14, which coincidentally came against Japan at the 2017 World Cup.
And captain Nichola Fryday (below) said their response to the slow start shows how far they have grown in recent months.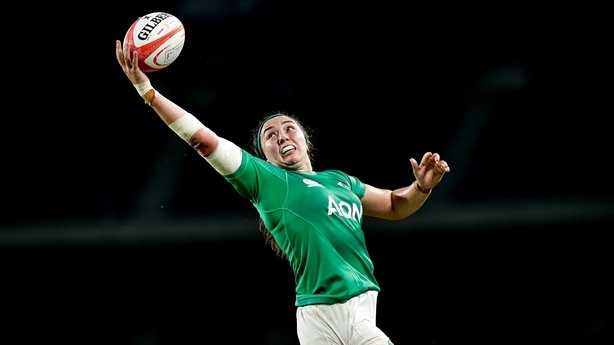 "We started slow. We didn't have much possession and said coming into the match that if you give Japan ball they will play, and they will execute, Their skillset is extremely high, and we just let them get in on top of us.
"From then, we just had to take a step back and say we're playing in the wrong parts of the field, not getting any possession, giving away silly turnovers, and we regrouped, which probably something we haven't shown we can do in the past, and then we started to execute it a bit more as time went on.
"It wasn't the best start, or one we would have wanted, but it showed the character that we have within the group that we can make the switch and start executing," Fryday said.
While the captain didn't get onto the scoresheet, she did play a vital role in all three of Neve Jones' scores, connecting with the hooker at the lineout on each occasion.
McWilliams was keen to talk up his captain after the game.
"I'm exceptionally proud, the girls have put in a phenomenal amount of work since the Six Nations to try and make sure we can be the best we can be for the tour.
"To have Nichola beside me, who has been phenomenal as a leader, as a captain, the whole country should be lucky to have her looking after a group of players.
"To get the win is what you always want to do for your country. With that in mind, I couldn't be more proud of Nichola. She's phenomenal, a truly special captain."