Having made her Ireland debut as a 19-year-old in 2015, Aoife Doyle knows exactly what the likes of Dannah O'Brien and Aoife Dalton are going through this week.
At the time, Doyle was coming into a side that had reached a World Cup semi-final, and would go on to win a second Six Nations crown that season. And while Ireland's status among the world's elite has fallen dramatically since then, Test rugby is still a daunting proposition for a teenager.
At 18 and 19-years old respectively, O'Brien and Dalton have been handed their first Irish caps in this Saturday's Test with Japan in Shizuoka (11am Irish time), while fellow backline debutants Natasja Behan and Méabh Deely aren't much older.
Doyle may only have 10 caps to her name, in large part down to multiple years playing Sevens exclusively, but in terms of rugby experience the 27-year-old has plenty to offer the new arrivals.
"Although I've been around for years, I obviously went in between the two programmes. I'm a veteran, but in terms of caps, I'm definitely not," the Railway Union wing said this afternoon, ahead of Saturday's tour opener.
"I know how people have helped me when I first came into the programme and how they've brought me on around them. It's something that I wanted to do with the new girls that have come in. I'm very excited for them to see how they go on Saturday after all the hard work they've put in."
With so many players either injured or unavailable due to Sevens commitments, the Irish squad currently in Japan is one containing a wide rage of both ages and international experience.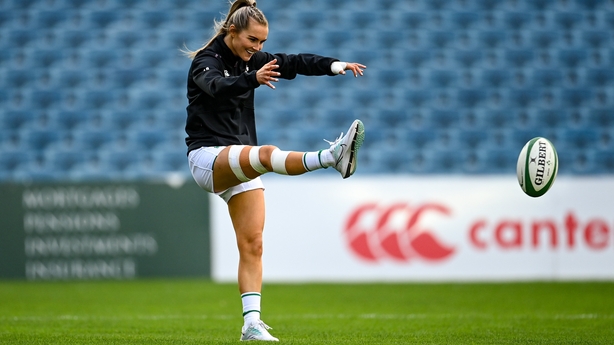 As such, Doyle (above) says a cohort of the experienced players in the group have taken it on themselves to make the newcomers feel at home.
"When I first came in I was very young. I didn't drive, so for me it was those players who were texting me, asking me did I need lifts to training, did I need lifts home from training.
"Obviously for me, Niamh Briggs was a role model when I began playing and she was the full-back when I was the winger at the time. We had a really good relationship on the pitch and off the pitch. As she transformed to a coaching role with me now, that's something I'd like to do with the younger girls coming in as well.
"It feels like full circle for me, because although I was only 18, it still kind of feels like yesterday sometimes.
"I know exactly how they're feeling. I know exactly how they would have been feeling the first week coming into this environment.
"For some of the senior girls, our main aim was to make it the most welcoming and relaxed environment for them, because they need to feel like they can ask us questions whenever they need to and that they're supported going out on Saturday. That's what I hope they'll feel.
"They come in and they've taken their opportunity and they've put in the hard work themselves. I don't feel too much of a responsibility for how well-prepared they're making themselves."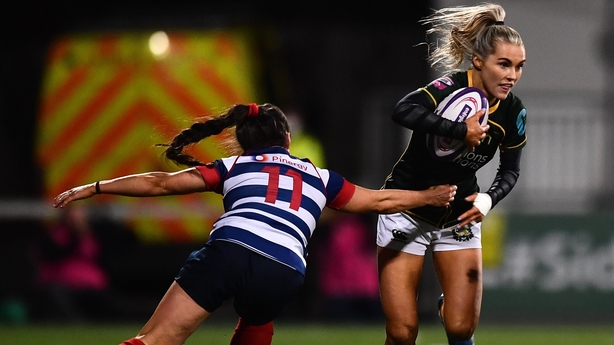 Even with a 7pm local time kickoff, Greg McWilliams' side will have to cope with temperatures of up to 30C, as well as high humidity for Saturday's game, with the squad having trained in heat-chambers prior to their departure from Dublin that week.
And Doyle says they're prepared for the sweltering conditions at Ecopa Stadium.
"I think come Saturday we won't have to think about that too much, because of all the training we've put in.
"This week our managers have been very good at easing us into it. Our first day of training we didn't go hell for leather.
"It is definitely some of the hardest conditions I've ever played in. Even yesterday, the difference between the first training session and that, we could feel a lot more energy. We could feel that we had gotten used to it.
"I think come Saturday, the fact that it's a late kick-off as well, we'll just be able to go hell for leather I feel when the whistle blows."
Follow Japan v Ireland (Saturday, 11am) via our live blog on rte.ie/sport and on the RTÉ News App.