Johnny Sexton looks set to play in Ireland's second Test against New Zealand this Saturday, having returned to full training with the squad in Albany.
The Ireland captain completed his third head injury assessment, having been removed from the field of play 30 minutes into Ireland's 42-19 defeat to the All Blacks in last week's first Test.
Sexton failed a HIA during the game, but has passed subsequent tests, and now appears to be available to line out in Saturday's must-win game in Dunedin.
With World Rugby recently introducing a longer 12-day stand-down period for players with concussion, it had been expected that Sexton would be unavailable until the final Test in Wellington on 16 July.
However, an IRFU source has confirmed to RTÉ Sport that while Sexton did fail his HIA1, it could neither clear him of a concussive incident nor confirm it, and having passed HIA2 and HIA3 he has now been cleared to play.
Under World Rugby's Operational Definition, a player has a confirmed concussion if:
There is a confirmed Criteria 1 sign or symptom as per the HIA1 form
There is an abnormal HIA2 post game, same day assessment (an early concussion)
There is an abnormal HIA3, 36-48-hour assessment (a late concussion)
The treating doctor has a clinical suspicion that the player has a concussion
Under this operational definition, a concussion can be diagnosed immediately following a head injury but cannot be excluded until completion of both the HIA2 and HIA3, that is 36-48 hours after the injury.
The protocol continues to explain how a player such as Sexton could fail his HIA1, without having a confirmed concussion.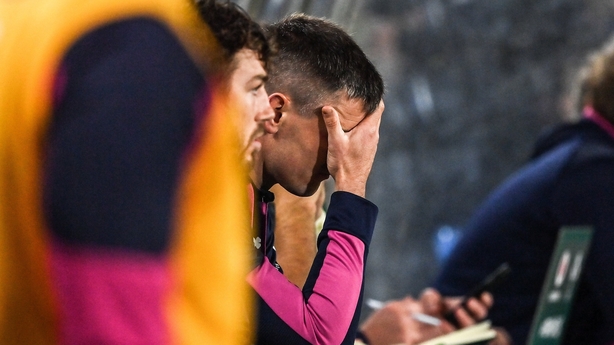 "The presence of a Criteria 1 sign or symptom confirms a diagnosis of a concussion and the player must be immediately and permanently removed from further game participation and complete a GRTP [Graduated Return to Play].
"An abnormal off-field HIA1 assessment supports a suspected concussion and the player is removed from further game participation.
"The follow up HIA2 may confirm an early diagnosis of concussion if abnormal and or an HIA3 if abnormal confirms a late diagnosis of concussion."
While Sexton has cleared his head injury assessments, Connacht hooker Dave Heffernan is following the return to play protocols having suffered concussion shorty after coming on in the second half of Saturday's game, while James Lowe and Keith Earls also sat out training today.
Earls appears to have been rested as a precaution, having player 137 minutes across Ireland's first two tour matches.
Mack Hansen is training fully having returned from his Covid-19 isolation, while loosehead prop Ed Byrne and centre Stuart McCloskey have also linked up with the squad in New Zealand in recent days.
Meanwhile, assistant coach Mike Catt says accuracy will be the key component for Ireland at attack this week, as they look to keep the series alive for the third Test.
While Ireland's attacking game looked sharp in the first half in Auckland, they were left to rue individual errors which New Zealand pounced upon, particularly in the second quarter of the game in which they established a 28-5 lead, while Ireland were also held up over the line on multiple occasions in the second half.
"We have to put the ball down on the ground I suppose, the easy way," said Catt (below) when asked how Ireland can be more clinical in the 22.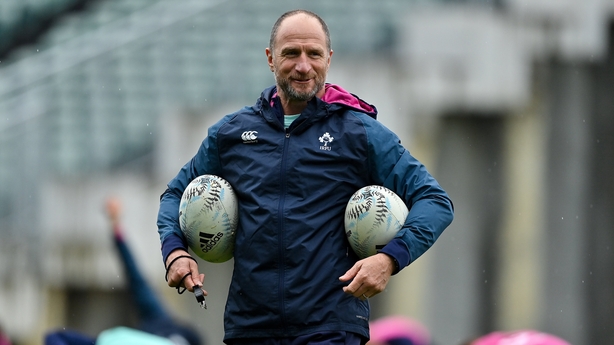 "I think what we did is create enough opportunities. I think the theme for this week is how accurate we need to be to take our chances, and we weren't accurate enough and we know our processes, we know they work.
"We're getting there, it's just making sure we capitalise on the back of it. Accuracy is a big one for me in terms of our luck, our breakdown, our passing accuracy has got to be spot on. We've got to go to another level for it to work for us."
Catt added that the scrum and lineout will also be major areas for the team to address this week, having conceded a number of turnovers on their own set-piece ball, while a lot of the possession they retained was messy.
"I think set-piece has been a crucial part of it too, to build momentum on the back of it. I think if we get the balance of our game right, we can cause problems.
"The nice thing is we have another opportunity against some of the best players in the world, so from our point of view it's a great challenge for the squad as a group, how we pick ourselves up from Saturday, and see how strong we are."
"We started really really well in the first half, and the second half as well, so when we get that momentum we are dangerous. It's just how we get to those positions, that we can build momentum more often, and a lot of it is done to the accuracy of how we do things.
"It's brilliant, it's a perfect setting, a great challenge for us, it suits us down to the ground really, it should be a brilliant Test match," he added.
And the attack coach says he doesn't believe Ireland will struggle from any pressure to perform with the series on the line in Dunedin on Saturday.
"It depends what you classify as pressure, but again we're all about our processes.
"The nice thing is we have another opportunity against some of the best players in the world, so from our point of view it's a great challenge for the squad as a group, how we pick ourselves up from Saturday, and see how strong we are."
The All Blacks have been forced into making changes for this weekend, with veteran second row Sam Whitelock now ruled out of the game having had delayed onset concussion, while another lock, Tupou Vaa'i is the latest to be struck down with Covid-19.
Patrick Tuipulotu has been drafted into the squad after returning from Japan.
Follow Ireland's Test series against New Zealand via our live blogs on rte.ie/sport and on the RTÉ News App or listen to live radio commentary on RTÉ 2FM