Ireland will be physically and emotionally fatigued after the effort that went into Saturday morning's loss to the All Blacks in Auckland.
Andy Farrell's team lost the game 42-19 despite dominating territory and possession for large periods of the first half. For 30 minutes the All Blacks were made to look very ordinary, but Ireland failed to capitalise on their dominance, allowing New Zealand to do what they do best to go in 28-5 up at half-time.
Looking at the stats of the first half, New Zealand should have been trailing and Johnny Sexton had exposed some weaknesses in their defence. However, a second quarter of defensive destruction meant that New Zealand led by four tries to one and Ireland were never going to find a way back.
On the day, it felt like Ireland had been shown up. However, on second viewing, Ireland dominated large parts of the game and a few errors cost them dearly.
Sexton's sublime kick through to Garry Ringrose finished with an intercept by Beauden Barrett when the pass could easily have gone to Jamison Gibson-Park, who ran a textbook up-field support line that you'd expect from all attack-minded scrum-halves. It was moments like this that turned the game and stopped Ireland from pushing on to stretch their lead.
New Zealand had a lot of say in how these chances were missed. For example, Ireland had a scrum on the New Zealand 22m line after 13 minutes of dominance and a 5-0 lead. This was their chance to kick three points or put themselves in a deeper attacking position, allowing them to get two scores away from the All Blacks, a rarity at Eden Park.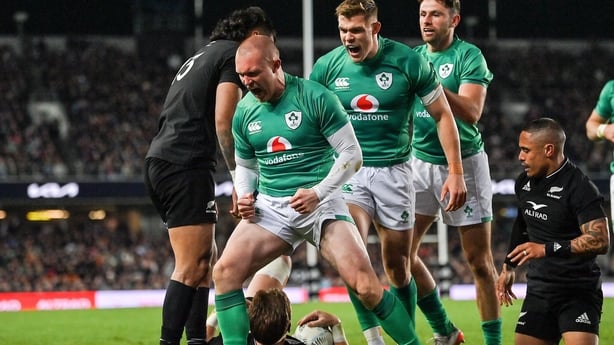 Instead, George Bower and his front row were awarded the penalty and New Zealand got out of jail. This could have been a big turning point only New Zealand couldn't hold on to momentum, losing the resulting lineout.
This led to the Sexton and Ringrose opportunity which New Zealand escaped again, maintaining just the five-point deficit. Ireland were throwing everything at the All Blacks, but the New Zealand patience held strong.
They never panicked when Ireland were creating opportunities. They stuck to their kicking game and transferred pressure back to Ireland. This is an area that I felt Ireland lost in the first half and failed to make New Zealand pay for the dominance that they had.
Hugo Keenan misjudged a ball at one stage and put Sexton's exit under pressure, resulting in a missed touch and a New Zealand counterattack. James Lowe missed touch on another occasion and New Zealand were able to exit their own territory far too easy.
Aaron Smith and the Kiwi contestable kicking strategy was much more accurate than Ireland which kept them in a game that should have been slipping out of their reach.
It took 20 minutes for the All Blacks to get real meaningful possession in an attacking zone and they managed to convert it through Jordie Barrett. Aaron Smith was the master behind the gain line wins though, as he regularly skipped the second ball carrier and hit the third runner a channel wider to get softer carries into the Irish defence which allowed them to play at their own pace.
Ireland's defence was focused on the second forward in a pod of three. The idea is to get in his face to put pressure on his pass or to win the race across the tackle line, stopping any New Zealand momentum.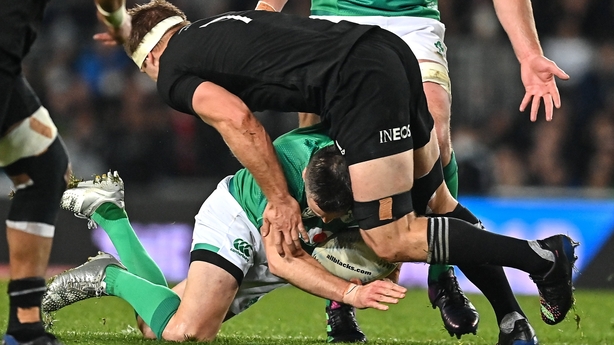 New Zealand pre-empted this and used the third attacker one channel wider to get on the front foot and get themselves into the lead.
On the surface, Ireland still had plenty of territory and possession to get themselves another score, but the All Blacks managed to win the game in the second quarter with their defensive dominance and turnovers. Ireland were very neutral on the tackle line at this stage and weren't able to get on the front foot to convert their possession into points.
Rugby is a simple game behind all the different tactical battles. If you can go forward in or around the collisions, you will have more time in attack with a defence that is unstructured or retreating. Because New Zealand were comfortable in defence and managed to stop Ireland on the gain line, they didn't actually need the ball to score the next try.
Ireland began to force passes because their attack became lateral and Sevu Reece pounced on a loose pass to make it 14-5 to New Zealand despite the pressure that they were soaking up.
This phase also coincided with the end of Sexton's game due to a HIA. If you break down the attack that led to the second New Zealand try, it's actually a really good attacking opportunity for Sexton and Ireland. However, small details matter at this level of the game. James Ryan ran an attacking line that was too close to Sexton, meaning Sexton had to change his attacking line to avoid running into the same space as Ryan.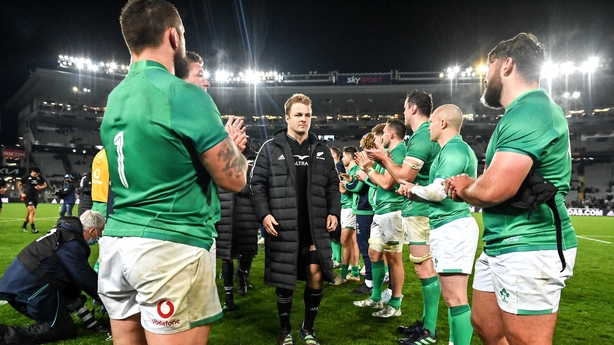 Sexton was running on an 'overs' line to pin the inside shoulder of Sam Cane. Had Ryan stayed patient and allowed Sexton to attack, he could have run at the outside shoulder of Cane with Sexton forcing Cane to turn in. Ryan would have been through the gap between Cane and the spectating Sam Whitelock on the outside.
I'm not saying Ireland would have won the game had this detail been clearer and executed better, but it wouldn't have been a mix up a few phases later leading to a Sevu Reece try. Instead, Ireland would have unlocked the New Zealand defence a little bit and they might have had their own score instead.
Another huge missed opportunity was the penalty awarded to Ireland when the scoreline read 14-5. Gibson-Park took a quick tap to put pace on the game when things had gone scrappy. Two phases later, Cane had dislodged the ball from Tadhg Furlong which was a sucker punch for the Irish attacking spirit - 14-8 would have been a much different reflection on the game.
It was a poorly executed Gibson-Park exit and another dart in his own 22 that led to the turnover for Barrett to kick in behind for Quinn Tupaea to touch down and make it 21-3. All Blacks ruthlessness at its finest.
Shortly afterwards, Ryan gave away a silly enough penalty under the nose of the referee while asking if the ball was out of the ruck. According to the referee it wasn't, and Ireland were hanging on at this stage, waiting for half-time. This is when the Kiwi's pounce. That's exactly what Aaron Smith did, catching Beirne and Sheehan looking on at a ruck, breaking through the middle before an unfortunate bounce allowed Ardie Savea to put the game to bed.
Ireland rallied again at various stages of the match, starting both halves with quick tries and ending the game with a period of dominance but you can't gift the All Blacks a 28-5 lead at half-time and expect to get any sort of result.
On second viewing, Ireland will have a lot more positives to take from the game than I first feared, and the referee is going to have a lot of queries to answer from the Irish coaching team.
However, it was a thick slice of humble pie for Farrell and his team. The second test could be made all the tougher with sore and injured bodies for the week in training. Player availability is going down and there are still three games left to play on Kiwi soil.
Follow Ireland's Test series against New Zealand via our live blogs every Saturday at 8.05am on rte.ie/sport and on the RTÉ News App or listen to live radio coverage on RTÉ 2fm.