Ireland head coach Andy Farrell says they will chalk this morning's 32-17 defeat to the Maori All Blacks down as a learning experience.
An inexperienced Ireland XV began the tour of New Zealand with a humbling 15-point loss in Hamilton, conceding four first half tries in a game they never looked like winning.
It's a rude awakening for Farrell's side, who will face the Maoris again in Wellington on 12 July.
The damage was done in the first half, with the Maoris scoring all 32 of their points, with tries for the outstanding Zarn Sullivan, as well as Brad Weber, Cullen Grace and Shaun Stevenson, while Josh Ioane chipped in with three conversions and two penalties.
"I'm disappointed for the lads because I know how much it meant to them to come out there and have a shot at playing for Ireland for the first time for quite a few of them and for a lot of them to have a chance at a start that they've been waiting for," Andy Farrell told RTÉ Sport.
"We can't complain about the result. In the first half it was obvious, it speaks for itself that our discipline was really poor. That's down to players being a little bit too eager, a little bit too desperate.
"You've got to understand how the game is flowing, whether you are dipping in at the breakdown or half a yard offside at the back foot."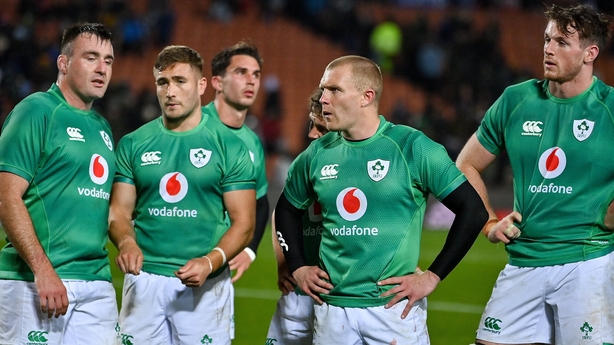 He added: "They thoroughly deserved the win."
"It was a tale of two halves, I think discipline was an issue for us, we sorted it a little bit out at half-time and played some really good stuff in the second half, and left two or three tries out there we should have done better with."
Farrell had named five uncapped players in his starting lineup, while all but three of the first XV had fewer than 10 international caps, with Farrell confident they can extract some positives out of the defeat.
"We're disappointed, we know it was a big week for the Maori boys but it was a big week for some of our guys playing for Ireland for the first time, and the lessons learned will be brilliant going forward. Some of our lads have tasted it for the first time, and will get another crack in a couple of weeks' time.
"There were some brilliant performances. We had a guy who stepped off a plane a couple of days ago [Niall Scannell] and fronted up brilliantly for us, we have young kids playing 80 minutes for the first time in an Irish shirt.
"There was some really good stuff from certain individuals, and a lot of dumb stuff along the way, which is brilliant as far as our learnings are concerned. That's what you have to iron out if you want to make it to the top."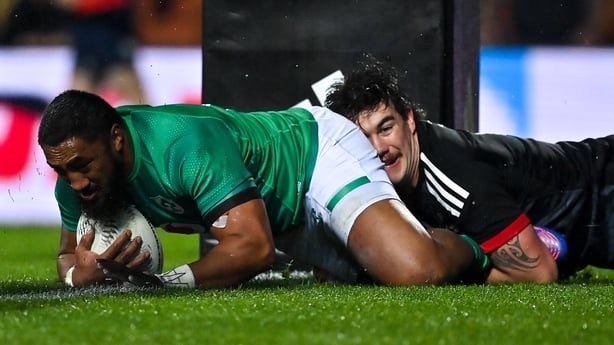 Bundee Aki (above) was one of the three established internationals who started, and the stand-in captain scored a well-taken try in the opening half which briefly saw Ireland lead.
But the 32-year-old says he and his side were by far second best on the night.
"Fair play to the Maori All Blacks boys, they came out firing. They were playing on top of us from the get go, we couldn't get our game going, and they deservedly won that game today.
"We got a lot of learnings out of this game, a lot of new boys here, a lot of young guys and we'll certainly learn from this game and try and build for the rest of the series. The Maori All Blacks were always a better team," Aki added.
Follow Ireland's Test series against New Zealand via our live blogs on rte.ie/sport and on the RTÉ News App or listen to live radio coverage on RTÉ Radio.