Be careful what you wish for.
Andy Farrell said he wanted this tour to be tough. Based on this morning's 32-17 defeat to the Maori All Blacks, he's got that and more.
Not only were an Ireland XV blitzed in the second quarter of the game, but the defeat came at a big cost. Jeremy Loughman had a HIA in the opening minutes before permanently leaving at half-time, while James Hume, Jimmy O'Brien and Cian Healy all hobbled off in the second half, the last of whom needed to be carted off with an ankle injury.
The injuries are no excuse though, the damage had been done long before, with Ireland ripped apart in the opening half.
With five uncapped players and a combined 25 caps across 12 of his starting team, it would have been understandable and even expected for cohesion to be a bit off.
The four tries conceded will all be disappointing, but the nature of the Maori's final score right on half-time will hurt the most. They ran the ball from deep in their own half, and despite seemingly making a mess of the attack, flanker Billy Proctor had all the time in Hamilton to control the ball with his feet before allowing Cullen Grace score, and the Irish chasing pack nowhere to be seen.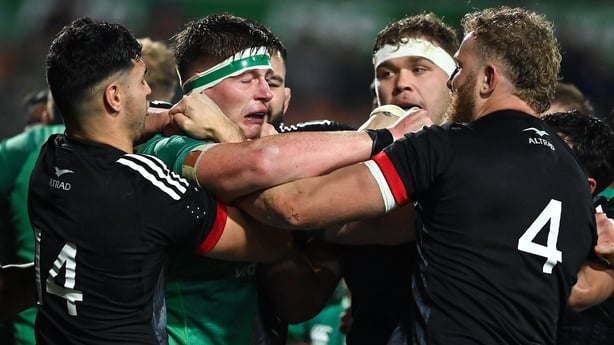 That score made it 32-10 at half time, Ireland's only points to that point being a well-worked Bundee Aki try, as well as a conversion and penalty from Ciarán Frawley.
After such a poor end to the first half, it was only natural Ireland began the second with high intensity, but after they failed to land their punch, hopes of a comeback were ended.
Gavin Coombes drove in for a try in the final quarter, but by then Ireland's hopes were more about getting to Saturday's first Test without any more injuries.
It could be a long few weeks.
After the extended ceremony that precedes a game in New Zealand, the start wasn't lacking in fizz; there was a huge hit from the captain Aki, while Frawley was involved in some pushing and shoving with full-back Zarn Sullivan, who responded by throwing the ball in the out-half's face.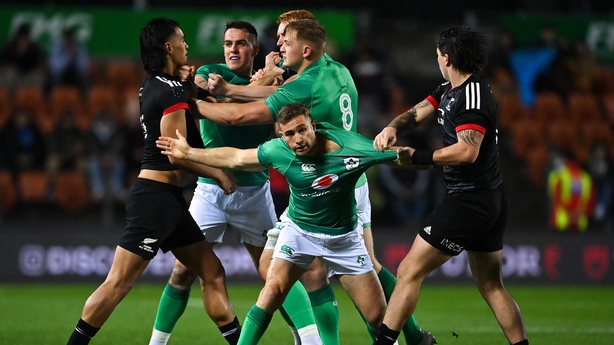 For the uncapped Loughman, his first game in an Ireland shirt was temporarily halted with a HIA inside 90 seconds, and he was replaced by Healy whose first involvement was to win a scrum penalty, and a nice settler for Frawley who kicked Ireland into an early 3-0 lead.
On six minutes, Josh Ioane leveled things up with a penalty of his own, as the hosts used their kicking game to pin Ireland back into their own half. Ireland struggled with cohesion in the opening quarter of an hour, a missed lineout in their own 22, before Cian Prendergast's adrenalin got the better of him as he conceded a penalty, which came with a warning from Wayne Barnes to "stop chasing everything".
After a flat first 15 minutes, it was Maori debutant Sullivan who sparked it into life, starting and finishing the move that provided the game's first try.
It began when the Blues full-back curled a wonderful 50:22 into the corner to provide the attacking platform for his side, and after the Maoris won a penalty advantage under the posts, they shifted play back to the blind side, where Sullivan found space to dive over and score.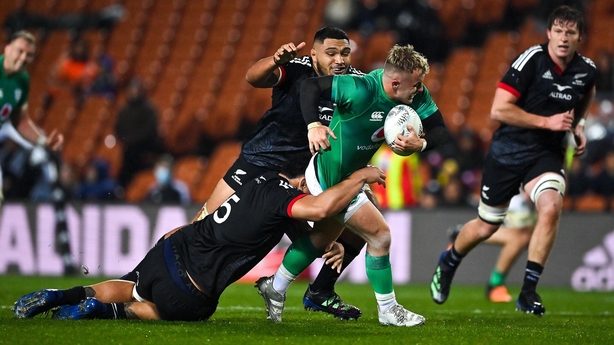 Ioane was off target with the conversion attempt, as the hosts led 8-3, but they would soon find themselves behind, having woken Ireland up.
Jordan Larmour almost got in in the corner after a delicate chip-kick from James Hume, but the final bounce of the ball just escaped the Leinster man's hands. It didn't matter much though, as they burst through for a try of their own on the quarter-hour mark.
It was a well-rehearsed move off the back of a lineout, as they faked to set up a maul, before Timoney broke back infield to feed Gavin Coombes, whose hard running line sucked in two defenders. At the moment before contact, the Munster man shifted the ball to his left, where Aki came charging through the gap, and the veteran centre was never going to be stopped as he dived over to score, a try on his return to his former home stadium with the Chiefs.
It was a brilliant try, and although Frawley's conversion sent them back in front at 10-8, they continued to struggle with their cohesion in both attack and defence. Two penalties in as many minutes offered Ioane the chance to regain the Maori lead, and while he pulled the first of those to the left, he was on target with the more difficult second, the Maoris making it 11-10 on 26 minutes.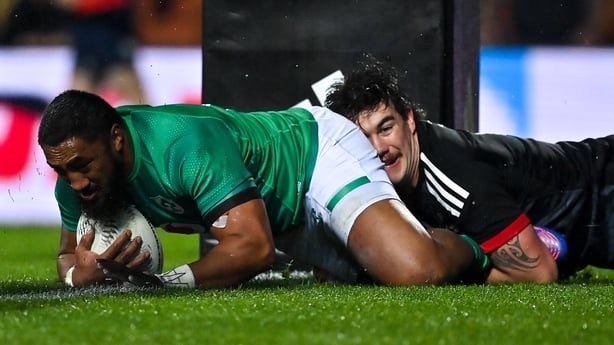 The home side had controlled the first half, but had yet to show the flair normally associated with the Maori All Blacks. However, their second try on 28 minutes was New Zealand rugby at its best.
It started when Sullivan claimed a high ball deep in his own half before recycling possession. Flanker Cameron Suafoa then opened things up with a deep pass to Ioane, who carved his way in between Aki and Timoney, before he floated a wide pass out to the wing, where Shaun Stevenson was on hand to finish.
It was a score that seemed to puncture Ireland, and 18-10 soon became 25-10 when co-captain Brad Weber sniped down the side of a ruck for their third try, the gap created by Tom O'Toole slipping, and Joe McCarthy failing to cover the space.
By now the Maoris were cooking, and they rounded off the first half with yet another try from deep in their own half. This time it was Stevenson who coasted through a gap between Coombes and Prendergast, before sprinting clear towards the Ireland 22. His pass to Billy Harmon was poor, but the flanker cleverly volleyed the ball a few yards ahead of him before gathering and popping back inside to Grace, who finished things off.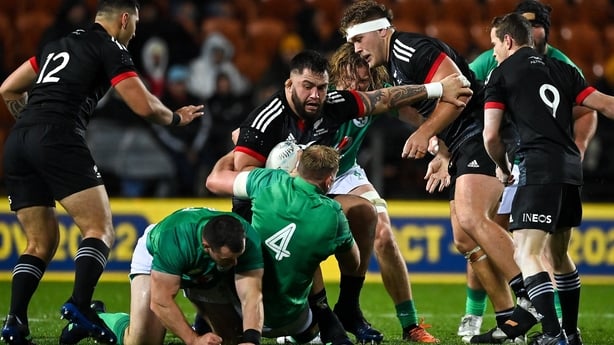 Ioane's conversion brought up the half-time whistle, Ireland 32-10 behind and circling the drain.
Andy Farrell would rightly have been furious with the nature of that fourth try, so it was no surprise to see his side coming out of the half-time break looking like a team that had just seen chapter and verse of the riot act.
They did everything but score in those 10 minutes after the interval, held up three times over the line, with Healy - now a permanent replacement for Loughman - denied first, before Prendergast and Timoney also saw try-scoring attempts denied by some pretty incredible last-ditch Maori defence.
After surviving that period, the hosts took the pace out of the game, returning to their first half kicking and dictating the pace. An injury to James Hume only served to disjoint things further for Ireland, who were forced to use their bench early, with Mike Lowry and also Ryan Baird summoned with barely 50 minutes played.
With Hume and Loughman already off with knocks, Jimmy O'Brien then went down holding his leg on the hour mark to be replaced by Joey Carbery.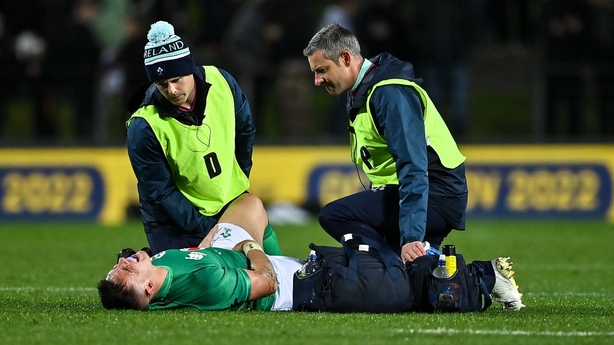 With a Test match against New Zealand on the horizon and injuries mounting, the 41-man squad was suddenly looking thin. Even if they had it in them to stage a miraculous comeback, the juice didn't seem like it would be worth the squeeze.
With 15 minutes to play they finally got back into the redzone following a dominant scrum, and after winning another penalty Niall Scannell took the tap-and-go, before Coombes followed up to burrow over and score.
The conversion from Frawley reduced the arrears to 32-17 with 14 minutes to play, but when Healy was carted off with an ankle injury shortly after, the full-time whistle couldn't arrive quick enough.
If any team seemed more likely to score late on it was the Maoris, replacement out-half Ruben Love off target with a penalty and a dropgoal. Ireland's final act saw Frawley's penalty kick to the corner go out on the full, an appropriate end to a forgettable night.
Maori All Blacks: Zarn Sullivan; Shaun Stevenson, Billy Proctor, Rameka Poihipi, Connor Garden-Bachop; Josh Ioane, Brad Weber (capt); Ollie Norris, Kurt Eklund, Tyrel Lomax; Josh Dickson, Isaia Walker-Leawere; Cameron Suafoa, Billy Harmon, Cullen Grace.
Replacements: Tyrone Thompson, Tamatai Williams, Jermaine Ainsley, Maanakai Selby-Rickit, TK Howden, TJ Perenara, Ruben Love, Bailyn Sullivan.
Ireland: Jimmy O'Brien; Jordan Larmour, James Hume, Bundee Aki (capt), Keith Earls; Ciarán Frawley, Craig Casey; Jeremy Loughman, Dave Heffernan, Tom O'Toole, Joe McCarthy, Kieran Treadwell; Cian Prendergast, Nick Timoney, Gavin Coombes.
Replacements: Niall Scannell, Cian Healy, Finlay Bealham, Ryan Baird, Jack Conan, Conor Murray, Joey Carbery, Michael Lowry.
Referee: Wayne Barnes (RFU)