While Bundee Aki has always been a hugely popular figure among his team-mates at Connacht and Ireland, captaincy is a departure from the norm for him.
Softly spoken in his dealings with the media, the centre is a far more vocal presence on the pitch, as the empty stadiums during Covid proved.
The 32-year-old will lead Ireland out on Wednesday morning (8.05am kickoff) in their opening tour match in New Zealand against the Maori All Blacks, and he admits being given the honour by Andy Farrell came as a huge surprise.
"I stood there for a bit, I actually thought he was joking," said Aki when asked about being made captain by Farrell.
"But no, it's a huge honour and a privilege to be asked by Faz, and to be able to lead the boys."
Given the circumstances of the game, it's an extra special honour for the 37-cap international, returning to his home country, and also to FMG Stadium in Hamilton, home of the Chiefs, with whom Aki won a Super Rugby title in 2013.
"It's a huge privilege, an honour, a very proud moment for myself and my family," he said.
"A kid from south Auckland, not many opportunities come your way, I'm privileged to be here and be part of this team and lead the boys out.
"That's where I played my Super Rugby, and it's going to be special for myself and my family."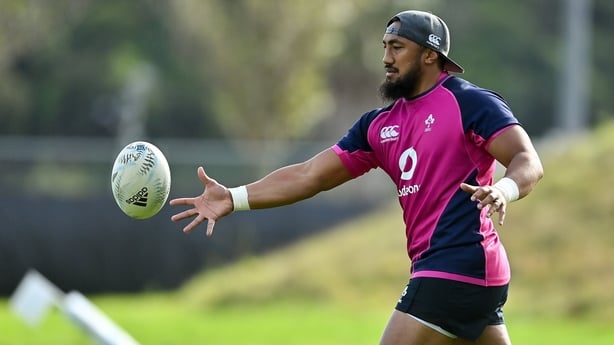 Aki is one of only three established international players in the starting line-up for Wednesday's non-cap game, with the Connacht centre in need of gametime having not played since the middle of April.
Along with Aki, Keith Earls and Jordan Larmour both start, with the remaining 12 players in the starting side having a combined 25 Test appearances.
Either side of Aki will be James Hume at outside centre and Ciarán Frawley at out-half, the latter making his first appearance in an Ireland shirt.
And while the veteran centre will be his usual vocal self on the pitch, he says his main objective will be to lead by doing.
"I think those fellas have been training very well, Jamesy [Hume] has been playing very well, as well as Frawley. For me, it's about leading by my actions and letting those fellas do their best which is playing footie.
"The boys have been tracking very well, they've done a good few trainings, a lot of relationships going on, and a lot of work done after training. We're doing really well at the moment.
"There will be a lot of pride, a lot of guys trying to make a statement. It's their back yard we'll be playing in, but it's about us as a group, how good we can be to take this challenge in front of us and go after it.
"It's an experience in itself, but I think everyone, when you get onto the pitch, it's a game of footie and you do what you do. You're doing it for the love of the game and you're doing it because you enjoy doing it, that's the best thing about it, with a group of guys you love being around."
Follow Ireland's Test series against New Zealand via our live blogs on rte.ie/sport and on the RTÉ News App.