Ireland will face the All Blacks this week to start off the summer series. It will be preceded by a return to midweek games, with an exciting battle against the Maori All Blacks on Wednesday morning.
Ireland have never beaten the All Blacks in New Zealand, never mind a full series. The closest some of our players have gotten to that is drawing with the All Blacks while wearing their Lions colours and beating the them both in Ireland and in a neutral venue in Chicago.
So how do we measure success for this tour? Is it realistic to just expect to win down there because we have beaten them before? I don't think so.
Playing rugby in New Zealand, with their level of public expectation and winning at home being the status quo, we are destined not to win the series. That's not being negative, it's realistic based on the previous evidence. I'm not saying that this Irish team isn't good enough to win the series, they are. But winning it and being good enough to win it are two different things.
To win the series, you need a few things to go in your favour. You need the senior players to step up and have some of their best games in quite a while. We need Johnny Sexton to stay fit and guide us through at least two of those games.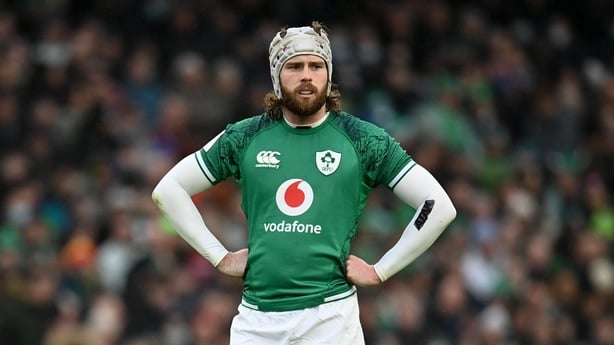 We also need surprises from less internationally recognised players, the level of performance that Mack Hansen (above) gave in the Six Nations.
The All Blacks will be very familiar with some Irish players, such as Sexton, but less familiar with others and these are the guys that will have to sneak in under the radar and add to the performance.
Ireland will also need a bit of luck, which they may have already received considering how Covid-19 has struck the All Blacks camp much worse than the Irish camp, with our current information at least. The All Blacks are missing the majority of their front-line coaching staff and two of their starting backline, while Ireland's sole victim of Covid is Hansen.
However, we saw last year how adversity can galvanise a nation, particularly when the series is at home. South Africa came through the Covid-disrupted Lions tour and I wouldn't back against the All Blacks in the current situation given the potential depth in their squad, and the subsequent frontline involvement of Joe Schmidt within their coaching group. It's more likely that Schmidt was working behind the scenes with the All Blacks anyway, with his consultancy links in New Zealand rugby, but this shows that he must have been working closely with them given the fact that the All Blacks don't take major risks within their coaching set-ups.
Ireland will need to be on their best behaviour from a disciplinary perspective, which we expect from this team now anyway. They'll still need the rub of the green to catch New Zealand on their own patch.
In saying all that, I genuinely don't think that winning the series is the only yardstick for success on this tour. Too often, we have been caught celebrating prematurely when the real measurement of success will be a year down the line in the World Cup. The World Cup that is in France and not in New Zealand. While beating the All Blacks for the first time in New Zealand would go a long way in this team's development and belief, it's not fully comparable to what will be happening in France in 2023.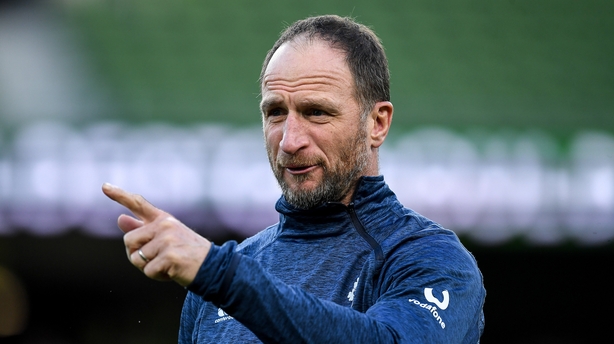 What Ireland do need to get out of this tour is a further improvement in their attacking structure. We saw vast improvements between 2021 and 2022 in their attack and Mike Catt (above) has rightly been given credit, considering the criticism he got the year before.
However, we also saw a similar system getting broken down with Leinster's lack of silverware this year, which has laid out a template for international sides to get at the Irish system. Therefore, Catt needs to be another step ahead and show further ingenuity which will prove Ireland's ability to go further than before in a World Cup, while adding another layer of credibility to Catt's coaching status.
Success for this team would be to avoid the same pitfalls as the last World Cup cycle. Despite not winning the last Six Nations, momentum is on their side and their self-belief increased massively. Although the team seemed to have belief all along. Maybe it's more accurate to suggest that the synergy between the fans and the team was as good as I've seen it in a while and the belief from all stakeholders was massively improved. The supporters buy-in will be a huge factor if the team goes through another sticky patch between now and next year.
We also need to add more options to central positions around the pitch. Sexton has shown how important he is, so getting him out of New Zealand in one piece is crucial. Finding his replacement is equally important. Joey Carbery has yet again been given that mantle, with Ross Byrne losing out to his brother Harry. Carbery is a key component in this team now and a positive tournament is vital to drive competition in the out-half jersey while regaining the confidence that he is the rightful heir to the Sexton throne.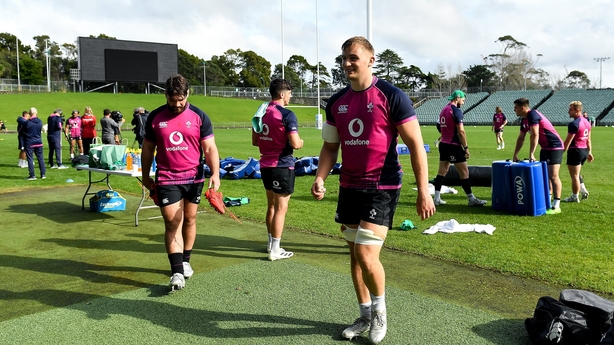 Getting high-level international minutes into Ciaran Frawley, James Hume, Jimmy O'Brien, Joe McCarthy, Gavin Coombes (above) and others will strengthen the teams' preparations for next year. The competition that this would bring going into an autumn series, a Six Nations series next year, and then finally on to the World Cup would stimulate this squad at a vital time.
However, this success has to be more objective than the word 'development'. Test minutes for less experienced members of the group is one way of looking at things. Iain Henderson's injury worries may pave the way for McCarthy to get on to the Test bench and would hopefully prove to be successful.
O'Brien, Frawley and Hume being backed to continue their upward trajectory and be included in the All Blacks games would go a long way to improving the depth within the squad too.
The Irish attack doesn't need to be fully ready for the World Cup just yet, but scoring tries and a significant tally of points against New Zealand would be another way to measure how good this team can be. It won't give us a completely objective view of the game plan success because there can be higher and lower scoring games involving winter weather, but it's something to keep an eye on when deciding how successful the tour has been.
Of course, if this group can manage to win any of the first two Tests it will count as a more obvious success. To do so with a clean bill of health would be even more impressive.
Success in this instance is multi-faceted and we must approach this series with an open mind.
Follow Maori All Blacks v Ireland on Wednesday via our live blog on rte.ie/sport and on the RTÉ News App with kick-off 8.05am.
Follow Ireland's Test series against New Zealand via our live blog on rte.ie/sport and on the RTÉ News App or listen to live radio coverage on RTÉ 2fm.