Another loss and perhaps another false dawn for Munster following their 35-25 defeat to Leinster at the Aviva.
They secured sixth place in a competition with three of the new South African teams taking the three spots above them, then Ulster and Leinster.
That has been the way for the past few seasons anyway so maybe it's just another standard finish in the URC with the addition of a South African presence.
After Munster's heroic loss to Toulouse, you empathised because of what might have been.
They nearly got there, were hard done by, went down gallantly. Is that part of the DNA? At some stage, that DNA gets modified and they get over the line. However, that's not happening for this group and I'm not sure how it will.
The sound of 'Zombie' raged around the Aviva stadium in Munster's last appearance in Dublin; this time the performance was a bit more lifeless. Inconsistencies have typified this Munster team. One week you're going to penalties against Toulouse and the next you're losing out to a very weakened Leinster team.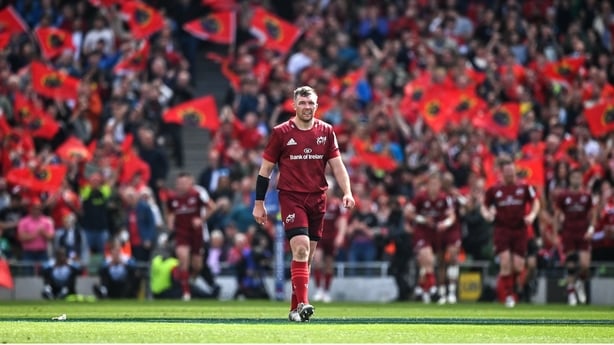 Peter O'Mahony, Jack O'Donoghue, Alex Kendellan - lifeless? You can't say that lifeless is a characteristic of a lot of this team. It spans three different eras of development in just those players alone. However, does it mean the same amount to the whole group?
When Munster were winning trophies, they had a talented bunch of players. But it wasn't just ability. They had they everything outside of talent as well - hard work, desire, ruthlessness and belief. These are crucial ingredients for success.
The current crop have talent. A World Cup-winning centre, a generational scrum-half, individual tries aplenty in the back three positions, no matter who plays there. Munster have some of the most exciting young talents coming through their academy.
The group of marauding, offloading youth that Munster have developed isn't any worse than what's at Leinster.
There are a lot of international caps waiting to happen in Munster with the likes of Thomas Ahern, Jack Crowley, Alex Kendellen and Josh Wycherley.
Would they already have them if they were developed through Leinster? Maybe as a by-product of the success that Leinster are experiencing, but possibly because of the clarity that they'd be playing with.
So, where's the missing piece? Is it coaching? Is it clarity in their game plan? Is it cohesion within the group? Or is it simply an identity?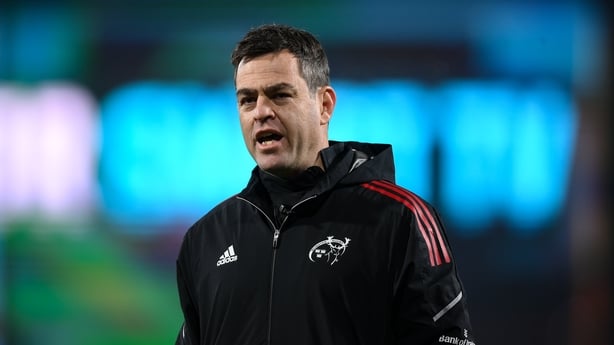 Does Johann van Graan (above) truly give these guys an identity? Does Van Graan believe or understand the Munster identity the same way that Keith Earls, Conor Murray and Peter O'Mahony understand it?
How is it that when Rassie Erasmus took charge, the club was full of personality and purpose. There was a collective 'why'. Unfortunately for the club, Rassie found a very simple personal reason why and it happened to be the tragedy of Axel Foley's passing.
That was always going to leave a mark on Munster and the club experienced a reaction only fitting for a guy of Axel's character.
That identity was always going to dilute with the healing of time, but Rassie would have found a new why. Had he stuck around, he'd have dug up another personal back story, focused on another aspect of the reason why the club should be more successful than its current barren spell.
Do the people within the club know deep down what exactly they are playing for? I believe that a good chunk of them do, but is everyone on the same page? The management of players can affect their buy in to the cause too.
What has the current set up done to capture the thoughts of the players outside of the promise of success? Because when that success doesn't happen, you haven't captured them with anything else.
Graham Rowntree will bring an identity and a cause back. His playing days in Leicester will give him a sense of what that's supposed to be like.
The history and tradition of Thomond Park is a big reason why he took the job at Munster. As the head man, I hope he inspires the next generation more than the last few head coaches have. Coaches have given up on their team.
They've broken their contracts early, made decisions to give up on their role in developing this team. How are a group of young and impressionable players supposed to respond to people giving up on them?
You'd hope that Rowntree sees out this development. Munster have the talent, the work ethic and the know how to get to the next level. Rowntree will need to inspire that. He's a player's coach, he's a people person.
Normally that comes with a 'use by' date. Normally that flame goes out. However, Andy Farrell seems to have found that balance between passion, attitude, environment and rugby tactics or clarity.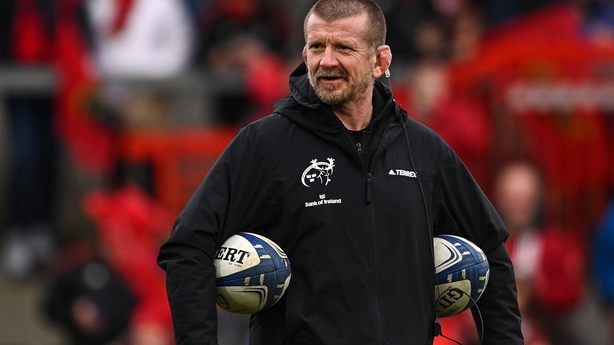 Together with his coaching team, Rowntree needs to bring knowledge and tactical clarity so that Munster can start performing like Leinster and Ireland.
Leinster have that clarity from top to bottom. And some of the players that beat Munster on Saturday evening are at the foundational level of their depth charts. But that's what togetherness, mental clarity and tactical understanding does for a team.
Everyone plays better as part of the system. Put some of Munster's players into that system and they wouldn't be out of place. They're not worse players, they just haven't been cared for in the same way.
Munster need to find a way back to the top table but going to Ulster for a play-off match at the Kingspan is no invitation to dinner. It comes with a warning sign, the third best team in Ireland. Currently that feels like a worrying truth for Munster. They need a result away from home, or this transition may become a whole lot tougher.
The good news is that they're the only team to go to Ulster in the URC this year and come away with a win. When you inject a few more of Munster's front-line players back into that team, they have the ability to win and put in a performance.
Is that papering over the cracks of what Munster rugby is about at the moment?
Van Graan claims to be putting everything into Munster before he leaves for Bath at the end of the year.
He needs to show that in the trip to Ulster and come out with a result or he risks a lifeless finish to his tenure at a proud club.