Leo Cullen isn't able to say whether or not Leinster are a better team compared to 12 months ago, but he does believe they're better prepared to challenge for a Heineken Champions Cup title.
It came as a surprise when the four-time champions were beaten in last year's semi-final by an inspired La Rochelle, Leinster having no answer for the sheer power and physicality of the French at Stade Marcel-Deflandre.
It's a defeat that has lingered around the team, but not necessarily in a bad way.
Roughly once a month this season that game gets mentioned, whether it's by a journalist, a player or a coach. As much as the winning feeling motivates, so too does the pain of defeat.
On paper, the current Leinster team looks a lot better than the one that was outmuscled in France a year ago; Johnny Sexton, Jamison Gibson-Park and Caelan Doris are all fit and available unlike last year's semi-final, while the switch of Andrew Porter to the loosehead side, the signing of Michael Ala'alatoa and the career-best form of Ross Molony have all added to the Leinster threat.
Interestingly, Cullen cites how the calendar has fallen together nicely for Leinster compared to last season, with the province having the luxury of rotating the squad a bit more in the last six weeks than they did a year ago.
"Off the back of the Six Nations, it's probably flowed a bit better in terms of trying to get that balance," he said, when asked if his side are a better team now compared to 2021.
"The week they had off after the Six Nations, that was important for that group whereas last year it was straight back into that final of the Pro14 against Munster which is challenging because you need to fill up the tank, to fill up the reserves of energy. And we've had a few of those this year.
"Whether that pays off or not, going into the quarter-final against Leicester, that was probably the big debate wasn't it? After the game it's based on the result of the game.
"So we'll wait and see, it's very hard to say, but guys are in good form, they're excited, there are bits from that La Rochelle game which really stick in their mind, for a number of our players for sure.
"Making sure we don't get into that situation, that's the learning and the growing and developing. Do you improve? That's what every team tries to do but the opposition is getting better as well. It's who increases or improves better over time."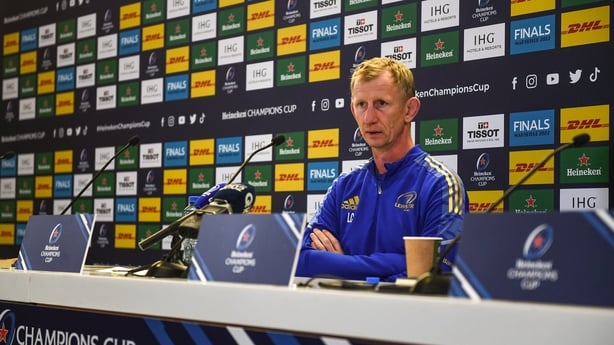 The Leinster coach admits there was "a bit of nervousness" ahead of last week's quarter-final win in England, and it seems they're feeding off that same nervous energy again this week, with the head coach saying he was "dying for kickoff" yesterday afternoon.
He's also wary of the narrative that Toulouse have regressed since their double-winning exploits of 2021.
Ugo Mola's side are clinging to a playoff spot in the Top14 heading into the final stages of the season, while they have had to dig deep against both Ulster and Munster in order to make it back to a fourth consecutive European semi.
"Some of those calls, we have dealt with that sort of feedback, I thought Leicester changed their mentality in the second-half. They doubled down on pushing the boundaries, I think is polite way of saying it."
They may not be playing the with the same swagger, but their recent dogged form shows they still know how to win when it matters.
"These type of games, you don't get extra points for style," Cullen, winner of the competition as both player and coach, added.
"It's about getting through to the next round and they've done that incredibly effectively.
"If you think they'd a man sent off in that Ulster game [Juan Cruz Mallia], they dig it out really, don't they?
"They stay in the hunt, score a late try, they go to Belfast, they're still hanging in, hanging in but they get the job done.
"In many ways it's important, and then you get the rate of improvement. You peak too early and you think you've got the perfect performance in a quarter-final but where does that really serve you in a semi-final or final.
"Sometimes it's just about getting through to the next round. That shows a different type of grittiness or whatever it is that they have.
"They definitely have got something. Obviously the game last week goes down to the wire - literally - and they have the three players who have the composure to step up and deliver when it really matters."
The former Ireland lock added that he's confident his side will have a good handle on the Toulouse scrum, which arguably proved to be the difference between a draw and defeat in their 80 minutes against Munster a week ago.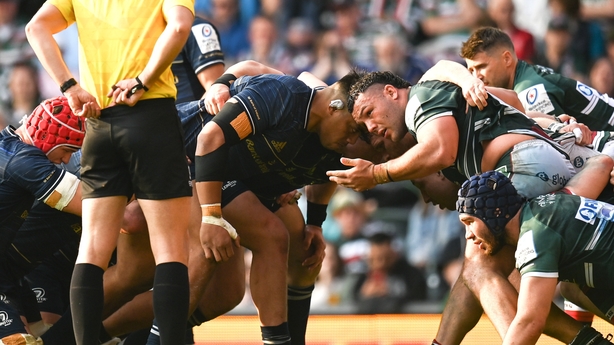 The scrum was an issue at times for Leinster in last week's quarter-final win against the Leicester Tigers at Welford Road, an area the coach says has been addressed.
He said: "Some of those calls, we have dealt with that sort of feedback, I thought Leicester changed their mentality in the second-half. They doubled down on pushing the boundaries, I think is polite way of saying it.
"Then the referee has to deal with that. The referee has to deal with pictures. If people want to push the boundaries, they deal with the consequences if they get penalised.
"We had a few things that we wanted to feed back off the back of that last week. This week Toulouse have a slightly different attitude.
"Again, sometimes it's the individuals, sometimes it's the mentality of the team, but we have to be able to deal with all of those parts of the game because the static battles are a huge part of knockout rugby.
"We have some good players in that front-row, Tadhg, Andrew and Rónan. It's a very, very powerful front-row that we have. We expect them to put in a big performance and gain dominance in that area for sure."
Listen to the RTÉ Rugby podcast on Apple Podcasts, Soundcloud, Spotify or wherever you get your podcasts.
Follow Leinster v Toulouse (Saturday, 3pm) in the Champions Cup semi-final with our live blog on RTÉ.ie/Sport and the RTÉ News app or listen on RTÉ Radio 1.