While Munster lost out on a place in the Heineken Champions Cup semi-final at the weekend, it reminded me just how addictive an art form goal kicking really is.
Someone like Ben Healy would have been practicing his kicking routine all week.
Sometimes that week involves finding a flow state and never really thinking about the process because it's just working for you.
Your nerves for the weekend are much less when you've had a good kicking week in training. Other weeks you're fighting the mental turmoil of a few millimetres.
Your standing foot might be landing a centimetre in the wrong place, and it could have an effect on the outcome of your goal kick.
You fight all week for the perfect process to put your standing foot in the right position to give you the right hip width to swing your foot freely through the ball.
You can get caught up in overthinking your starting step, whether you take a starting step with your kicking foot and then get moving, or whether you're better off just getting on the move with your opposite foot.
You do all this thinking during the week to try to put yourself in the right head space by the time the match comes around and yet your biggest focus is still on getting out to the warm-up early so you can see what kind of day you're about to have.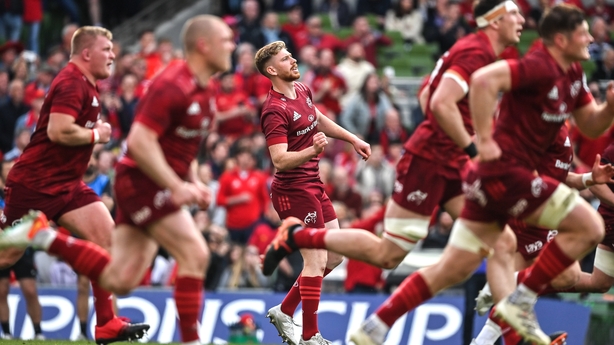 Of course, the practice in your warm-up isn't always an indicator of how you react under pressure.
Sometimes you can have a few iffy kicks before the match and once the real pressure comes on you resort to the level of practice that you found over the last weeks and months.
Other times you might think you found a sweet spot during the week and all of a sudden you miss your first kick in the match and thoughts quickly flow through your mind in an attempt to fix everything before your next attempt at goal.
Ultimately, all that practice really only gets you into the arena, with the ball placed on the tee and a dead pan stare into the distance.
The crowd expect you to be in a place of Zen, picking a small target through the posts, visualising what it feels like for the ball to go straight over the black spot and for you to be in full control of the process, leading to the outcome that all the relevant stakeholders want, a successful goal kick.
At least that's what you're supposed to be doing, blocking out the noise, slowing your heart rate and focusing on your own cues.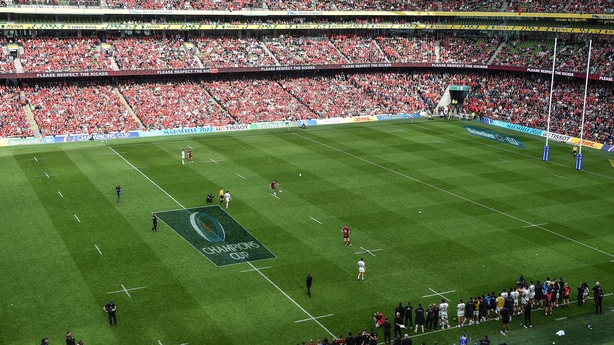 The crowd lauding you as you do it as if goal-kickers have a mental edge on any other sports person.
They have this distinct ability to go to another planet and be on their own with just the ball, the kicking tee, and the posts.
In reality, there are times when you are so far removed from what you're expected to be thinking about.
I remember worrying about where my family were while I was lining up kicks. I knew they'd be standing there, worried and guessing about how I should be feeling.
As a result, I would act confident, go through my process, and prove to them that I had the mettle to be standing over the kick.
It was almost like a poker face so I could put them at ease more than make myself feel more comfortable.
Goal-kicking is hard enough before you add in the last-minute antics.
When you're younger, you're actually looking at the scoreboard hoping you're not put in a position that everything falls on your shoulders.
Being four points down is a dream, because you need a try, and the kick is inconsequential.
Being two or six points down was a nightmare because you knew that if you're to win the game, you have to step up and put that pressure on your shoulders.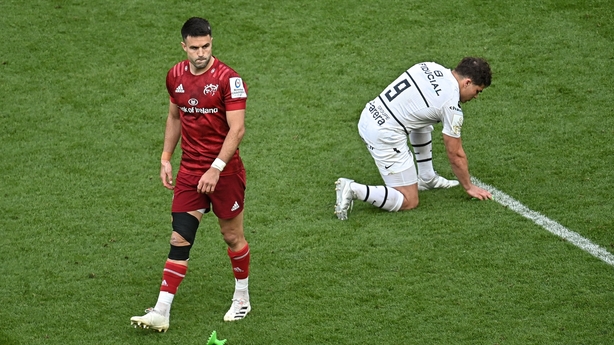 As you get more experienced and change your mindset, you're nearly willing for it to happen.
Goal-kicking is high risk, but high reward.
You can't replace the endorphins that flow through you when you pull it off.
As the ball goes soaring through the posts and you're trotting back towards your appreciative team-mates, it's very hard to replicate that feeling.
You can double it, at least, when you're after kicking the winner and the team is running towards you to pick you up or have a pile on. There's no feeling like it.
I remember kicking a last-minute conversion to draw against Young Munster in the AIL, I think the conversion made it 25-25.
I was kicking through the posts from the touchline, with the sun sitting in behind the goal, obscuring any vision of the target. I had to trust the process that day, just line it up and follow the path.
Thankfully it went my way.
The following week I had a kick to beat Lansdowne, this time from 40 metres out, at the 15-metre line.
In theory, I was focusing on the process, slowing my heart rate, and following my kicking cues.
"Slow steps, follow through."
In reality, I quite literally remember lining the ball up and standing back thinking "imagine if I could do it again, two weeks in a row."
Again, this one went my way, and I still have a picture of John Ryan bear-hugging me in celebration.
I had poor days, too, and they haunt you for a while.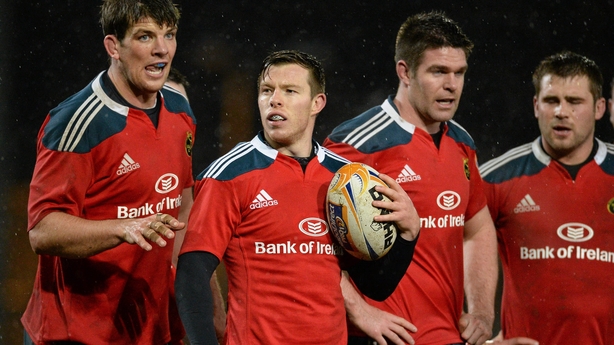 You want the ground to swallow you up so the supporters in the ground aren't judging your body language.
I remember my academy peers being the opposition on another day and taunting me as I lined up my kicks. "Same as the last one now Jonny, right and wide!"
I didn't disappoint them, and to the right it went. I think I kicked zero from four that game, a day to forget.
I kicked the winner in an 'A' game away in Nottingham while an opposition supporter shouted "potato" at me in his weirdest leprechaun accent.
That one went over too but I'm lucky it did because I had missed the tackle a few moments previously to put us behind with about seven minutes left on the clock.
I owed that one to everyone else.
One of my favourite kicks ever was at home to Zebre in Thomond Park in treacherous conditions.
Tomás O'Leary had to hold the ball for me that day and I felt terrible because he was only returning to match fitness, and I was shortening his recovery time before we had to run back and field a restart.
There seems to be a pattern for remembering kicks, because that one went over too.
Post-retirement, I seem to have blocked out the terrible efforts, as there were many of them.
That kick was the sweetest of all because of the conditions, the thought that I had no chance of even reaching the goal and the subsequent belief of just putting it in the right area.
Thomond Park looked after the rest. I believe that's one of the moments that allowed our head coach Axel Foley to put his faith in me, maybe that's why it meant a lot.
Standing over the ball, you can feel your heart rate increasing, your knees rattling, your thoughts wandering and still you step up to the next one because it's an obsessive addiction.
Kicking can make or break you.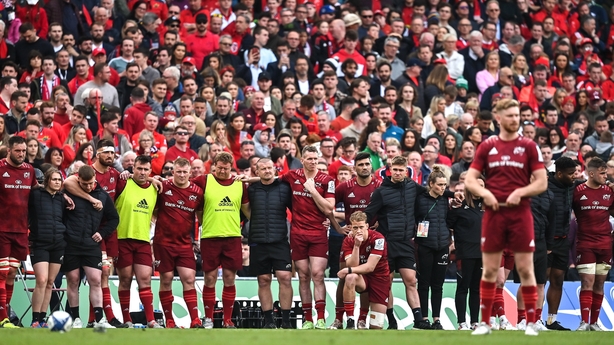 Unfortunately, Munster fell foul to a kicking competition on Saturday evening, but they took another step forward in developing a team for the future.
Healy will want to forget his contribution to the penalty shootout, but it really is a step towards a brighter day.
Like Ronan O'Gara, he'll have his day again.
Follow Leinster v Toulouse (Saturday, 3pm) in the Champions Cup semi-final with our live blog on RTÉ.ie/Sport and the RTÉ News app or listen on RTÉ Radio 1.