If Leinster's players want an idea of what it's like to play at Welford Road, they don't have to look far.
It's 14 years since their last away trip to the iconic Leicester Tigers ground, and of the current matchday squad only captain Johnny Sexton and substitute Cian Healy remain - both subs for that 25-9 defeat in January 2008.
Their head coach Leo Cullen knows plenty about the Tigers though. Not only was he starting that day in 2008, as well as captaining the Leinster side would go on and defeat Leicester in the final a year later, but he's also something of a favourite in the east midlands, having spent two seasons playing for the Tigers.
The second row swapped Leinster for Leicester in 2005 along with his teammate Shane Jennings, and the pair were regulars in the first team over the course of their two year, Cullen playing 56 times and occasionally captaining the side, both players winning a Premiership in 2007 before they returned to Dublin.
Cullen has been back to Welford Road since as a player, but this will be his first time returning as a coach, and admits to a few butterflies in the stomach at the prospect of an all-or-nothing knockout game at Welford Road.
"I suppose it's the atmosphere, it's the crowd, it's the way the team plays, the way they respond," he said, when asked about the Tigers' home ground.
"From my time there, I have always got this nervous feeling in my stomach. I remember what the match day is like there. You were there for your pre-match meal trying to eat your chicken and pasta at home. I remember sitting beside Shane Jennings, the two of us lived together, when we went over there first.
"The crowd were queuing up before the gates opened two hours before the game to get their spot on the terrace, which used to always amuse us. They were sprinting in to get to the spots on the terrace.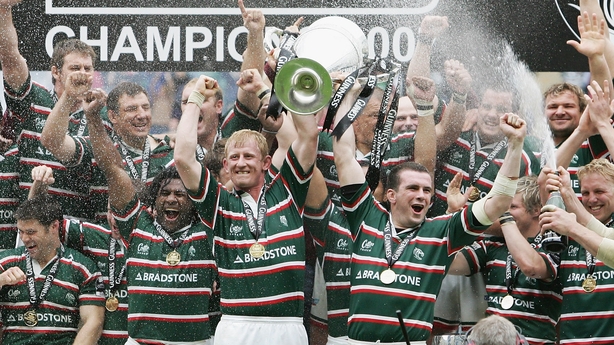 "It means a huge amount, similar to ourselves in many ways. It means a huge amount for our guys to play for Leinster because if the friends, family, the support piece really matters. There is a great responsibility that goes with representing the two teams.
"I remember Pat Howard asked me to captain the team for the first time, it just elevated it to another level again in terms of that responsibility piece. I was lucky to do that over there for whatever it was, 15 times potentially, over the couple of seasons that I was there. There's that sense of responsibility that goes with playing for these two teams."
Only Thomond Park and Clermont Auvergne's Stade Marcel Michelin seem to be spoken of in similar tines when it comes to the iconic rugby grounds of the European game.
And Cullen says it was a special place to play rugby.
"It was an amazing part of my life, those couple of years. I've only positive experiences from my time there in terms of the people, the relationships, the supporters and the support that is in the community there.
"I felt unbelievably privileged to have represented that team as many times as I did, and have some success there as well which are also very, very special memories for me.
"So yeah, it will be strange for sure, but we're away from home in Europe and you are always going to be up against a great team realistically, whether that's a coming force or a kind of traditional powerhouse, shall we say, and Leicester are definitely in the traditional powerhouse mold.
"A huge club, huge fanbase, and great people there as well."
Cullen was among a strong Irish contingent in his time at Leicester. As well as Jennings, Pat Howard's side also had Iain Humphreys, as well as a trio of Murphys in the form of full-back Geordan, scrum-half Frank and wing Johne.
They would experience Heineken Cup heartbreak in 2007 when they were beaten by Wasps at Twickenham, but Cullen and Jennings would lift the trophy with Leinster a couple of years later, ironically against their former side.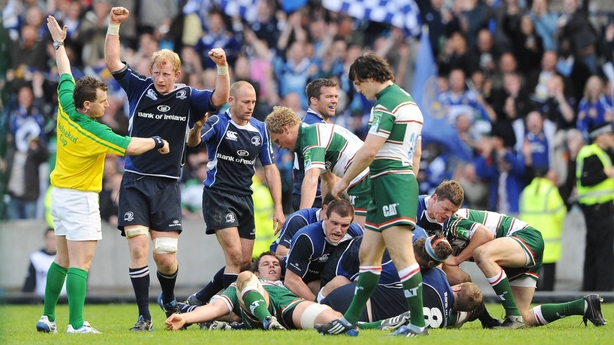 "When I left Leinster to go to Leicester, I wanted to be part of that type of team. Leinster weren't that type of team at that point in time.
"So obviously coming back here since, it's always trying to pass on some of that knowledge in many ways.
"When I was with Leicester, we lost in the final of Europe to Wasps in 2007 in Twickenham. Raphael Ibanez scored that try at the front of the lineout, which we still talk about.
"That's the thing, it's moments in the games. You're at these play-off games and these are the games that players will remember for the rest of their days. They remember the wins at the very end when they win, but often they remember the ones that they lose in terms of when they get knocked out of tournaments.
"They're the ones that stick in the mind. For our guys, it's a great test against a great club. Two good teams and two good clubs going at it."
For a while, Leicester - and Welford Road - lost their magic.
Today's quarter final is their first since 2016, with the Tigers spending several seasons in the bottom half of the Premiership, flirting with relegation in 2019 and 2020.
But since Steve Borthwick's appointment in 2020 their trajectory has been steady, finishing sixth in the Premiership last season and reaching a Challenge Cup final, while they've kicked on further in the current campaign, leading the Premiership with two rounds of the regular season left to play.
And crucially, they've stayed true to their identity as a forwards team, with their scrum, lineout, maul and string kicking game them part from their Premiership rivals this season.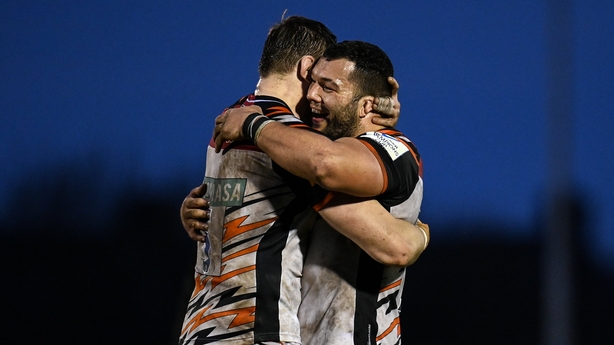 Cullen says the current Leicester style marries the classic and modern.
"There's a modern flavour to it, yeah. The game has moved on, as we know.
"It's based on the Leicester fundamentals of hard work, good set-piece, get the basics of the game right and work from there. That was probably my biggest learning when I was there.
"For the couple of years I had there, Richard Cockerill was forwards coach, Pat Howard again brings that kind of international experience that Leicester have traditionally been very good at bringing in from the outside.
"You can see the good foreign guys that they have throughout the team, [Julian] Montoya, [Hanro] Liebenberg, who is a former captain of South Africa U20s, leadership, experience.
"[Jasper] Wiese has obviously played for South Africa during recent times, [Nemani] Nadolo on the wing. It's all through the team; [Matías] Moroni, [Kini] Murimurivalu.
"There's tonnes of guys there that they've brought in from outside, so they have a real strong mix but it's based on the old Leicester fundamentals and values of the way the game should be played.
"They try to squeeze you so it is making sure that we don't get too frustrated with some of that because we know they are going to kick a lot and they will try to be aggressive around the breakdown area.
"So it's making sure that we get our own detail right because the interpretation of the referee is so key and around the ruck area in particular."
Listen to the RTÉ Rugby podcast on Apple Podcasts, Soundcloud, Spotify or wherever you get your podcasts.
Follow Munster v Toulouse (Saturday 3pm) and Leicester v Leinster (5.30pm) via our live blogs on rte.ie/sport and on the RTÉ News App, and listen to Munster v Toulouse on RTÉ Radio 1.