Greg McWilliams hopes that Saturday night's dramatic win over Scotland can be a turning point for his Ireland side.
Trailing by six points four minutes into overtime, Enya Breen stormed over for a try and then converted under pressure to steal the victory and secure a fourth place finish in the TikTok Women's Six Nations.
"They dug it out and now they can get that belief that it can be done," said the head coach, who took over from Adam Griggs late last year following the failure to qualify for the World Cup.
We need your consent to load this YouTube contentWe use YouTube to manage extra content that can set cookies on your device and collect data about your activity. Please review their details and accept them to load the content.Manage Preferences
"Before the English game we started talking about the great story, 6 May 1954, Roger Bannister and the fact that for years no-one could break the four minute mile.
"He breaks the four minute mile and in the next 12 months it's done lots and lots of times.
"The fact that now they can do that, now they can grow on that.
"People come into the squad know they're coming into a squad that has that bite and that bottle, and that's expected of them. I think it's really important for momentum, I think if we lost that match it would be a very different situation.
What a moment!

With the clock in the red, and Ireland behind by six, Enya Breen scores and converts her own try to win it!

Recap: https://t.co/YyPdgrLQNH pic.twitter.com/OLz8ELX9Qc

— RTÉ Rugby (@RTErugby) April 30, 2022
"It's one of those things, we're very lucky to win the game but we could have lost that easily and it would be a very different conversation now, so that implies that that victory as good as it is, there's a lot of things we have to do better so that we're not in those situations."
Talk of some type of contract for the XVs players abounds and there is also a first ever summer tour for the side, possibly in Japan, but the destination and the size of the travelling party is not yet confirmed.
Many players from the squad had to take time off work and studies to prepare for the games and captain Nichola Fryday says they must talk to the IRFU about how to go about a suitable arrangement.
"For each union I think contracts are very different because what works for England wouldn't necessarily work for us," said the Connacht second row.
"I think it's about us as players working with the IRFU to find a model that really works for us and that we get the most out of and they get the most out of, because for some girls it's not going to be sustainable for them. They have established careers."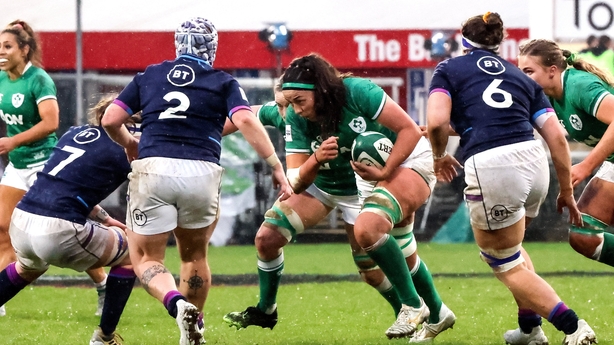 "So I think it's about having an honest conversation with the IRFU about what's going to work for us and what will allow us to be able to push on and really develop as a team.
"Our focus was just to compete in this campaign. After the Six Nations maybe we'll get that started."
Part of the plan ahead of the tour is to secure more time with the players so that they can build on the progress made.
"We've had a lot of talk recently about what that's going to look like in the build-up to the summer tour," said McWilliams.
"Like any coach in anything the more time I can get with the players the better we're going to be and the better prepared we'll be.

"It's about finding people...to add to our group so we're not going to be dependent on a small number of players who have to play between both codes.
"I'm not going to say there's a lot wrong, I think there's a lot that we have to fix in order to be competitive in the XVs game.
"I know World Rugby are looking to get 10 games a year for each nation which is great. If we get five in the Six Nations, two in the summer tour and then looking at getting three with the WXV in November, now you're talking about a seriously good period of time with the players.
Right on half time Ireland hit the front, with Neve Jones touching down for the try.

Ireland lead 8-5 at the break...

📺 Watch live on RTÉ2 and RTÉ Player: https://t.co/CStwnXf2cB

📱 Updates: https://t.co/YyPdgrLQNH pic.twitter.com/8NYjidTmL2

— RTÉ Rugby (@RTErugby) April 30, 2022
"My players don't go back to a province, they go back to a club.
"Those AIL clubs have a massive role to play to their standards and their best practice have to be applicable to developing and improving international players because they'll see them more than I will.
"The club structure is really important, and I'm sure every head coach will tell you they come in, they engage with the coaches, which I've tried to do, and it's about making sure that their tactical periodisation is smart.
"[That] they're getting to two-and-a-half or three minutes ball-in-play with good intensity and good skill rather than coaching for three hours where they're walking round and doing unopposed work that is essentially irrelevant.
"It's about trying to collaborate and trying to come together as a group and give ourselves the best opportunity that they're on the ground getting that good structure and hopefully I can have an impact on that."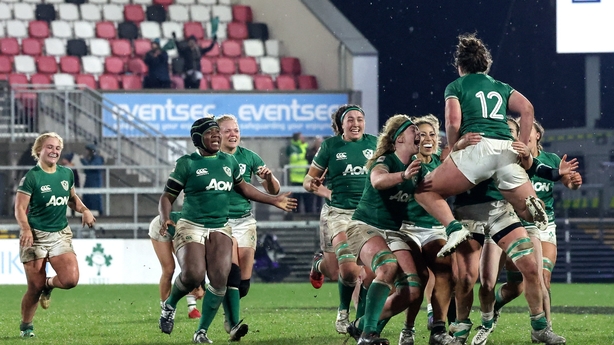 Asked what the next few months before the tour will look like, he said: "We've got to come up with a plan first. We have the plan in place and I think there's certainly a couple of tweaks that we want to put into it but it's about getting the players as often as we can.
"It's also about their physical development, it's making sure they're getting stronger, it's making sure they're getting fit for purpose.
"We're trying to play the game a certain way and that requires athletes to be conditioned a certain way so it's really important that these players can take that threshold to another level.
"Then from a technical point of view it's just repping simple basics of the game, that they can do it faster and with less errors so you can now get on top of teams and stretch them a bit more.
"Today the attitude of the carries was fantastic but if we can have something out the back that can give us another dimension, now that changes a lot of things.
"That's the next area of development: to put a lot of work in over the next year to make sure that we're more clinical and I'm really excited about it because we've got a group of players that want that. I know they're going to get better, and that's really exciting."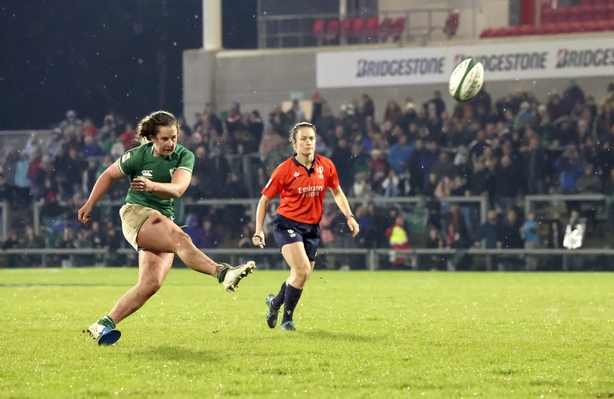 Ireland's last-gasp win meant they avoided a first wooden spoon since 2004. It was also their second victory of the campaign, having beaten Italy in round 3 and lost to Wales, France and England.
"Yeah, I think [I am happy with our tournament]," he said.
"I'd love to play Wales again because we learned a lot after the Wales game [a 27-19 loss]and our set-piece.
"I understand our set-piece is still not quite functioning, but I thought the scrum performance we put in against Italy and again tonight in stages shows that if we had that mentality, and we did a lot of work around our line-out and maul defence post-Wales.
"That's the one game I'll look back on and wish I could play again.
"I think [40-5] against France that was probably right, unfortunately [69-0] against England that's probably right as well, where we are. 10-0 at half-time as well, it was a good tactical piece of work by the players to stay in the game and then we saw what happened in the second half.
"I think I am where we thought we would be. Maybe we're a bit further down the line that I thought because we've got a gutsy group and that's the heartbeat of any team.
"I'm just excited to get to work on Tuesday and build a really good plan for them that we can develop around the core skills of the game, because without those done repeatedly well you're wasting your time."
Watch highlights on Against The Head, Monday 8pm, RTÉ2 and RTÉ Player