Ireland know all about the small margins.
Just two points the wrong side of the tracks against Scotland last year, they will be outside looking in at the World Cup later this year.
Last night they were on the right side of a one-score game, avoiding a TikTok Six Nations wooden spoon with Enya Breen's ice cool kick to convert her own try, one that came in the 84th minute, securing a 15-14 victory at the Kingspan.
"Nerve-racking, there was that belief there but Scotland were defending with their lives on the line there but we ground it out," captain Nichola Fryday told RTÉ Sport.
"We spoke about it throughout the campaign, there's that belief, that pride in the jersey, that we don't come off the pitch without a win.
"I'm just so proud of that performance, it wasn't perfect but we kept going and that's the type of a team we are trying to build that we won't give up.
"I was having flashbacks [from the World Cup qualifier defeat in Italy].
"We had that drive and there wasn't a moment on the pitch when we were like 'God, this is not going to happen to us'.
"It was bittersweet, it would have been nice if that had have happened in Parma but I'm just delighted that we finished the campaign with that hard-fought win."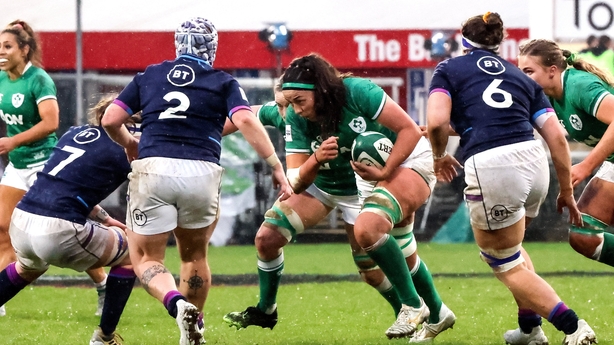 Ireland have endured a difficult campaign, losing their opening match to Wales after conceding two late tries and then suffering heavy defeats to France and England.
In addition, they had to play without many of their sevens contingent for the last two games.
The manner of the win, which secured a fourth-place finish, will have a huge knock-on effect ahead of the squad's inaugural summer tour.
"Look, it's tough but that closeness that Greg [McWilliams] has brought into the squad, it's a real team effort and you have subs coming on and making a real impact, driving us on," said the Offaly native.
"It's tough when you are out there but every single person will go out fighting.
"We want to be able to compete with the likes of France and England and there's a lot of work to be done, there's no denying that but we are ready for that challenge.
What a moment!

With the clock in the red, and Ireland behind by six, Enya Breen scores and converts her own try to win it!

Recap: https://t.co/YyPdgrLQNH pic.twitter.com/OLz8ELX9Qc

— RTÉ Rugby (@RTErugby) April 30, 2022
"There are so many positives to take from that but so many work-ons as well.
"We saw more consistency in the set-piece but we want to drive that on. We don't want 60-70% success rate in our lineout and scrum.
"We want to push it on and have it as a real weapon and we showed that out there. We got our maul try, we used it again but we want to push on, this is our base line. We're really excited to come together in the summer and push on again."
Ireland led 8-5 at the break thanks to Neve Jones try and a penalty from Hannah O'Connor. However, three penalties soon put Scotland in control and Fryday was particularly pleased that a relatively inexperienced side were able to dig deep.
The second row added: "There's a sign when you walk out on the pitch, 'This is where legends are made' and that's the start.
"There are girls who have been here 10 years and girls who are getting their first cap, and they are legends to those little kids out in the crowd. It's been amazing to come around the country and see that."
Earlier in the day, England beat France to claim their second Grand Slam in a row.