Greg McWilliams admitted that he always expected Ireland to lose heavily against England but wants his side to focus on the positives.
The 69-0 scoreline might not suggest too many pluses but keeping the home side, fully professional and ranked number one in the world, scoreless for the second quarter thanks to a series of last-ditch tackles and turnover penalties was something that the head coach was keen to emphasise.
"I said to the players afterwards that I think it's important to separate the emotion and the process," said McWilliams, who was without the services of the sevens players and injured duo Sam Monaghan and Aoife Wafer.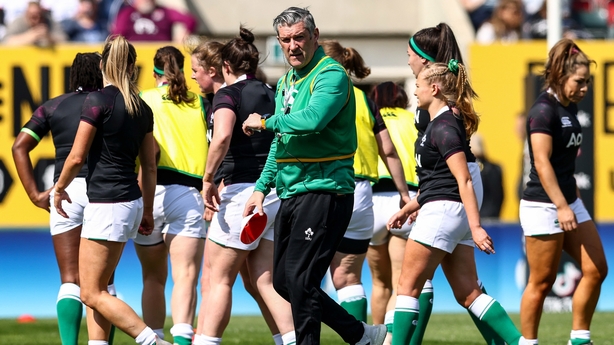 "You don't want them to get murky in the middle. I've been coaching for the guts of 26 years and tactically, from a group of players who stuck to task, that first half was pretty much how we wanted to go.
"I was impressed they did that and to go in 10-0 down was really impressive. We stopped England playing, which is what we had to do to stay competitive. I thought we did it really well, our defensive shape was really good.
"We've given a lot of exposure to the players as to what we felt their attack was going to bring at us and I thought they coped really well with that."
We need your consent to load this YouTube contentWe use YouTube to manage extra content that can set cookies on your device and collect data about your activity. Please review their details and accept them to load the content.Manage Preferences
Ireland had to play with 14 women for more than 20 minutes of the second half with first Dorothy Wall getting sin-binned for a high tackle and then Sene Naoupu seeing red for a similarly dangerous tackle that contained more force, according to referee Amber McLachlan.
Both England players involved in the tackles, Jess Breach (below) and Emily Scarratt, had to leave the field to receive head injury assessments and did not return to play.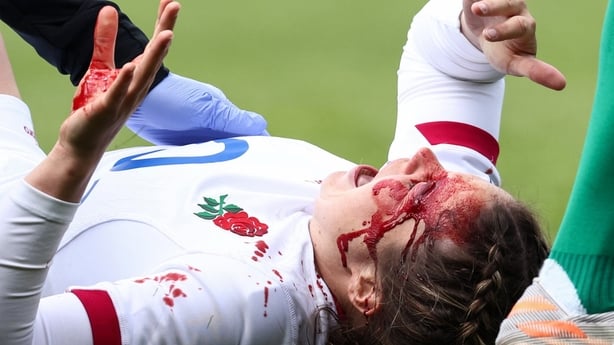 "In the second half, if you go down to 14 players against England for up to 25 minutes, it makes it so hard because you're relying on a group of players to get up and consistently go against size and power," he added.
"At the end of the day, the scoreline was always going to go that way but I think you just have to look at that first half and take so much from that. If you look at the way they defended until the very end, Neve Jones being the perfect example, Edel McMahon was absolutely immense defensively, and so were many others.
"I thought they didn't give up at all and as a coach, that's all you can ask for. We did play the world champions, they were very clinical in the second half.
"It's up to us to continue to try to get better as we have done the whole Six Nations and finish on a high next week against Scotland. All roads lead to Belfast now."
Asked about the difficulty in preparing a team without their sevens contingent, McWilliams said: "We try to not really think about that because I trust the group of players we have.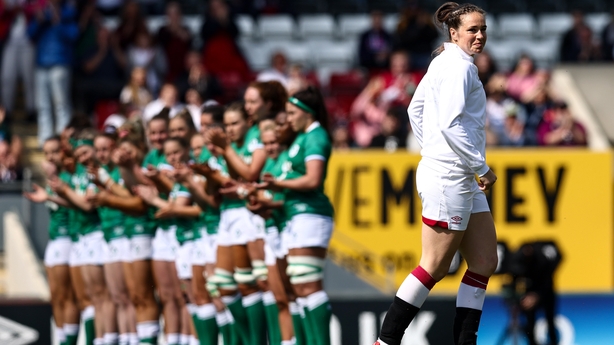 "At the end of the day, the scoreline... it was up front. There's not too many sevens players that were in a scrum or lineout. They were just so dominant physically.
"They're really impressive as a group of players who train professionally and have been doing for essentially three years.
"Talking to Simon [Middleton], the England coach, after, he thought that was the best contest he's had in a long time, which gives us great hope.
"Can we go and do that for 80 minutes now? We did it for a half and I think it shows there is maybe a fitness and power difference between the two.
"All we can do now is go back to the drawing board and make a plan that's going to make us better and be able to compete more."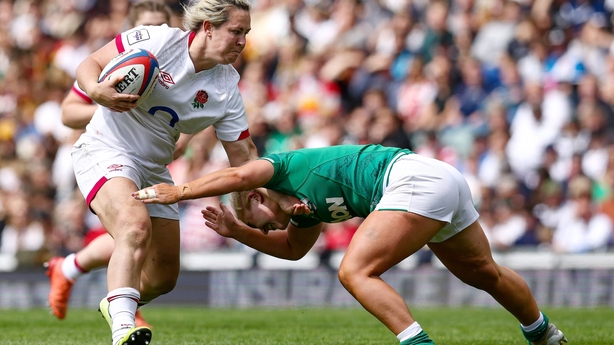 England were leading by just 10 points when a scuffle broke out under the posts. Neve Jones, outstanding in the loose again, confronted scrum-half Leanne Infante who had pushed her hand into replacement Michelle Claffey's face.
The officials decided that there wasn't enough force in it to justify more than a penalty reversal.
"I was [surprised]," said McWilliams. "She didn't get a card apparently because it wasn't forcible enough.
"I want to be really clear, the scoreline would have been very similar and it wasn't the reason why we lost by that scoreline but little things…two kicks that should have given us lineouts in better positions for some reason… they're momentum things.
"There was one in the first half and the second half, we should have had a lineout close to the England 22 and it was deemed outside the 22.
"Same thing in the second half. There was also a few 'in from the sides'.
"Trust me, that wasn't' the reason we lost but when you've got a group who are trying so hard."

Player of the match Marlie Packer, who scored their first try of the second half, said: "Ireland had a great defence, we played a lot of rugby in their 22 in the first half, but we had a good talk at half time, and we knew what we wanted to come out and do.
"Our main thing was to make sure we got another two tries from them and got that bonus point."
England will face France in a Grand Slam decider next weekend, while Ireland host Scotland in Belfast.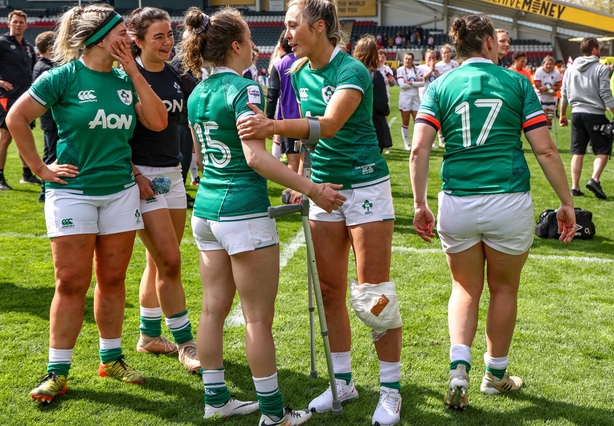 McWilliams said he would most likely have to plan without out-half Nicole Cronin (back) and winger Eimear Considine (knee) for the 8pm kick-off on Saturday.