From softball in America to hard knocks in the south of France, it's been quite a journey for Christy Haney.
Having impressed in the AIL and interpro' series, the Virginia-born prop earned a call-up to Greg McWilliams' first Six Nations squad as the new head coach looked to turn the page on a tumultuous period in women's rugby in the country.
The American has Irish blood through her grandmother, who comes from Borrisokane in Tipperary, and moved to Ireland six years ago for a Masters in structural engineering at UCD.
She joined up with St Mary's in Dublin and by 2021 was captain of Leinster aged 27.
Like many of her peers in the current Ireland squad, she came late to rugby. "I started playing when I was 18, in college at the University of Virginia," she said on Tuesday as she prepares to take on Italy in Ireland's third TikTok Six Nations game in Cork on Sunday.
"I didn't know it at the time but they handed out fliers. I rocked up to my first training session on a Tuesday and was playing tighthead prop by Saturday – it was very much a trial by fire.
"My coach was like 'you're gonna love it or hate it' and I loved it.
"The rugby IQ in the States is different from here but the quality of the programme and community they had set up made up for that.
"I had four years of just really high-intensity rugby.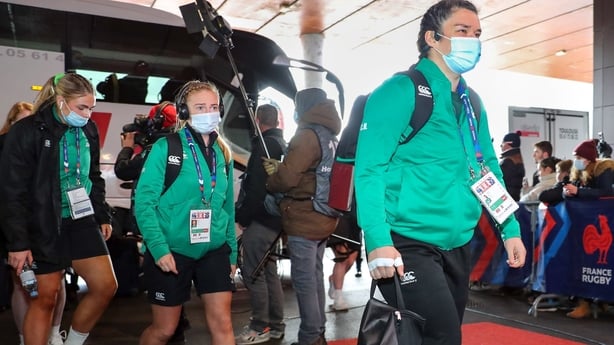 "I went on tour with the US Collegiate team to Canada, only two years playing so that was an amazing opportunity.
"That was my first exposure to really high standard of performance and I realised then I wanted to get back to that and really humbled to get that opportunity a second time.
"The standard in the women's game has grown so much in the 10 years since I started.
"[I moved to Ireland] and played with St Mary's for two years where I got to play with players of the quality of Paula Fitzpatrick and also in the Leinster squad with players like Lindsay Peat.
"I had the fundamentals but I got to soak in all the knowledge of those players around me. That was unreal."
While other players in the squad have made switches from Gaelic football, soccer, and basketball, Haney arrived minus any sort of experience of contact sport.
That lack of underage rugby know-how is one of the main structural issues that affects the top level of the women's game in the country, but also, she says, something that binds the squad together.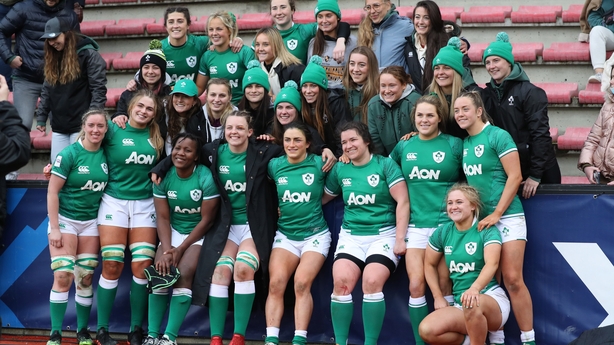 "I played softball all my life," said the front row forward.
"I get slagged a bit at the front of the lineout for my deep squat because I was always a catcher in softball.
"Rugby brought a new challenge when I was 18. I'd played no contact sports.
"It was a huge learning experience. I rocked up to my first game and was like 'how long are these' and was like 'jeez, I have to run for 80 minutes!'
"But a lot of us on the team have that, we're very adaptable.
"A handful have played from an early age but the rest of us have come from other sports and not only used those as the building blocks but also our life experience, our jobs, our critical thinking, that unifies us as a team."
The next step on Haney's journey takes her to Musgrave Park on Sunday, fresh from a harsh lesson handing out by the French women in Toulouse last weekend, where she made her debut as a half-time replacement in the harrowing 40-5 loss.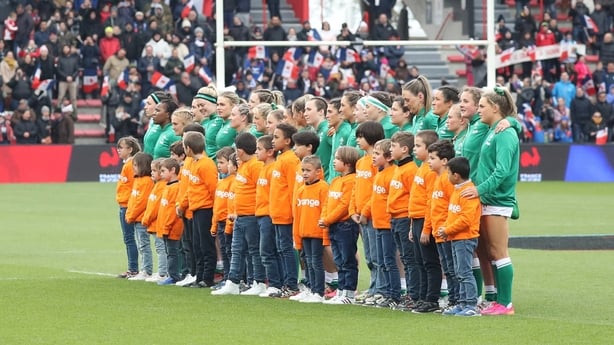 "It was tough but that makes us tougher," she adds.
"I got to make my first tackle quickly, which was great to settle into it, the first contact gives us that bit of confidence. We had a scrum shortly afterwards, it went decently well but there were a lot of work-ons for that and the ones that followed.
"That's the unique thing about playing prop, it's continuous problem-solving.
"No scrum is the same as the last one so not only was it physically challenging but you're mentally trying to clue in and think 'how are they thinking?' How are we adapting to that'.
"They presented a very unified pack, which was physically what we noticed most.
"The drive and the pressure, we're able to meet them there, I have no doubt we're going to get there with our scrum. It's just a matter of bringing that unity.
"That unity which is what drives that power forward and that physically is what I felt in the front row. They had that great platform.
"There's something about being at home and in Cork that will bring a boost and confidence and we've gone back together, reviewed tape and are coming out of the third week in a row with that little bit more confidence.
"Obviously, we have to take on a lot of learnings from last week but there's also a lot of excitement this week to perform and follow through on the things we can do."
Follow Ireland v Italy (Sunday 5pm) in the Women's Six Nations via our live blog on rte.ie/sport and on the RTÉ News App or listen to live radio coverage on RTÉ Radio 1. Highlights on Against the Head, Monday, RTÉ2 and RTÉ Player 8pm.