Greg McWilliams admitted that Ireland's error count was a major factor as his side fell to a 40-5 loss against France in the TikTok Women's Six Nations.
The end total was 27 handling errors for the visitors who were also totally outplayed at scrum and lineout.
"We are not here to finish second but all credit to the girls, I thought their effort was brilliant," said the head coach.
"We talk about being proud of our efforts but we are also trying to improve.
"After the Wales game, we did a lot of work around the contact area, body contact, clearing the ball better and I was really proud of the efforts.
"We've work to do around the set-piece, we know that. The key thing is we own the performance.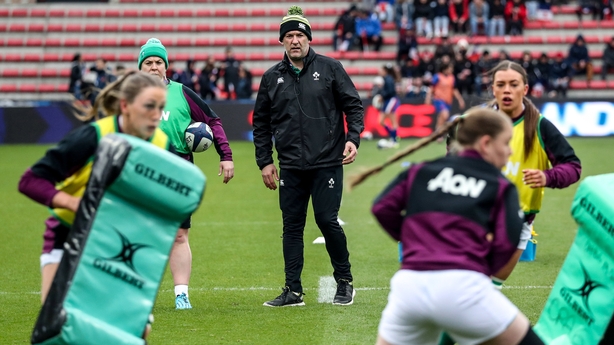 "We lost to France 40-5. France are a world class side but I am proud of the effort. They stuck to task and improved from last week.
"We got flat and sometimes in a game when you get flat and you are anxious and all of a sudden you snap to the ball and from the box it was tough to watch.
"It was killing us, those errors, coughing the ball back up.
"The set-piece was under pressure but we'll learn from that. The importance of getting the ball and holding on to it is massive and we'll just get better."
Ireland, who lost 27-19 to Wales last week, next face Italy in Cork on 10 April.
"The most important thing we can do as a group is just fight and they did not give up the fight when things weren't going their way," he added.
"Let's be honest, we're a long way off where we're going to be and we need to be a lot better.
"Ní neart go cur le chéile, you don't have strength without unity."