Josh van Der Flier may only be 28, but even he remembers a time when Ireland winning a Triple Crown was a big deal.
As expectations have grown in the last decade, the opposite can be said for the weight a Triple Crown holds among the Irish rugby public.
While Ireland have only beaten England, Scotland and Wales in the same campaign on 11 occasions, five of those have happened since the turn of the century.
So with silverware on offer this Saturday against Scotland as Ireland close out their Guinness Six Nations campaign, Andy Farrell's squad have been quick to highlight the importance of getting their hands on that plate.
There's also the added incentive of doing it in front of a home crowd. The Six Nations titles of 2018, 2015, 2014 and 2009 were all sealed away from home, as were the Triple Crowns of 2007 and 2006.
You'd have to go back to 2004 for the last time Ireland achieved a title in front of their home crowd, although we were still two years away from the Triple Crown winners actually being awarded a trophy.
That 2004 success, capped off with a 37-16 win against Scotland at Lansdowne Road, was Ireland's first in 19 years, and is fondly remembered by one of this year's main cast, Josh van der Flier.
"I was at that game against Scotland for the Triple Crown in 2004, I would have been 10, I was born in April '93," he said, ahead of this weekend's finale.
"It was incredible. I still remember it so well.
"I suppose when you're that age, you're just bewildered by the whole thing, really any game you go to.
"I remember going to school games and when I was a first year, going to the Wesley senior games and thinking they're just the most amazing things ever, and obviously international games were even more so.
"We spoke about it throughout the tournament, these opportunities don't come by so often.
"I've been very fortunate with Leinster to be on the field when we've won trophies, but to do it for Ireland would be absolutely incredible," added Van Der Flier, who missed out on the final rounds of the 2018 title win due to a knee injury.
"I'd say as it's gone on there's been a great buzz, all the way along, but definitely with the prospect of silverware and finishing off the Six Nations on a high by trying to put in a big performance and right a few wrongs, there's a good buzz around the place."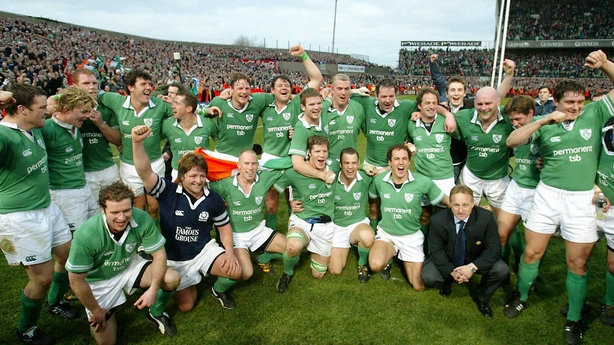 The Leinster flanker is the only member of the Irish squad to have played every minute of this season's Guinness Six Nations, and is likely to do so again this Saturday against Scotland.
And he's also topped Ireland's tackle count in the tournament, with 43 completions across the four games.
Tackling, and specifically tacking technique has been at the forefront of rugby discourse this week, following the red card given to England's Charlie Ewels last Saturday, for which the second row has received a three-week ban.
"Certainly you don't want to be high, you want to selective, there are times when someone is running across the field and you're kind of hitting them from the side and going low is great."
"I would imagine no one is trying to hit someone with their own head. And just the way it happens. From my perspective, certainly we've spoken about it in here, you do what you can so you don't leave those up to the ref because obviously the ref has a responsibility to keep people safe," Van der Flier added.
"The ball carrier is trying to evade you or try something and if you put yourself in a position, you put yourself at risk.
"Certainly we've spoken about it in the last two seasons in Leinster and Ireland, it is working on our technique and not getting in those positions where it could happen. If you've a good technique - you can get unlucky - but most of time, if you're slightly careless you can lead to things like that."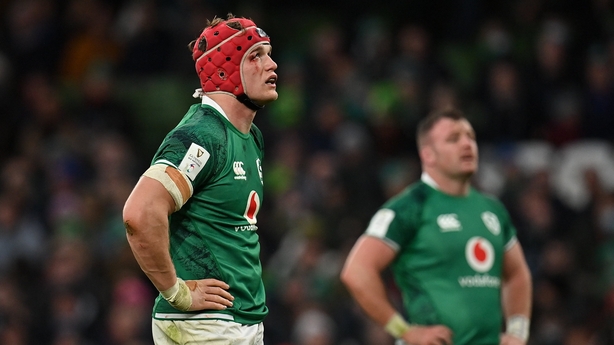 However, Van der Flier explains that there is no one-size-fits-all approach to tackling, adding that in some cases going low could prove dangerous to the tackler.
"I think it's a balance. I used to go really low at times. And I kind of went through a phase of going low on every kind of tackle. What I found was that if someone is running straight at you and you go low, you run straight into his knee which is no good either.
"Tackle selection is important.
"Certainly you don't want to be high, you want to selective, there are times when someone is running across the field and you're kind of hitting them from the side and going low is great.
"Sometimes you want to be a bit more around the waist rather than going straight down at their knees or so. It's probably a bit more dangerous for the tackler but when you go higher, it's obviously more dangerous for the ball carrier.
"It's something I've tried to get better at, being selective, there are times when someone tackles low but the right option is to tackle a bit higher at get the ball but you have to be so careful on those," he explains.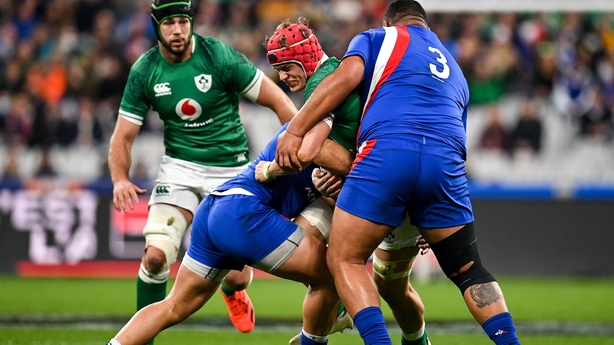 And the Wicklow native adds that the danger often comes when players are being held up in the tackle, as defenders try to slow down the ball and create a 'choke-tackle'.
"I suppose it's a bit riskier. If you look at the example on the weekend, if you are coming in a very upright position you at risk of your shoulder hitting their head or your head hitting their head.
"What we'd work on if we are trying to do that type of tackle is almost starting lower and then squeezing up, if that makes sense. So you are hitting just below the ball and then trying to get them up after.
"If you are going in upright to contact it's just too…firstly you are putting yourself at risk from the refs point of view.
"Also it's not a very good position if someone runs in at you straight, standing straight up trying to tackle you it's quite nice as a ball carrier to see that because you just try and go low and pump the legs.
"I'd say ideally you should still be trying to not necessarily go in low but aiming under the ball and squeezing up. There probably is a bit more of a risk if you're are just trying to play him straight and hold him up."
Listen to the RTÉ Rugby podcast on Apple Podcasts, Soundcloud, Spotify or wherever you get your podcasts.
Follow all of Ireland's Six Nations games via our live blogs on rte.ie/sport and on the RTÉ News App or listen to live radio coverage on RTÉ Radio 1.
Watch live coverage of Lions v Munster (12pm), Wales v Italy (2.15pm) and France v England (8pm) this Saturday, 19 March on RTÉ2 and RTÉ Player.