Just after Johnny Sexton finished his press duties, the 10-1 Scottish fancy Corach Rambler ran between the front runners with 50 yards to go to claim the Handicap Chase at Cheltenham.
With the week that's in it, the Ireland captain will be making sure his team don't take any gamble with their preparation ahead of the clash with Scotland, who are 7-1 to cause an upset in Dublin.
"We definitely won't be underestimating them," he told RTÉ Sport.
"We know some of the big results that they've had over the last couple of years away from home.
"I suppose they hadn't a good record away from home and then in the last couple of years they've beaten France, they've beaten England and Wales in Parc Y Scarlets.
"They're a team to be reckoned with.
"I know they've no championship to play for but that's when they can be at their most dangerous because they've got nothing to lose."
In fact, Sexton can point to a match 12 years ago when Ireland took the blinkers off and got pipped at the post by Saturday's opponents. Cian Healy is the only other survivor from that day.
He cites a sloppy preparation and promises that won't happen again.
The out-half will get to lift a trophy in front of a home crowd for the first time in 18 years if they win.
Back in 2010, with wins over England and Wales under their belts, Ireland, in their final match in Croke Park, rocked up expecting to get their hands on a Triple Crown.
It went wrong, Dan Parks kicking a late winner as the home rans ripped up their betting slips.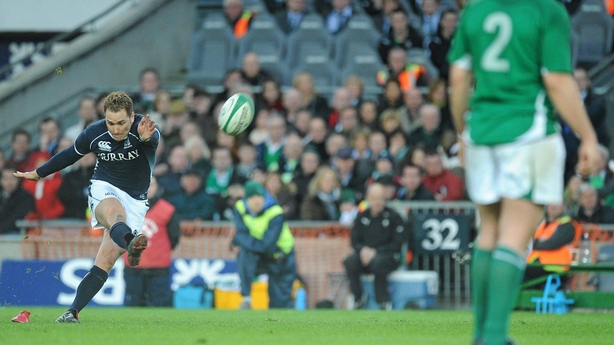 "I think I'm the sole survivor from that day," he says, either doing a service or disservice to Healy.
"But yeah, the scar is still with me. That's exactly the lesson we are trying to get across to the lads.
"They had nothing to play for that day, we had a Triple Crown on the line and they came and did a job, they had nothing to lose and they played brilliant rugby and yeah it was a bad day.
"To have a packed out Croke Park, we got nothing out of the game.
"The benefit of having experience is we've got someone like that to explain to the lads we need to get our preparation spot on and we've got very good coaches who focus in on the process and make sure we do our job right.
"I'm not sure too many of the lads will remember 2010 but I definitely will.
"We probably didn't nail our preparation, even the night before the game I remember a couple of things happening that were a bit off and yeah...we didn't get it right."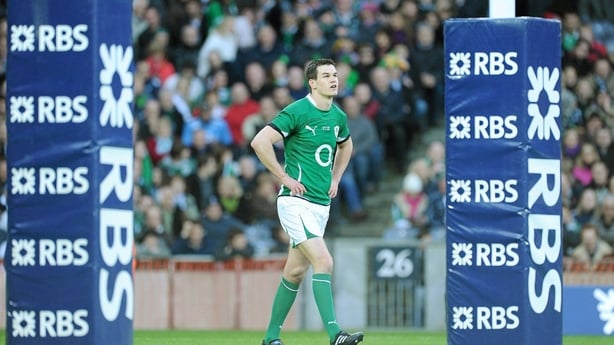 Pushed for specifics, Sexton preferred to keep that form guide to himself.
"The things we normally did the night before a game, we veered away from that, we did try to do something new," he said.
"That's in hindsight, if we'd gone and played brilliantly we'd have said we should do that before every game. It wasn't the overriding factor.
"The overriding factor was Scotland played better on the day and we weren't at the level we should have been.
"The most important thing is if you come away from the game at least if you've given your best performance if you've lost you just hold your hands up and say 'fair play to Scotland, they beat us'.
"That's what we have to focus on this week, is getting our best performance out there and if we lose we lose but we hope it won't be the case."
We need your consent to load this comcast-player contentWe use comcast-player to manage extra content that can set cookies on your device and collect data about your activity. Please review their details and accept them to load the content.Manage Preferences
Andy Farrell's side put themselves in position to claim the Triple Crown by beating 14-man England, 32-15, on Saturday, with the review showing plenty of room for improvement.
"We've taken a lot out of the game," said the 36-year-old.
"I think we got a lot of things right. We were sloppy in some areas which we've looked at.
"You learn a lot in showing what we showed, which was a lot of character to stay in the fight, and stay in the moment, and make sure we were able to bounce back from a lot of setbacks and a lot of things that weren't going our way and still be able to recover.
"So we learned a lot that if we can get out of that situation it will stand to us in the future as well.
"But yeah, there's lots of learnings on the other side of it. We need to be more accurate, we need to be better disciplined. They were the main things really.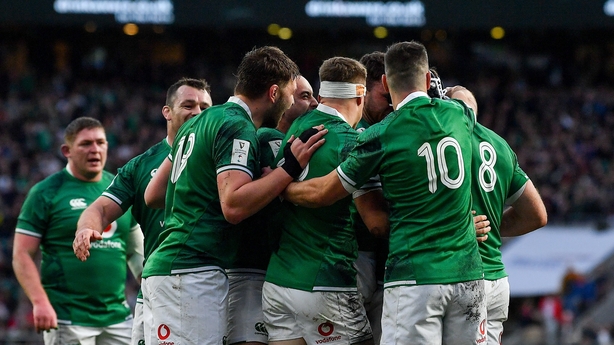 "Of course, [the third quarter is] the period, especially at the start of the second half, we showed some great bit of play and we didn't take a couple of the clear chances we had to score a try.
"They stayed in there and, in fairness, to them their defence was so good. They worked so hard with 14 men they were in the fight the whole time and we weren't clinical enough to take that chance.
"Again, if you take that chance at 15-9 up it can be a huge turning point in the game because then they have to play a little bit more and it can take its toll.
"We need to be more accurate but in that period especially was one that we've looked at a lot."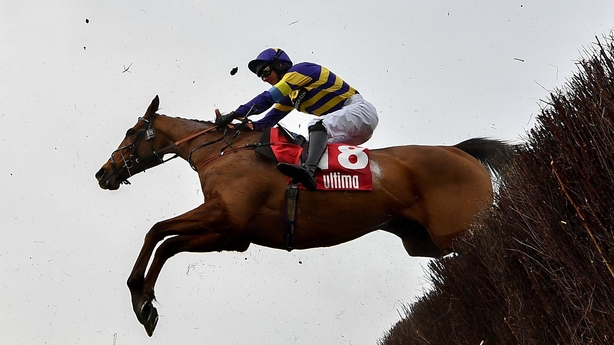 While Sexton is not one for the horses, he says the rest of the squad and management are enjoying the week.
"I don't [gamble on it] myself, I'm not good with the horse so I stay away from it," he said.
"There's a good few lads and there are tip sheets up on the walls and Wille Bennett, our masseuse, is leading the charge.
"Obviously, it's a big week in that regard for the lads, they love it. I think most Irish people do so they enjoy it."
Still in the running for the overall prize if England can upset France, there are no racing certainties this weekend.

Follow Ireland v Scotland via our live blog on rte.ie/sport and on the RTÉ News App or listen to live radio coverage on RTÉ Radio 1. Highlights on Against the Head, Monday 8pm.