Andy Farrell conceded that Ireland win's over England was "crazy" at times but the head coach had to be pleased by coming away from Twickenham with a bonus point win.
Ireland took an early lead after England were reduced to 14 players in the second minutes but made mistake after mistake and allowed the hosts to draw level with a quarter of the game to play.
A final flurry that yielded 17 points saw Ireland keep their Guinness Six Nations hopes alive.
"Yeah, over the moon," said Farrell after the 32-17 victory.
"If you said that to us before the start of the game we'd have snatched your hand off.
"Obviously it's a tough place to come, we were under a bit of pressure there in the second half, some of that our own doing, but the composure that we showed at 15-15 to stick to our task and come away with the bonus point was something we should be, as a group, immensely proud of.
"We managed to find a way and that's all that matters" - Andy Farrell reacts to Ireland's rollercoaster win against England #RTErugby pic.twitter.com/E2eTZdHcmQ

— RTÉ Rugby (@RTErugby) March 12, 2022
"We learned a lot about ourselves, we've been here before and under pressure certain aspects not gone well and game ran away from us and we've been on an early flight back.
"This time with the crowd was behind them, momentum was going their way.
Sometimes, when you've got 14 men, you've nothing to lose, sometime when you've got 15 playing against 14 you've everything to lose.
"We were a little bit desperate at times, inaccurate at times.
"We'll take rough with smooth and we came away with brilliant victory at the end.
"We started the game really well.
"We played some rugby outstanding, making line break after line break.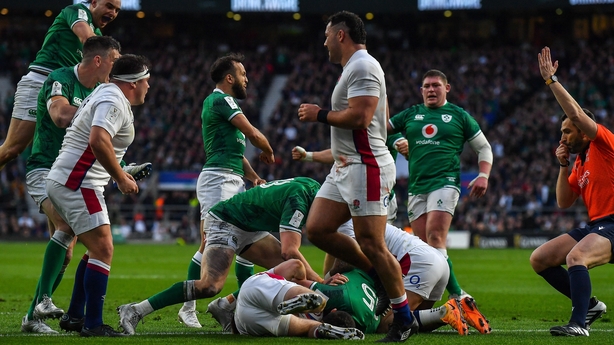 "It was the forced pass, wasn't it, that we just had to calm down recycle ball and trust ourselves to go through one or two more phases and get the rewards.
"It was actually a crazy old game, Test matches are never perfect, that's why they are Test matches, there to put under pressure. It's never going to be perfect.
"But we managed to find a way and do you know what, if you paid good money for that sure you'll be happy.
"We talked during week of finding way to gets our supporters singing towards and the end and we did that. We go home to recover and very happy, job done and we go on to the next one.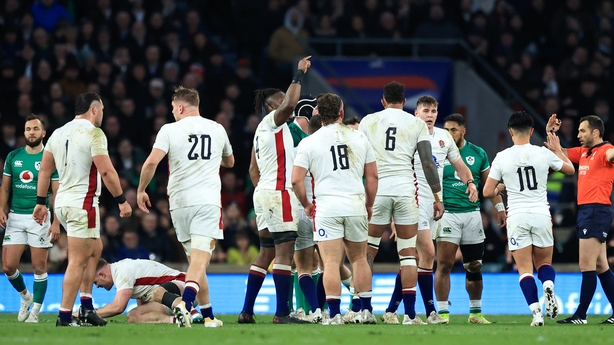 England dominated at lineout and scrum, even when winger Jack Nowell was forced into service in the pack. Still, Ireland found a way past inferiority in those departments.
"England's set-piece outstanding, our discipline creaked a little bit at times," added Farrell, the former defence coach with his native country.
"Continuity in the middle third of game was hard to come by, that's what you want when opposition is down to 14 men.
"Hats off to them, I thought they spoiled parts of our game pretty well.
"At 60 minutes or so, to be 15-15, you know what, you could just tell lads were calm, they knew it wasn't past us to do what we did at the end."