IRFU chief executive Kevin Potts says talk of making Irish women's rugby a professional game is "premature".
On Friday, Irish Rugby revealed the 30 recommendations given to them following the independent review into their failed Rugby World Cup qualification campaign, while also apologising to the players for the union's failings in the women's 15-a-side game.
Among the 30 recommendations given to them by Amanda Bennett, who conducted the review, was the suggestion that the IRFU would introduce "hybrid or retainer contracts for XV players to manage physical, emotional, time and other pressures".
Currently, the only professional women's rugby players in Ireland are contracted to the sevens programme, although many also double up with the 15-a-side game.
Last month, Ireland assistant Niamh Briggs said it was inevitable that the women's game in Ireland would become professional, although she added there needs to be patience around when it will happen.
"I think the game will go professional here 100%. That is the way that the game is going," she told the BBC.
"How exciting is it for that generation to become a professional rugby player?"
The IRFU say they will explore the possibility of hybrid and retainer contracts upon the appointment of a 'Head of Women's Performance and Pathways', a role which has been created off the back of this review.
However, when asked about the former Ireland captain's comments, IRFU CEO Kevin Potts said a professional 15-a-side team in Ireland remains some way off.
"I think one of the recommendations as we discussed earlier is to look at this area and I know Niamh's (Briggs) comments. It's probably premature to say.
"It's premature to say it's inevitable, we need to find the right model that works for Ireland and a model that drives the standards of our women's international XVs and enables them to compete absolutely and the other fives unions and across the world.
"This is definitely an area we'll be looking at and, as we mentioned earlier, the arrival of the new head of women's performance, it will be one of their first things to start to look at."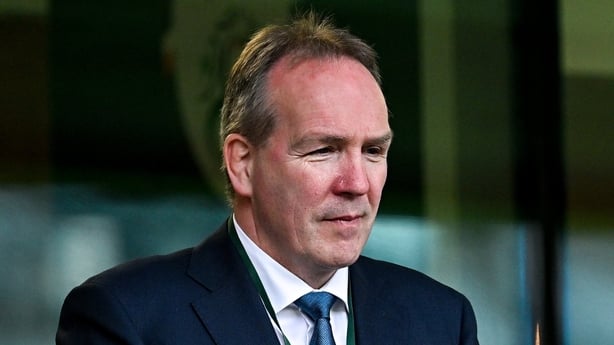 Potts (above) added that the new role will also involve reviewing the complicated balance of time for players who represent Ireland in both codes.
"One of the asks of our new head of women's performance and pathways will be to examine that whole interaction between our sevens and 15s squads and to make recommendations up through the National Professional Game Board and to the IRFU as to how that will be managed in the future. There is certainly a perception there that it needs clarity."
Former Ireland international Fiona Steed, who is currently a member of the IRFU Committee and chair of the Women's Sub-Committee, believes professionalism can only come as a result of the right foundations being put in place.
"There have been different iterations around the world as to what professionalism looks like. You look at Wales bringing on board 12 full-time professionals, then what happens to the other 20-something?
"It's exploring it and doing it right and not just throwing money, because that's what people would like to say: 'we have a professional structure.'
"We need something that is sustainable, something that ensures women can perform to their absolute best.
"What that looks like can't be a knee-jerk reaction, it can't be handing out contracts to 10 or 30 players. It needs to be what suits us.
"That's very much what World Rugby's guidance is on it. That can be different in different regions."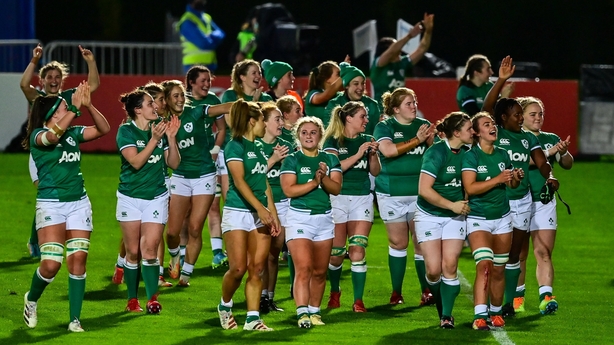 While agreeing that a top three finish in the Six Nations is the target for Ireland in the coming years, Potts says it would unrealistic to expect instant success under new head coach Greg McWilliams.
"I'm not going to put a time frame on it today because I don't want to be heaping pressure on the head coach and Niamh (Briggs) and the squad.
"But I do think we are going to be re-setting our performance priorities when the new head of women's performance starts and I think at that point we'll probably set down what some KPIs (key performance indicators) in relation to those performance targets will be.
"It's obviously disappointing we didn't make the World Cup. We are where we are, but what we are doing is, we're ploughing significant resources to enable the team to perform to its capacity over the coming years.
"I met with Greg McWilliams for the first time last week. We had a long discussion. He is extremely enthusiastic about his plans to develop and the culture around the team and what's coming to support him. I think he will do a really good job," the CEO added.
Listen to the RTÉ Rugby podcast on Apple Podcasts, Soundcloud, Spotify or wherever you get your podcasts.
Follow all of Ireland's Six Nations games via our live blogs on rte.ie/sport and on the RTÉ News App or listen to live radio coverage on RTÉ Radio 1. Watch live coverage of England v Ireland on Saturday 12 March (4.45pm) on RTÉ2 and RTÉ Player.