Andy Farrell says he's "delighted" with the nature of Ireland's 29-7 bonus point win against Wales in the Guinness Six Nations.
And while Ireland's attack once again looked varied and dangerous, the head coach says it was built from a defensive foundation, which he claims is their biggest strength "by a country mile".
The hosts came within five minutes of shutting out Wales at the Aviva Stadium, which would have been a first for them in the Six Nations, before a sloppy Tadhg Beirne pass was intercepted by Taine Basham who scored the consolation try.
And while Farrell says that try was the one black mark on their performance, he added that their overall defensive showing was outstanding.
"That was the most unpleasing thing about our performance, we got a bit loose," he said.
"It looked as though we was just trying to keep playing for the sake of playing. We didn't manage that particular part that well and the looseness ended up with a Welsh try.
"It wasn't how we had defended before that because our defence was good and it's something we really pride ourselves on.
"People are talking about the way we're playing the game at the moment but the best part of our game by a country mile is our defence."
As well as their defence, Ireland's discipline gave them the platform for entry into the Welsh 22, with 54 minutes played by the time they conceded their first penalty.
"It was great, it was something that we constantly talk about," Farrell added, when asked about their ability to stay on the right side of the referee.
"Our discipline and decision making was great, discipline doesn't just count for penalties, it counts for how you play your own game as well and it was pretty good across the board.
"There's plenty to work on as well.
"We're delighted with the win, and obviously the bonus is the bonus point. To get a bonus point win against a side like Wales is no mean feat, so we're delighted with that, really pleased with certain aspects of our game and like all first games there is plenty to work on as well."
Farrell doesn't appear to have any major injury worries heading into next week's trip to Paris to take on France.
The head coach was able to empty his bench relatively early after Ireland secured their bonus point before the hour mark, while they are expected to have Iain Henderson and Robbie Henshaw fit and available if needed.
Star of the show was Mack Hansen (below), the debutant named Player of the Match on his debut.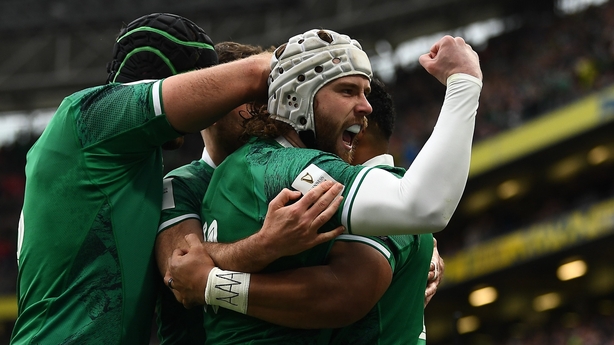 "We're not surprised," Farrell added of Hansen's performance.
"He's got the temperament for handling debuts, he's very cool, calm and collected him how he plays the game. It suits how we play the game as well, we want to be nice and controlled in how we make decisions and I thought he was pretty smooth at times."
Captain Johnny Sexton echoed the coaches thoughts on their new teammate.
"I've been really, really impressed.
"He's a good guy, which is the most important thing. He has bedded in really well with the group. And his performance speaks for itself. Sometimes guys like himself, I compared him to Lowey (James Lowe) a bit in that guys that are so elusive and breaking tackles sometimes don't shine too much in training too often because we're often not doing full-contact.
"He broke so many tackles this evening so he's going to shine in those games and we have seen it for Connacht. He brought that into the international arena and he's got a game that's made for international rugby so hopefully he continues to grow with us. It's a great start for him," Sexton said.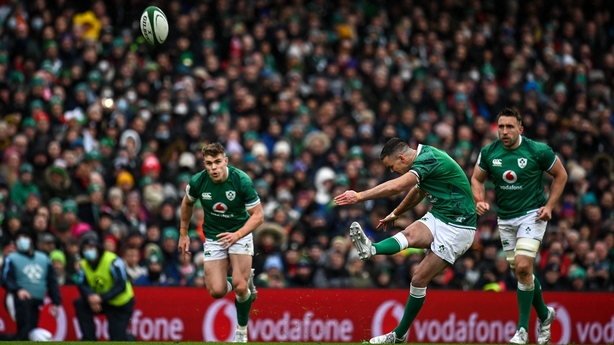 The Irish captain had a mixed afternoon off the tee as he dealt with a swirling wind, kicking three out of six, although his contribution in open play was assured and adventurous.
The 36-year-old says the win and the bonus point are the most pleasing aspects of their afternoon's work, with memories of last year's defeat in Cardiff still fresh in his mind.
"I can't tell you how demoralising it is... last year you go back to the first game and you're sitting in the dressing room with nothing to show for all your efforts, Triple Crown gone, Grand Slam gone, up against it to win a championship. That's what we're most pleased about.
"Like Andy said, we feel there was plenty of stuff to brush up on for next week because France away is arguably one of the biggest tests in world rugby.
"We need to be at our best and learn lessons from today, even in victory. I think we did that well in November and hopefully we continue in that vein.
"There's always been confidence in the group, even when times were low after the first two games of the Six Nations last year.
"We weren't too far away and thankfully we turned things around results-wise, but you're never confident about going over to Paris because it's a hard place to go."