For Jack Carty, the key to getting back into the Ireland squad was not worrying about getting into the Ireland squad.
Having earned all of his 10 Test caps in 2019, the Connacht captain was recalled to the Ireland squad for the final game of November as injury cover for Johnny Sexton, watching the Autumn Nations Series win against Argentina as a spectator.
But his form since November has kicked on even further, and he was rewarded with a place in Andy Farrell's 37-man Six Nations squad last week, leapfrogging Harry Byrne in the pecking order to join Sexton and Joey Carbery as the out-half options.
The 29-year-old still has work to do in order to beat Carbery to a place in the matchday 23, but barring injury it seems all three out-halves will see some game time during the course of the next eight weeks.
And while he admits returning to the Test arena is something he has worked towards for the last two years, he says it only became a possibility when he stopped allowing it to control him.
"It was always the goal, I think maybe when you try to focus too heavily on a goal, you might get lost in the part in between," he said, speaking from Ireland's pre-Six Nations camp in Portugal.
"It wasn't until I stopped worrying about it and got back to what I had to do daily, weekly, monthly, that I was able to slowly get back to where I am now.
"That being said, I'm still not where I want to be. I'm going to worry about the end goal when that comes about.
"Previously I was so hell bent on getting to that end goal, that maybe off the field I was probably a disaster to be around at times.
"When I play best I have a smile on my face. If I can set up things off the field to be in a place where it needs to be, it enables me to excel and do what I want to on the pitch.
"I think when I was playing rugby for many years I probably looked like I had the weight of the world on my shoulders, but now I really enjoy what I'm doing, I'm enjoying this environment, it's been brilliant.
"There are similarities, but I'd like to think there's a lot more enjoyment in it for me (compared to 2019)."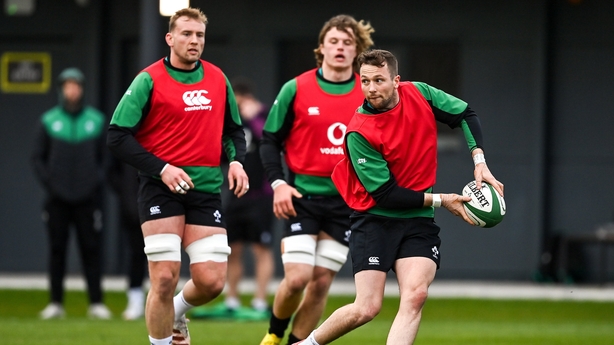 The Roscommon native is honest in his assessment of his post-World Cup form.
Having played consistently for Ireland during 2019, he returned from the World Cup as potentially Ireland's second-choice out-half given the injury to Joey Carbery.
However, when Andy Farrell named his squad for the opening round of the Six Nations two months later, both Billy Burns and Ross Byrne had overtaken him in the queue, with Harry Byrne's inclusion as a development player a sign of the competition to be Sexton's backup.
"Initially, when I did come back from the World Cup, my form wasn't good enough to warrant selection. In Connacht, Conor Fitz (Fitzgerald) was playing incredible rugby. When I came back, it was well documented that I said I was nearly trying too hard.
"I came from the World Cup and maybe saw myself as second-choice and wanted to really kick on and maybe forced things on my end. As a 10, if you look to force things, you're going to be in trouble."
As well as his more relaxed mental approach to selection, plenty of on-field factors have contributed to his recall.
Firstly, with a clean bill of health and less squad depth at Connacht, he's been the most visible out-half in the country this season, starting all 12 games for Andy Friend's side across the URC and Champions Cup.
As well as that, the western province's attacking style matches up quite similarly with what Ireland were doing in November, something Carty noticed during his week in camp two months ago.
And another factor has been his captaincy of Connacht this season. While Jarrad Butler is listed as the province's official captain, Carty has been given the role on the pitch for the bulk of the season.
It's a job he's had to grow into, explaining earlier this season how he previously found it to be a distraction from his out-half responsibilities.
"It has been a long journey up and down. Every player in their career goes through periods of non-selection and I think it's about how you learn from that. I think I've learned a lot about myself and my team-mates have learned a lot about me. It's great to be back in the set-up and hopefully the next couple of weeks are good to me."
But Ireland coach Andy Farrell specifically credited the captaincy with Carty's improved form at this week's Six Nations launch, and the out-half agrees.
"I'm a lot more mindful of what I say to the players, I'm a lot more prepared in different aspects in terms of messaging through the week.
"Previously, that was maybe a thing where it would have been thought of on the spot and my messaging wouldn't have been as accurate to the players around me.
"What that has given me then... in Connacht we have key principles of what we're trying to do whereas maybe previously if things weren't going the way I wanted them to, I maybe had nothing to fall back on to go back to what we were doing. Now we have that.
"It's very simple for me in attack with those principles, especially around squareness.
"That coupled with the preparation throughout the week has probably pushed me in terms of the leadership and performance part," he added.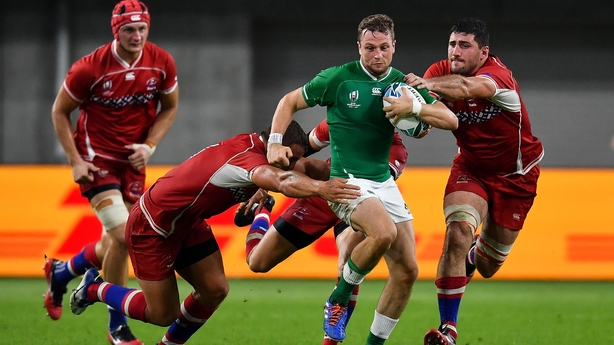 Now that he's back in the squad on merit, the next step is winning an 11th cap.
Whether he gets it or not, he's adamant he has nothing to prove in an Irish jersey.
"Definitely not to myself anyways," Carty said.
"It would be nice, I suppose, maybe the narrative up until now has probably been since the World Cup and it would be nice to maybe close that chapter if I get on the field.
"It has been a long journey up and down. Every player in their career goes through periods of non-selection and I think it's about how you learn from that. I think I've learned a lot about myself and my team-mates have learned a lot about me. It's great to be back in the set-up and hopefully the next couple of weeks are good to me."
"I'd like to get quality game time and, I suppose, be comfortable in the environment, which I have been so far. I'd like to think that if I do get the opportunity to get game time I'll add to the team.
"I think getting an understanding of what we're trying to do in attack especially is the biggest thing for me at the moment.
"Like I've said there are similarities but there is a lot of things that are different so it's about getting that feel and working the '9s' and then having Bundee and Robbie there, who I've good relationships with already, it's just tapping into them as a resource to see how things are run."
Listen to the RTÉ Rugby podcast on Apple Podcasts, Soundcloud, Spotify or wherever you get your podcasts.
Follow all of Ireland's Six Nations games via our live blogs on rte.ie/sport and on the RTÉ News App or listen to live radio coverage on RTÉ Radio 1. Watch live TV coverage of Ireland v Wales (5 February, 2.15pm) and England v Ireland (12 March, 4.45pm) on RTÉ2 and the RTÉ Player.