Munster's Ben Healy insists getting more time on the field is the key to building his game.
The out-half carried the ball three times for 23 metres, had a clean break, made 18 passes, including two offloads and provided a delicious assist for Simon Zebo's first try, delicately chipping the ball over the defence for the former Racing 92 man to collect and score.
The 22-year-old also kicked 11 points and put in three tackles before he was replaced by Jack Crowley in the 67th minute.
By that time, Munster had the bonus point in the bag and showed that once they put their mind to it, are capable of playing an easier-on-the-eye brand of rugby.
"Yeah, it was a lot of fun to be honest," Healy told RTÉ Sport after the 45-7 victory, in which they ran in six tries.
"I think we probably found our flow early on. That kind of carried into the rest of the game.
"There was a few low moments like that injury [to Thomas Youngs] that stopped the game for a few minutes.
"After that we got back into slowly but surely. We found our flow in the first few minutes, something we spoke about going into the game and we built on that.
"There wasn't too much to do, it was feeding off each other and working really well.
"There was 13,000 fans there today, a day-time kick off in Europe, we've had a lot of late-night games.
"They made a massive difference but yeah, it was definitely fun out there."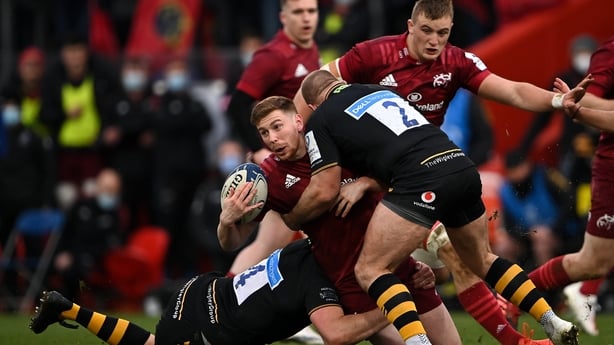 Healy, who made his fourth Champions Cup appearance yesterday, insisted that there hadn't been an overt change of direction or plan to play in a more expansive manner.
"It's not something we speak about, look, it's obviously hyped up in the media a lot but we are confident in our processes and it didn't change at all this week," he said.
"That performance came from us training really well during the week, not necessarily implementing anything different, just two or three really good training days and that fed into the game.
"Sometimes you just find your flow early on in the game as a team and things click and balls bounce your way and it certainly felt that way out there."
The former Glenstal Abbey student has been feted for his kicking game, both out of hand and off the ground, but it was with ball in hand that he most impressed against the English Premiership side, who are now out of the competition.
"I'm still pretty young and I know my game needs to grow and expand and I'm happy with how that's happening," he added
"I've got really good senior players around me who I'm learning off all the time.
"Then I've got a World Cup-winning out-half [Stephen Larkham] who is the coach of our attack so I've got a lot of tools at my disposal and I'm happy with how I am progressing and I'm taking advantage of that."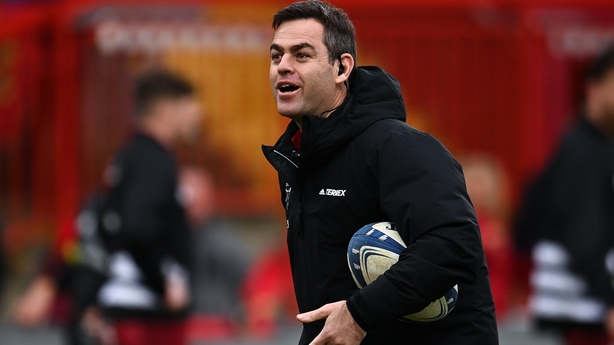 Whatever about the "fun" his out-half had, his head coach insisted that the fun was incidental to the plan.
"There was no specific message to Ben, just go out and enjoy it and steer the ship," Van Graan said.
"I felt he had a really good game, the first [pass] for Zeebs, that little chip for Zeebs, his decision making, pretty good defensively. [I'm] very happy for Ben, chuffed with his performance."
Healy is in competition for a starting place in the team with Joey Carbery, who is currently out injured but included in Ireland Six Nations squad, and Jack Crowley, who started last week's match against Castres, while Jake Flannery has his eye on the 10 shirt too.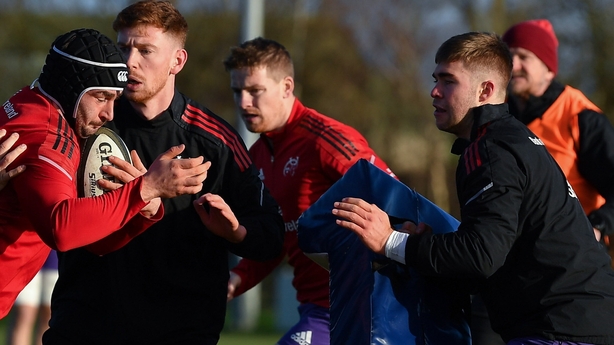 The Tipperary man says minutes on the pitch is the only way for a fly-half to learn his trade.
"It's very important," said Healy, who started in two of his six URC games this season.
"We all know game time is invaluable for any position but particularly out-half because so much of it comes down to your feel of the game and how the game is flowing and adapting what you are doing and what the team is doing.
"In other positions you probably can get better with less game time, for positions where a lot of your work is head-on-head with the opposition, a lot of them are just collision-based, or centre, I'm just taking examples off the top of my head, whereas an out-half, I need to be able feel the flow.
"A huge amount of game time does help. I'm grateful for the game time I've had over the last few weeks and it's helped me a lot."