Dan McFarland says his side's near-collapse against Clermont Auvergne was "very disappointing", after they survived a late scare to beat the French side 34-31 in Belfast.
Ulster ran in five tries in a brilliant first 65 minutes to ultimately guarantee second place in Pool A of the Heineken Champions Cup, but they were made to sweat for the win when ASM ran in three late tries to almost snatch an unlikely victory.
Having led 34-12 following Robert Baloucoune's converted try with a quarter of an hour to play, McFarland says his side became complacent.
"The fact that in the last 10 minutes we sat on our laurels...and for me as a coach I found that very disappointing," he said.
"That's something I will address with the players, and we'll look at what it takes not to sit on our laurels.
"You have to remember they brought on Camille Lopez and Penaud in the last 20-25 minutes of the game, and these are unbelievable players, who can open up a game on their own.
"It needed us not to be at 95%, but to be at 100%. Bottom line is in the last minute we needed one set of defence to see out the game and we got it."
Up until that final quarter, it had been a supreme performance from the Ulstermen, who made it four wins from four in their pool, ensuring they will have home advantage in their round of 16 tie later this season.
"I think we played some fantastic rugby to get out to 30 points to not-very-many, it was a testament to the way the lads played this evening, some brilliant attacking rugby, some brilliant defensive rugby.
"The only thing that marred the first half was errors in exiting our half which allowed them to build their 12 points.
"Some of the tries we scored, the combination of maul, hanging onto the ball in the opposition 22 and some fantastic rugby out from our own 22 really staged what characterised the match," he added.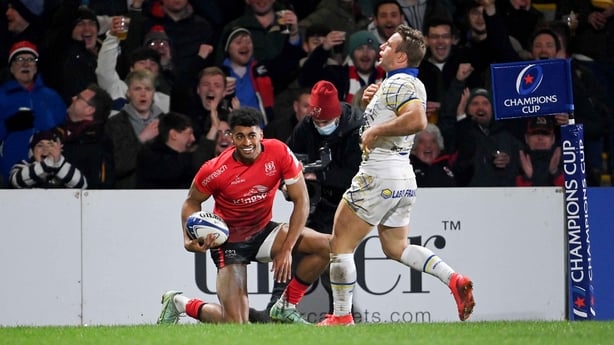 While Ulster finish second in Pool A, they could end up facing defending champions Toulouse in the next round, after their own game against Cardiff was cancelled due to a Covid outbreak.
That pairing isn't guaranteed though, with Munster's fixture against Wasps set to decide the final standings.
The Ulster boss laughed when asked about Ulster's "reward" for their 100% record being a showdown against the five-time winners, but added his team will relish the challenge, regardless of who they face.
"It is a bizarre scenario this year, isn't it? You win all your games and you finish second in a pool of 12.
"We genuinely deserved to be second, we played all four games and played two teams that were genuinely up for the competition, and the reward is playing Toulouse.
"I relish the thought of playing Toulouse, they're one of if not the greatest rugby team in Europe over the last 50 or 60 years, and we've had a crack off them in the last few years on a number of occasions. We know how tough they are to beat but that's another chance for us to test ourselves against them.
"If it is Toulouse, so be it, but if it's not it could be Wasps, it could be Bordeaux. I watched Bordeaux play last week, some of the rugby they play is fantastic, it's really exciting to watch.
"Bottom line is that Wasps beat Toulouse, so any team you play in the last 16 is going to be good," he added.