Leicester Tigers head coach Steve Borthwick cut a relieved figure on Saturday evening at the Sportsground, with his juggernauting side booking their place in the last 16 of the Heineken Champions Cup with a game to spare.
Hosea Saumaki's 80th minute try was enough to secure a 28-28 win against Connacht, who had led the game 28-10 with 30 minutes to play.
Just as when the sides met in Round 2 at Welford Road, Leicester's depth in the forward pack proved the difference, as they ground Connacht's setpiece down, which gave them the access to the 22 from which they built their comeback.
Borthwick's side have won 16 of the 17 games theyv'e played in all competitions, with Connacht arguably asking more questions of them than any other side across their two games in Pool B.
The Tigers head coach was full of praise for their hosts in Galway on Saturday, singling one player in particular out for special praise.
"They are an incredibly well coached team, a smart team and I'm always reticent to pick out individuals but Jack Carty, he was incredible," said Borthwick.
"He is a fantastic player and the way he manages a team is just brilliant. I
"It is always difficult against Connacht because they can play in different ways. A couple of weeks ago they won via a maul try against Munster; their maul was strong again today; their kicking game was good and when they opened up, their phase attack was strong.
"Their strategy is obviously well thought out."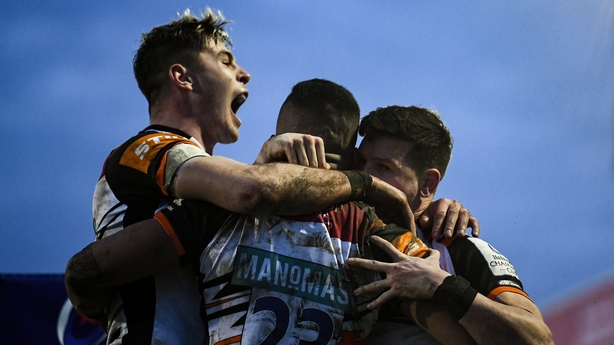 Saturday's comeback win is the latest in a string of late victories Leicester have claimed this season, with the Tigers having also beaten Bristol and Bordeaux in dramatic circumstances since December.
It guarantees the Premiership leaders a quarter final, while a win next weekend against Bordeaux-Begles at Welford Road would ensure a high seeding and home advantage in the knockouts.
"We are delighted with the win, I'm really pleased for the players, even if we had not scored at the end, I'd still have been proud; I'd have thanked the players for their efforts," he added.
"We started the game well, finished it well but the period in the middle, I thought Connacht controlled. They were superb during that period of the game. They brought some immense pressure onto us.
"We conceded too many penalties but the reason we did so is because of the pressure they put on us. Yes, there were ones we should not have given away but immense credit to Connacht.
"From our point of view, this was a great experience for us. Coming and playing rugby here is brilliant. It's a unique place and I must give a special mention to the supporters here, they were incredible, passionate and respectful and while it is a shame the numbers were restricted, those here made it a special atmosphere."