Andy Friend says he won't let the disappointment of Saturday's Heineken Champions Cup defeat to Leicester linger in the Connacht squad.
The western province were beaten in dramatic circumstances by the Tigers at the Sportsground, surrendering a 28-10 second half lead before Hosea Saumaki's 80th minute try sealed a 28-29 result, and securing a place in the last 16 for the Premiership leaders.
However, despite the heartbreaking nature of the defeat, the two bonus points secured on Saturday means Connacht remain very well placed to reach the knockout stage of the tournament for the very first time.
A losing bonus point away to Stade Francais next Sunday will be enough to secure their place in Round of 16, while they could even qualify with a heavy defeat, depending on results elsewhere.
Regardless of those permutations, Andy Friend's side head into the final round of games with their fate in their own hands. However, the Australian has no interest in relying on others to help Connacht out.
"We pretty much have to go to Paris needing to get a win, ideally a bonus point win. That is what our energy will be focused on.
"We can't change what happened there on Saturday, unfortunately we all wish we could do that final quarter again but we can't. That is where we sit at the minute.
"I know there is belief in this squad, belief in everything we try and do. That'll hurt for a few days and then we'll come back with the aim of doing what we need to do in Paris and try and get a win there."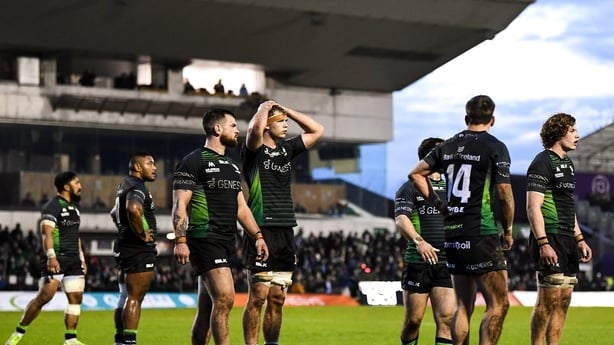 Connacht's players were visibly dejected at the full time whistle at the Sportsground on Saturday, having come within seconds of what would have been one of the biggest wins in the province's history.
But results this season have shown they have a short memory, with some of their biggest wins coming immediately after disappointing defeats. In October, they ran Ulster off the pitch just seven days on from a similarly late defeat versus Munster, while their heavy loss against Leinster in November was followed by a bonus point win against Stade Francais a few days later.
Friend says he doesn't believe his side have any hang-ups about winning away in France.
"I don't believe there is. I certainly haven't heard it," he added.
"There is an honest belief in the squad and while that Leicester defeat will knock us and dent us into touch, it is not a knock to our confidence, it is just a punch to the guts. It was ours for the taking and we didn't take it. We have to wear that. Whatever does not kill us makes us stronger so we will be back and we will be okay.
"We said from the start of the competition that we want to be the first Connacht team to get out of the pool stages and get to the knock out stages and we still have that belief and I know we can get there and do that.
"Stade Francais as we know have a 4G pitch which allows us play the brand of footie we want to. It's their home ground, it's advantageous for them too but it holds no concern for us."
That sentiment was echoed by second row Niall Murray (above), who says Connacht will be targeting a bonus point win in Paris this Sunday.
Like Friendy said earlier, we are sitting on eight points so we are planning on going to Stade Francais, getting an upset and taking five points.
"We had the foot on the throats (leading 28-10). We really should have killed it off. I am sure we are going to take a lot of learning. We are going to be hurting for a few days but we will come back in training on Tuesday with all guns blazing."