Did you even play for Munster if you never slogged it out away to Castres?
While that question is rhetorical in a sense, it's hard to argue with anyone who simply answers "No".
This evening, several of Munster's future core will encounter that fierce rite of passage for the first time; Gavin Coombes and Jack Crowley in the starting team, Craig Casey and John Hodnett among several young prospects off the bench.
To a man, almost every Munster great has experienced the away trip to Castres, the kind of game where boys become men.
Conor Murray and Peter O'Mahony had their first taste of it 11 years ago, albeit with the game taking place in Toulouse, as Ronan O'Gara's long-range drop goal - for the second week in a row - saw Munster stage a smash-and-grab win with the clock in the red.
Simon Zebo, Chris Farrell, Tadhg Beirne, Dave Kilcoyne and Keith Earls have all experienced the baying Stade Pierre Fabre crowd in recent years, 12,500 of them crammed into one of the pokiest grounds in the French Top14.
As has been mentioned pretty much every time these sides have met in the last decade, Munster against Castres is the most frequent pairing in the 27-year history of the Heineken Champions Cup.
Tonight's meeting in the south of France will be the 18th instalment, and while Castres have only won four of the previous 17 games between the pair, records are slightly skewed by Munster's dominance at Thomond Park.
When they meet in France, things are different. Four wins apiece and one draw in 2017, a proper rivalry.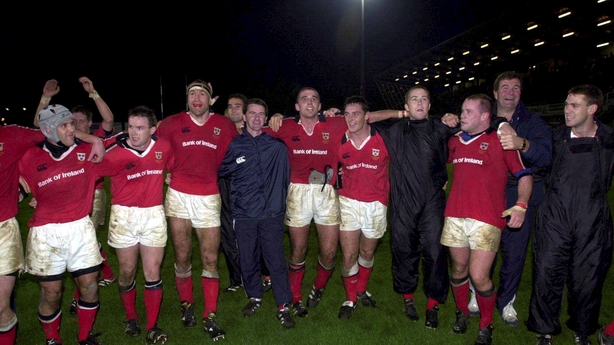 ---
With Castres being Munster's most frequent opponent in this competition, it's also appropriate that they were the province's first away day, way back in 1995.
And in keeping with Munster's early years of Heineken Cup rugby, it was dramatic and it was heartbreaking. They were leading 12-9 late in the game courtesy of four Ken Smith penalties, and were on the verge of a place in the semi-final of the up-start tournament.
But Nicolas Combes scored a try, with current France coach Laurent Labit adding a conversion and a penalty, Castres winning 19-12 and sewing the seeds of heartbreak for years to come.
Munster had to wait nearly five years for their second crack at Castres, but by the time they parked up at Stade Pierre Fabre in October 2000 they were a force to be reckoned with.
In 1995 they had been a team cobbled together from the All-Ireland League's best, the half a decade since had seen the explosion of professional rugby. Munster were a fully-fledged team and a brand, coming off the back of their breakthrough year when they reached the final of the Heineken Cup the previous season.
The next 18 months would arguably mark the peak of their rivalry; five meetings between October 2000 and April 2002, all five games decided by 10 points or less, and some off the ball incidents that would ultimately create the simmering tension we still have today.
That October 2000 meeting in France was Munster at their dramatic best, starting the game like a team that got their time zones mixed up, and falling 20-6 behind. But Ronan O'Gara dragged them back into it, keeping them ticking over with his boot before setting up Anthony Horgan to score a try, and it was O'Gara himself who went over for another late try as Munster claimed a dramatic 29-32 win on the road.
Their next two meetings were on home turf for Munster, who earned a pair of wins at Musgrave and Thomond Park respectively, the second of which was a 28-23 nailbiter that saw the lead switch hands seven times.
It was their January 2002 clash in France that saw a few more logs thrown onto the fire.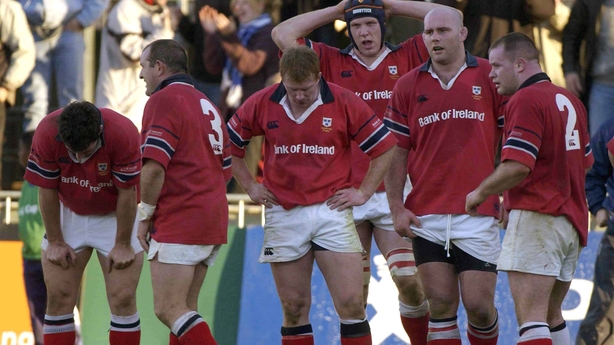 Having won five from five in the pool stage, including that back-and-forth encounter at Thomond Park earlier in the season, Munster traveled to their familiar opponents knowing a win, a draw, or a defeat by four points or less would see them top their pool and secure a home quarter final.
As fate would have it, a David Wallace try heading towards injury time had seen Munster pull within three at 13-16, a defeat which would still have been enough for Munster to qualify as the pool winners based on their aggregate score against Castres.
But just as everyone was getting up to speed on the permutations, Eric Artiguste's pass to Olivier Sarramea caught out Anthony Horgan, Sarramea scampering away to make it an eight point game six minutes into injury time.
The final whistle was only the start of the drama, with things getting ugly in the following days. Peter Clohessy claimed he was bitten on the arm by Castres back row Ismaella Lassissi after a coming-together at a scrum. Munster made an official citing, and the French side responded with a citing of their own, alleging that Lassissi had been the victim of racist abuse by the Munster prop, something he and Munster strongly denied.
With Clohessy due to retire that summer, it was potentially a career-ending charge, but he was subsequently cleared by the ERC after Lassissi and Castres formally withdrew the allegation. Lassissi was suspended for 12 months for the bite, before it was overturned on appeal.
They were likely sick of the sight of each other by then, but within three months they would renew rivalries, this time in the neutral setting of Beziers in the south of France.
Again, the Claw was at the centre of things early on, sin-binned on 20 minutes along with his opposing prop Brent Moyle after the pair traded some haymakers. Both seemed happy of the break as they sat cheek-by-jowl on chairs just off the sideline, laughing and smiling as they squirted water bottles at each other like a pair of overgrown children.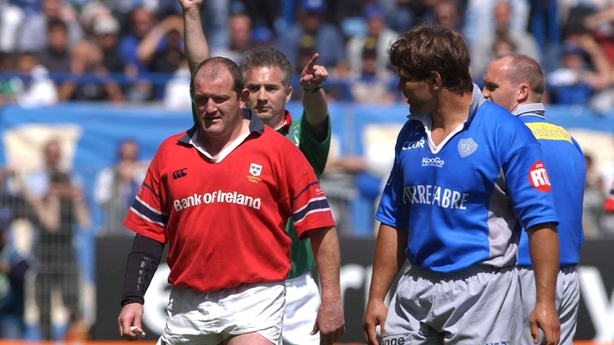 It was Munster who were smiling at the end of the game though after John Kelly's late try put the gloss on a 25-17 win, sealing their second final appearance, where they would go on to be beaten by Leicester.
For a generation of young rugby fans, the most memorable part of the day was the comically robotic kicking style of Castres full-back Romain Teulet.
---
The teams would spend the next couple of years apart before being drawn together again in the 2004/05 season, with one win apiece as Munster qualified top of the pool before a frustrating loss to Biarritz in the quarter final.
Once again they would find themselves together in 2005/06, the fourth season out of the last six in which they had been pool-pals.
As usual, Munster ran out comfortable winners at Thomond Park, but their defeat away to Sale on the opening night of the competition meant the January trip to the south of France was a must-win game. Leading 13-9 at half time, they routed the French side after the break with Paul O'Connell and Tomás O'Leary scoring a pair of tries each to eventually win 46-9.
Four months later when they lifted their first Heineken Cup, that second half at Stade Pierre Fabre looked like the watershed moment.
Remarkably, they were only drawn together in one more pool stage between 2006 and 2017, in no small part down to Castres's scattered qualification record.
When they next faced off in November 2011 it was at Stade Ernest Wallon - home of Toulouse - 80km away from their traditional home stadium Stade Pierre Fabre, with Castres wanting to make the most of their gate receipts for the visit of the two-time champions.
For large parts of that match, it looked like the move would pay off, with Castres leading 11-0 and 18-7 at various stages of the first half. A fresh-faced Peter O'Mahony crossed for a try to bring Munster back into it early in the second half before Will Chambers did likewise, O'Gara's conversion put Munster in front with 15 minutes to play.
A week earlier, O'Gara had scored that famous 84th minute dropgoal to beat Northampton, and he repeated the trick seven days later in Toulouse. Munster and Castres were level at 24-24 when the out-half took a perfect pass from O'Leary, hitting a walk-off home-run for the second week in a row. Their January reversal didn't quite have the same drama, Munster 26-10 winners before hammering Northampton a week later to complete a sweep of the pool.
---
The last four seasons have seen a few more chapters written into the Munster-Castres rivalry.
It was reignited in October 2017 in one of the final games of the Rassie Erasmus reign, a 17-17 scrap in France where Zebo and Kilcoyne scored tries to save some blushes of Chris Farrell, who had thrown an intercept pass in the first half which led to a Castres try.
When January rolled around Johann van Graan was in charge, and Munster strolled to what was becoming a traditionally comfortable home win, where the only drama was whether or not the game would be played after torrential rain left the Thomond Park pitch waterlogged. After a three hour delay they eventually kicked off, Munster winning 48-3 to secure a record 17th quarter-final.
The most recent renewal in France was December 2018, as Castres edged out a tense contest 13-12, Joey Carbery kicking four penalties, but drifting just wide with a potential winner 10 minutes from time.
As usual, the game flared up in parts; hooker Marc-Antoine Rallier was sin-binned for upending O'Mahony off the ball for which he was suspended for a week.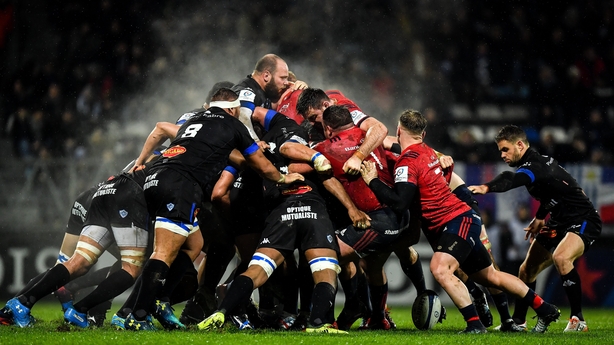 Scrum-half Rory Kockott was accused of gouging Munster's Chris Cloete, before copping a measly three-week suspension after a disciplinary panel concluded he had made contact with Cloete's eyes.
Kockott was again at the heart of the niggle last month when Munster were 19-13 winners against Castres in a dour match at Thomond Park, twice being marched back 10 metres by referee Matt Carley for dissent. The veteran South African will be on the bench again tonight and is unlikely to be a minor character when he comes on for his second half cameo.
On paper, Munster are the better team tonight. While Castres are third in the Top14 and coming into the game off a good win against Stade Francais last week, they've made 13 changes to their side with their focus clearly on domestic events.
But as we've seen quite a few times in this fixture, things don't always go according to plan.
Follow Castres v Munster (Friday, 8pm), Connacht v Leicester (Saturday, 3.15pm), Leinster v Montpellier (Sunday, 1pm) and Northampton v Ulster (Sunday, 3.15pm) via our live blogs on rte.ie/sport or on the RTÉ News App, or listen to live radio coverage of Castres v Munster and Connacht v Leicester on RTÉ Radio 1 Extra and RTÉ Radio 1.
Listen to the RTÉ Rugby podcast on Apple Podcasts, Soundcloud, Spotify or wherever you get your podcasts.