Gavin Coombes is currently working his way through the difficult second album.
The back row was last season's breakout star for Munster, and arguably the breakout player across the four provinces, with a staggering 15 tries in 22 games cementing himself in the starting team and establishing himself as CJ Stander's instant successor.
But very little has gone right for the 24-year-old in recent months, and none of it has been through any fault of his own.
Having played in four of Munster's opening five games of the United Rugby Championship, the Skibbereen loose forward looked to be picking up where he left off with a couple of tries on the opening night of the season against the Sharks, before earning another Irish call-up for November, having made his debut in the summer win against the USA.
But in November, events started to transpire against him; illness saw him miss out on valuable training time with Ireland, and as a result it was Nick Timoney who got the call when injuries hit the camp prior to the final win against Argentina.
Then came the now infamous tour of South Africa, with Coombes being one of the 14 members of the touring party that contracted Covid-19, and had to endure back-to-back isolation periods, first in South Africa and then another upon return in Ireland.
By the time he was back on the pitch on New Year's Day against Connacht it had been 10 weeks since his last game of rugby, having missed out on three Irish Test matches, and two Heineken Champions Cup outings.
But after a testing return against Connacht at the Sportsground, the number 8 looked far more commanding and dynamic in last weekend's Interpro win against Ulster at Thomond Park; 27 carries, 11 tackles, seven passes and a couple of offloads thrown in for good measure, he was a big presence in a pack that wore Ulster down the longer the game ticked on.
He was particular influential in the phases leading up to Alex Kendellen's winning try; three carries, three ruck entries and a perfectly timed offload to Josh Wycherley that set Munster on the front-foot early in that attack.
Those subtle ball skills are a point of difference for a player that is already physically imposing at 6ft 6in and around 17-and-a-half-stone.
It's always been a part of his game, with Coombes laughing as he's relayed an anecdote from former team-mate Billy Holland, who recalled a then 18-year-old Coombes being sent for laps by the late Anthony Foley after one too many failed Hollywood passes.
"I think that's a bit of jealousy on Billy's part, he couldn't throw one to save his life!" Coombes says, taking aim at his former captain.
"I think I was a bit too eager when I first came up, making wrong decisions, throwing it every time.
"That's what the coaches are there for, to tell you when you should and you shouldn't, and that's a part of my game that has developed over my academy years and the last couple of seasons."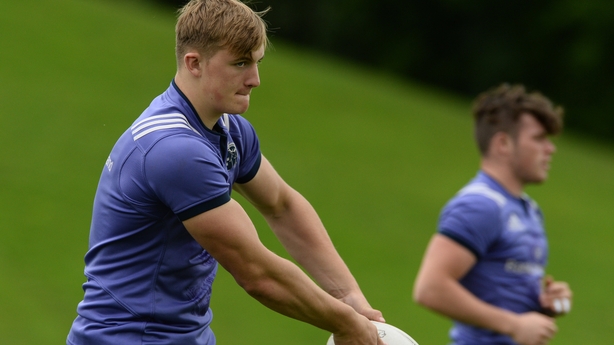 Along with 'box-kick, 'offload' has arguably been the most-used word by Irish rugby fans in recent seasons. When you hear one mentioned, the other isn't far behind.
Contrary to the popular belief in Ireland though, those instinctive offloads aren't taboo at Munster's High Performance Centre, according to Coombes.
"No, they back us to use our skills, I think that's very apparent. If you go back to the Toulouse game last year, some of those Rainbow Cup games, we played some great rugby. Even at the start of this year.
"They want us to express ourselves and take the right options when they're on, I think there's a lot of lads who have that skill set to do what they want.
"It just would have been part of my game growing up and I guess playing club rugby, it's a bit more open in Schools Cup and stuff like that, there would have been a lot of space and a lot of opportunities to do it.
"It was always something that when it came off I wanted to do more and more so yeah, it's always been part of my game to be honest," Coombes says.
It comes down to timing and understanding, he adds when asked specifically about his deft sleight of hand to Wycherley late in Saturday's game.
"I think just communication from Josh, I knew he was going to get to my outside and once I made contact my arms were free and I was able to get the ball to him," he said.
"It's the players around you who have to make the calls as well, it's not just on the man with the ball. I think as a team we have really developed that."
---
This time 12 months ago, he was already on the brink of a special season.
He started that campaign as a relative rookie, having played 15 times - mostly off the bench - in the previous two years. And after a couple of sub appearances to start 2020/21 he exploded into life.
By January he'd scored seven tries in 10 games, and had established himself as a consensus pick in the first-choice back-row.
"Obviously I want to play every game, so from that perspective to miss out on those first European games and even to have the games cancelled in South Africa was disappointing after not featuring in November."
Saturday's win against Ulster was his sixth appearance of the season, one which has presented plenty of challenges at provincial and international level, but after consecutive 80-minute performances, he's feeling more like his old self.
"I don't think anyone's going to sit here and say that it was easy, for me I was one of the lads who was out there and that was tough," he confirms.
"I did my 10 days and was looking forward to getting home and then when we got home, we had to isolate again because this Omicron was just new so we were kind of unfortunate that way.
"And that was frustrating but look, the lads that were here did their job, they did more than enough, five points over in Wasps and then we got the win here against Castres so for me, it's all about team and if the team is going to win that makes it a little bit easier.
"Obviously I want to play every game, so from that perspective to miss out on those first European games and even to have the games cancelled in South Africa was disappointing after not featuring in November.
"So it was disappointing but I just see it as what's next, I just want to get on the pitch now and put my hand up to hopefully be in selection for the Six Nations and if not, we have a block of games now during the Six Nations that weren't going to be there so that's going to be the next action if it doesn't come."
Munster name their team this afternoon for the French trip against Castres, with Coombes likely to be named at number 8 barring anything unforeseen.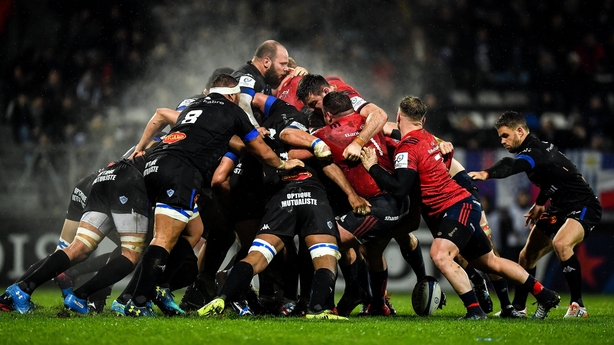 Tomorrow night's game will be the 18th between the pair in the Champions Cup, the latest renewal of what already was the most frequent pairing in the competition's history.
And while Munster have rarely been troubled at home by the five-time French champions, their most recent games at Stade Pierre-Fabre have been tense and low scoring with Munster beaten 13-12 in 2018, while drawing 17-17 the previous season.
Regardless of the scoreline, their meetings are generally fraught with niggle, and Coombes is expecting another confrontational meeting tomorrow.
"I remember it's always been tough games, they've always had a big, physical pack.
"If you go back to just recent times, in 17/18 and 18/19 we had them in our group two years in a row and look, it's always been a tough game, we've never had it easy with them and I don't expect that to change this weekend.
"I think they're going to be physical, it's going to be similar to what we had in Thomond Park.
"They obviously have a very strong maul and strong scrum, they can also play ball as well. They have a few very good backs as well and it's going to be a tight game, I don't think anything is going to come easy."
Listen to the RTÉ Rugby podcast on Apple Podcasts, Soundcloud, Spotify or wherever you get your podcasts.
Follow Castres v Munster (Friday, 8pm), Connacht v Leicester (Saturday, 3.15pm), Leinster v Montpellier (Sunday, 1pm) and Northampton v Ulster (Sunday, 3.15pm) via our live blogs on rte.ie/sport or on the RTÉ News App, or listen to live radio coverage of Castres v Munster and Connacht v Leicester on RTÉ Radio 1 Extra and RTÉ Radio 1.