Irish rugby earned huge amounts of respect after the weekend of European action.
John Cooney along with team-mates James Hume and Mike Lowry stole the show away at Clermont in a hugely impressive win in France and Jack Carty managed Connacht through some of the Sportsground's finest conditions to earn a bonus point against Stade Francais.
However, it was the young guns in Munster that will be remembered in the opening weekend of this year's Heineken Champions Cup.
After being savaged by the disruption of Covid-19, a couple of weeks of uncertainty and no match in seven weeks, Munster lined out with a mix of fully fledged internationals and debutants, with only the exception of John Hodnett who was returning after 13 months with an Achilles injury.
That doesn't spell cohesion for anyone, but the effort that went into the game to gel these contrasting groups of players was evident from their actions on the pitch.
While the next generation will steal the headlines, it's important to see what the leaders in the team did to keep the show on the road for the southern province.
Peter O'Mahony has had an eventful tenure as Munster captain and when the chips are down for his province, he really steps up as a leader.
The back row made light of the situation in his media commitments during the week of the match but when he got to the pitch, he brought his usual intensity and work ethic, with what looked like a conscious calmness towards the group around him.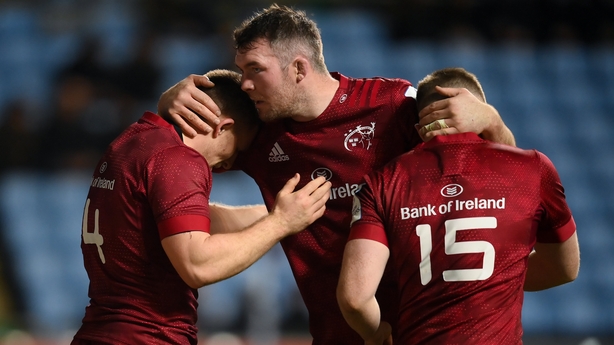 Conor Murray was coaching guys through the game, providing feedback in breaks of play, and encouraging anyone that made an error.
If there was any worry about the relations between young and old in Munster, you need only look at the try celebrations to see how impressed the seasoned internationals were with their young debutants.
Patrick Campbell, Cork man, Young Munster player, now Heineken Cup try-scorer, was savaged when he pinned his ears back to get over the line in one of the big turning points of the match, just after half-time.
Chris Farrell and Keith Earls swarmed Campbell as he touched the ball down.
The reaction was proof that O'Mahony's high praise of Campbell is shared within the senior players group.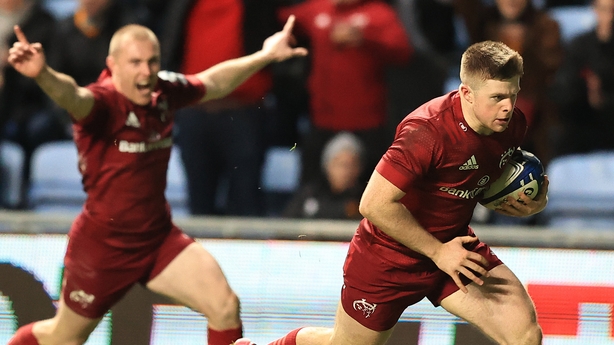 I've seen Campbell play at AIL level with Young Munster and he's been impressive every time.
He has added a lot of spark to their backline but his ability to add energy to the attack is matched with solidity as the goal tender in the backfield.
He's an impressive athlete for a 19-year-old and a loss to Cork, either as a rugby player or a footballer.
He wasn't the only one with a lot of AIL experience under his belt this year.
We played Garryowen in round 5 of the AIL at the start of November so I had seen more of Mark Donnelly and in particular Tony Butler from watching videos of their past games. Butler was given a rest that day to give Ben Healy some game time, but he didn't look like a lad that had just finished playing Under-18 club rugby.
When I left Sundays Well for UCC after under-18, I was raw and physically not ready for senior club rugby.
This guy just made his European Cup debut.
I played with the Munster Under-18s with five or six lads from Ennis, this isn't a fluke for their rugby club that three lads in Butler, Coughlan and Moloney have made their way into Munster's senior team.
As a 30-year-old, retired out-half, I've to try to remind myself of the hardship that comes with contracts, game time and sacrifice when playing with Munster, and not look at these guys with jealousy at the road ahead.
Their journey to professional rugby just got a huge power boost after the exposure of a Champions Cup debut at 19 years of age.
Imagine the swagger and confidence when they walk back into academy training.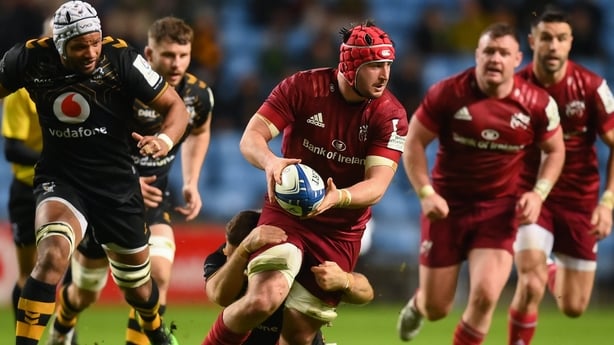 The man in the middle for Munster was John Hodnett.
He's not (yet) an international, but also not a debutant amongst his peers.
He was merely returning from a 13-month injury.
The excitement surrounding Hodnett before his injury was building nicely.
A groundhog number 7, born and raised in west Cork, I met John in Pres Cork recently while he was doing some of his teaching practice.
Quiet and unassuming off the pitch, but a nuisance in the breakdown and destructive with the ball in hand, Hodnett has announced his return from injury and will hopefully get a lot more game time with Munster this season.
He made his return with UCC club-mate, Scott Buckley who has played several AIL games this season.
The step up to European rugby wasn't assumed, never mind the star of the match award.
What a day for Scott and his family, not easily forgotten.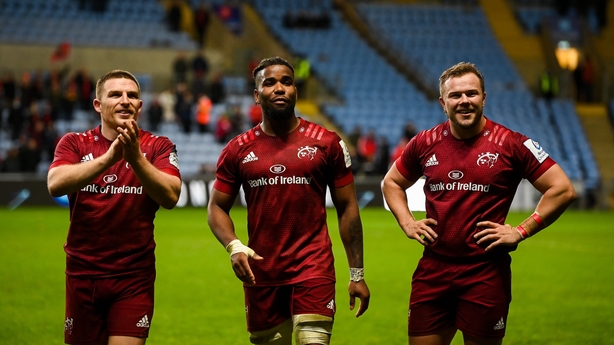 Their back row team-mate Daniel Okeke was destructive with his ball carries and offers Munster a different dimension as an athlete since the departure of CJ Stander.
His development in the next year or two will be enjoyable to watch.
Not only were Munster venturing right into their depth chart of players, but their head coach was also out of action.
Ian Costello amalgamated this group excellently over the weekend, the stars aligned to make this the perfect fit.
A tenure with Wasps meant he knew the guys that he was tactically setting up for, even if there were changes in the English side too.
Costello would have known the senior players like Murray, Earls and O'Mahony from his first spell at Munster as the assistant coach to Axel Foley.
Now, in his role as academy manager, Costello has reinvigorated that link between the AIL, academy players and the senior set-up in Munster.
It's no surprise that Munster went on the road with 12 of the 23 having played AIL rugby this year.
The stand-in head coach has been actively following these players' club form and deserves credit for the interest taken at amateur level in Munster this year.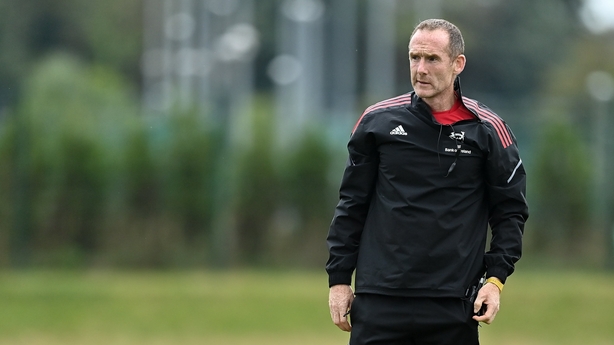 Cossie was my coach at Munster, the relationship is still alive due to the management of the likes of John Forde and Jonathan Wren at Cork Con, who both came off the bench for Munster in the bonus point win against Wasps.
John Forde has been an impressive athlete for us at club level and I was looking forward to seeing Wren back after injury in the white of Cork Con, although I'd be happy enough if these guys were never involved with us again due to commitments with the professional game.
That is always the aim of club structures when you're dealing with the next professional players.
Of course, the aim is to win a league but there's a blend of very good amateur players and those trying to become professionals.
Not everyone's aspirations are identical, despite the common goal of lifting a trophy.
Blending those together is a challenge in itself but you see how the AIL has fed into another successful European weekend for Munster, the impact of the work done at club level and how the AIL still has a key role to play in the development of the next generation.