It was noticeable that both Peter O'Mahony and Johann van Grann pointed out how Munster have endured tougher weeks than this leading up to a big game.
Neither of them elaborated on what they meant, but it was obvious.
It would be crass to suggest that the team could tap into the emotions that saw them beat the Glasgow Warriors in October 2016, just six days on from the sudden death of head coach Anthony Foley, but that memory can serve as some perspective for what they're going through this week.
While 14 of their players and staff contracted Covid-19 in South Africa, and further positive cases have been identified since, all are recovering well according to the province.
The disruption it's caused in their preparations for the Heineken Champions Cup opener against Wasps this Sunday is no more than that; a disruption.
"We've been through plenty in this club, certainly since I've been involved," O'Mahony said this week.
"This certainly wouldn't be up on top of the list of what we've gone through.
"So look, no one has got very sick by all accounts, thank God, which is the main thing, that everyone's healthy and we'll get the boys home."
Rather than feel sorry for themselves, the mood from both O'Mahony and Van Graan was overwhelmingly positive.
They've found themselves with their backs to the wall, but ultimately nobody is to blame; neither themselves nor the EPCR nor the URC.
O'Mahony is among nine seasoned internationals that have been available to train at the HPC this week, having not been part of that ill-fated trip to South Africa, while they've also drafted in a large group of players from their academy, national training squad and provincial training squad, most of whom are under the age of 21.
While Van Graan confirmed that some of those players who have been in self-isolation since returning to Ireland last week will be available to play on Sunday, the trip to Coventry will potentially see a handful of youngsters fast-tracked into a debut.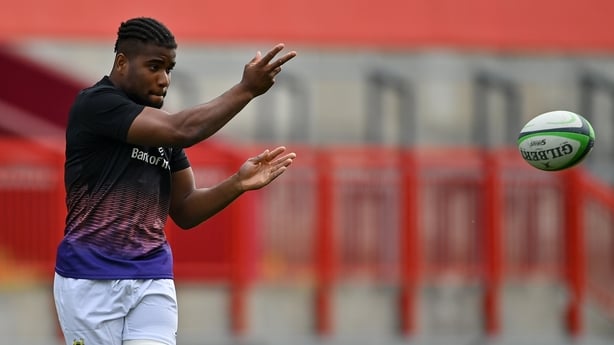 Even for those who don't play, their call-up to train with Munster could prove to be the biggest week of their rugby careers, the significance of which isn't lost on O'Mahony.
"It's been incredibly positive the last few weeks seeing the quality that we have that mightn't necessarily be in the team this week," the captain added.
"We've seen some classy footballers, I've no doubt about that.
"Guys who've played a lot and guys who have not, it's been really encouraging and looking forward to seeing it myself to honest."
The 32-year-old has probably never felt older that he has in the last fortnight, joking that one of the new recruits - born in 2004 - could pass as Keith Earls's son.
"I just didn't want to do anything differently, I didn't want them to see anything that they wouldn't normally do on another week."
With Van Graan and the other senior coaches isolating, training has been taken by academy manager and former Wasps assistant Ian Costello.
O'Mahony, and some of the more experienced internationals have also lent a hand on the training ground, with so many new faces needing to get up to speed in such a short period of time.
However, the Ireland flanker says he's reluctant to stray too far away from captain to coach.
"I just didn't want to do anything differently, I didn't want them to see anything that they wouldn't normally do on another week.
"If I could explain things or make things easier that I thought I could explain well then I'd step in and be able to do that comfortably.
"But at the end of the day I've got myself to worry about, and a performance to pull out of myself on Sunday, that's important as well. So it's just trying to be as cool and chilled as possible, just not make it any different.
"It's another week for us, while doing my best to help guys along, has kind of been my priority.
"When we get to our sessions, our intensity is very high. Sometimes patience, when it shouldn't, wears a bit thin. But nine times out of ten, it's all about explaining and talking.
"Once we've that learning done, it's about putting it into practice. It's about high intensity and training and you're blowing a bit.
"Sometimes it's very difficult to remember stuff you've learnt really. It's very difficult, that's part of the challenge, little bits here and there, little and often to try and get it to sink in and, in the last couple of sessions, put it into practice," the 79-cap Ireland international added.
On this week's RTÉ Rugby Podcast, Bernard Jackman explained why he believed Munster have a great chance of pulling a result out of the bag this week.
"I genuinely believe that they can pull a win out of this"@bernardjackman backs Munster to overcome a far from ideal build-up to get a result at Wasps

Full #RTERugby Podcast: https://t.co/LCRcvvAErz #WASvMUN #ChampionsCup pic.twitter.com/SCAUzxebp5

— RTÉ Rugby (@RTErugby) December 8, 2021
And while circumstances have conspired against them in recent weeks, they're likely to name a highly competitive team this lunchtime.
Given the players who had been on Ireland duty, as well as Chris Farrell who should have recovered from injury, Van Graan will have close to a full backline to choose from.
The challenge will be what kind of ball the forwards can supply for them; while O'Mahony, Tadhg Beirne and Dave Kilcoyne are all available, they may need "a bit of luck" and "a bit of dog".
"There's always a belief there," O'Mahony added.
"There's always a belief, what it means to people, the amount of people, and I've touched on it, that we produce for our academies is huge and we're lucky to integrate guys from other countries and our provinces really well. They complement us, but at the core of it you have guys who it means that little bit more to, I think, and that matters.
"It has to matter and when your backs are against the wall at times, that has to come out.
"We'll be relying on different things at the weekend, we'll have had two good weeks of training but we'll need a bit of luck and we'll need a bit of dog in us as well and I'm sure everybody will turn up for it."
Listen to the RTÉ Rugby podcast on Apple Podcasts, Soundcloud, Spotify or wherever you get your podcasts.
Follow Leinster v Bath (Saturday 3.15pm), Connacht v Stade Francais (Sunday 1pm) and Wasps v Munster (Sunday 3.15pm) via our live blogs on RTÉ.ie/sport and the RTÉ News app or listen to Leinster v Bath and Connacht v Stade Francais on RTÉ Radio 1 and RTÉ Radio 1 Extra.