Munster head coach Johann van Graan has hinted that some of their players currently in home isolation could feature in Sunday's Heineken Champions Cup opener against Wasps.
However, they have confirmed that some members of their 34-strong party that returned from South Africa last week have tested positive for Covid-19.
The province have been preparing for Sunday's trip to Coventry with a depleted squad, mixed with seasoned internationals and academy youngsters, while they have also registered 22 players from the provincial and national talent squads with the EPCR ahead of the first round of games.
Van Graan is among those 34 players and staff who are currently in home-isolation, which is due to end on Saturday, the day before their tournament opener with Wasps.
The Munster head coach says some of those players who were in South Africa could feature, despite having not trained in two weeks.
"There will potentially be certain players available," he confirmed.
"We've got to announce a team on Friday afternoon, we've still got to go and get through training after that, so anything is possible at this stage.
"All I will say is that Public Health has been excellent in assisting us. There's a full PCR testing programme going on.
"But the main message from myself and all the coaches this week is that the whole focus is on the players in the HPC. If we need any assistance in terms of selection, we will give that but you have to also look at the bigger picture here.
"Guys have been sitting in their hotel rooms for almost two weeks, at home. Some players are sick, others aren't. It hasn't been ideal but we are putting all our effort into the players at the HPC. If we can and need to, we will assist from the outside."
With Van Graan and his senior coaching staff preparing for the game either from their homes or hotels, academy manager Ian Costello has been taking the on-field sessions at Munster's High Performance Centre in Limerick.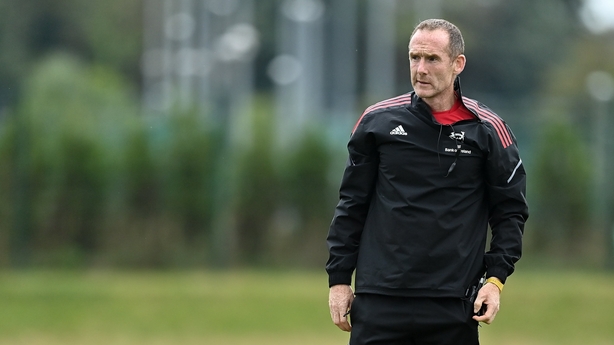 Costello (above) rejoined the province in the summer, having spent the previous three seasons as an assistant at this week's opponents Wasps.
And while he's the man in charge on the ground in Limerick, he says he's working constantly with the senior coaches, who are in touch remotely.
"I'm definitely not the boss we've got, everyone is in this together," Costello said.
"Johann, and all the coaches in the background, is very coordinated and aligned, and it just feels like there's huge support.
"What I've really enjoyed in the last few months is how close an organisaton it is. That was part of the reason to come home to something that's special. It's times like these that's really shone through.
"I just think how tight everyone is in the HPC at the moment, how connected everyone is to the three different groups is incredible. It's hard to put it into words, and I hope it comes out in the performance on Sunday."
Van Graan confirmed that the possibility of drafting in short-term loans was never on the cards, after they took stock of their academy and talent squad options.
Many of those faces in training have been new even to captain Peter O'Mahony, who is encouraging the new players to embrace their time with the seasoned professionals.
"We're hugely proud of our academy and our NTS squad," O'Mahony said.
"We produce a lot of players who play for Munster who grow up in the province and I knew having come through that system that we could fall back there and I've seen in the last two weeks what the guys have come in and done.
"In the session that I've just got off from now, young guys were running Wasps plays for us and they were incredible, it was a credit to them, to be fair to them.
"It's hard when you're in the middle of this to be checking who is... but I think I trained with a guy who was born in 2004 the other day, Earlsie could have been his father we reckoned!
"I wouldn't have come across him, there's guys just out of school, but to see some of the talent that's come on is incredible.
"It's really encouraging for the club."
Listen to the RTÉ Rugby podcast on Apple Podcasts, Soundcloud, Spotify or wherever you get your podcasts.
Follow Leinster v Bath (Saturday 3.15pm), Connacht v Stade Francais (Sunday 1pm) and Wasps v Munster (Sunday 3.15pm) via our live blogs on RTÉ.ie/sport and the RTÉ News app or listen to Leinster v Bath and Connacht v Stade Francais on RTÉ Radio 1 and RTÉ Radio 1 Extra.