For players and fans alike, Stephen Larkham's departure from Munster must be as frustrating as it is understandable.
The Wallabies legend moved to Ireland in 2019 to take up the 'senior coach' role with the two-time European champions. He was the marquee name on head coach Johann van Graan's ticket.
He brought his family, with daughters aged 16 and 12 at the time, with him.
That, as anyone can imagine, is a difficult enough transition, with the natural sense of homesickness only exacerbated by the pandemic and the complicated regulations for getting in and out of Australia.
Despite soundings last September that the 47-year-old was open to extending his stay, the chance to rejoin his mother club, the Brumbies, as head coach for a second spell, was too good to turn down.
He'll join the Canberra outfit at the end of this season, leaving Munster on the look-out for a specialist backs coach.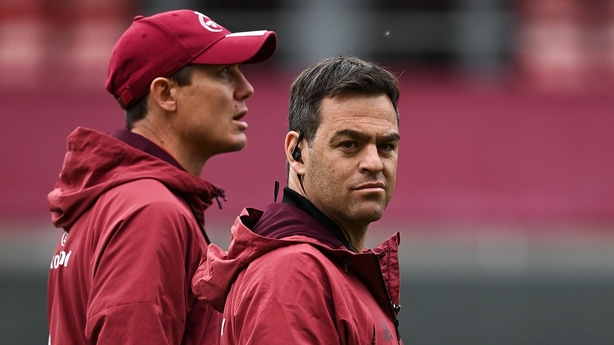 It's a well-worn path at this stage for the southern province.
Keith Earls, Ireland's second top try-scorer of all time, has played under six head coaches since joining Munster in 2007.
Declan Kidney, Tony McGahan, Rob Penney, Anthony Foley, Rassie Erasmus and Van Graan have overseen affairs at Thomond during the 34-year-old's career.
Beneath that, assistants Felix Jones, now with South Africa, and Jerry Flannery, now with Harlequins, surprisingly declined contract extensions back in May of 2019.
Van Graan's current contract expires next summer and he's expected to stay on to continue the work that began in 2017.
However, speaking on the RTÉ Rugby podcast, analyst Bernard Jackman said he understood that negotiations might not be as straightforward as first envisaged, while Donal Lenihan urged the Munster hierarchy to act quickly on the coaching ticket, claiming that the sudden departure of the head coach at the end of his contract would be a "disaster".
The @easons Sports Book of the Year in association with @IrelandAMVMTV winner is…@Keithearls87 for 'Fight Or Flight: My Life, My Choices'

Congratulations! After such a huge year for sport, be sure to add this to your #TBR list! 🏉📚#APIBA #ReadersWanted pic.twitter.com/OapWJ0Cw8c

— An Post Irish Book Awards (@AnPostIBAS) November 23, 2021
The constant state of flux was addressed by Earls in his award-winning autobiography, Fight or Flight, which was released last month.
Earls has a medal from Munster's 2008 Heineken Cup triumph but doesn't value it as he didn't play a minute of European rugby that season and was an unused substitute in the final.
"I never dreamt I'd be waiting this long, not when I was starting out anyway," he wrote of their failure to win a third European title.
"But the seasons came and went and, if anything, we ended up drifting further away from the holy grail.
"A fundamental problem in my opinion has been the turnover of head coaches.
"As a player obviously these things are outside your control.
"But any time there's a change in coaching staff there's an element of starting from scratch all over again.
"Continuity and stability are important, in my opinion, and at least we've had that now with Johann for the last four years.
"But no matter who is running the show, teams have to take responsibility for their own performances too. It can't all be on the head coach."
The Moyross man, whose current contract runs until next summer, had different relationships with each of the coaches, each with a different style.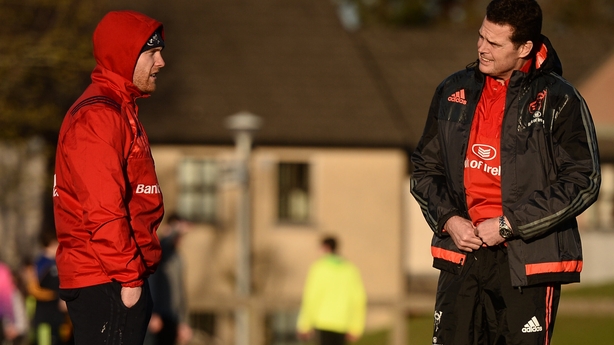 In his book he recalls an early interaction between Erasmus, the currently suspended Springboks director of rugby, and the Munster squad in September 2016.
Describing the South African as the "real deal as a manager, a leader, a boss man", Earls remembered a team meeting following a one-point loss to Cardiff in Musgrave Park.
"This was Rassie's chance to lay down a marker and he didn't hold back," wrote the Ireland back.
"At the team review on the Monday he wasn't happy. He put a series of numbers up on the board.
"Like, 35, 39, 33 etc. 'Right, can you tell me what these numbers mean? [asked Erasmus]'
"We hadn't a clue. So he told us they were the ages of the Cardiff pack. He said that basically we'd let a bunch of old men kick the s**t out of us.
"A few fellas were given a pass but the rest of them would have to go to him one by one afterwards and explain to him why they'd played so badly.
"One of the players sniggered or smiled and Rassie lost the plot with him altogether.
"He told the player that he could f**k off back to his club for the next few weeks and that if any other outfit wanted to sign him, Rassie would be happy to get rid of him.
"We were all sitting up fairly straight in our chair after that. There wasn't a murmur out of anyone.
"He put the fear of God into us that day."
Listen to the RTÉ Rugby podcast on Apple Podcasts, Soundcloud, Spotify or wherever you get your podcasts.
Follow Bulls v Munster (Saturday 5.45pm) and Leinster v Ulster (Saturday, 8pm) via our live blog on RTÉ.ie/sport and the RTÉ News app. Watch Connacht v Ospreys (Friday 7.35pm) and Leinster v Ulster live on RTÉ2 and the RTÉ Player or listen to the inter-pro derby on RTÉ Radio 1 Extra.