Ireland finished their Autumn Nations Series with a 'stuttering' 53-7 victory against Argentina.
Imagine saying that sentence only a few weeks ago. Stuttering to such a victory against a team that compete regularly in the Rugby Championship, albeit poorly in the last campaign, is something to be recognised.
I say stuttering, because Ireland didn't consistently hit the same flow and intensity that they did against New Zealand, but still managed to score seven tries on the way to a 46-point win.
Ireland under Andy Farrell took massive strides in this window, which was not an easy string of fixtures.
There are many positives to be taken from the campaign, looking into the 2022 season. You only need to look at the scoresheet to see the dynamism in the Irish team. Caelan Doris, Josh van der Flier, Dan Sheehan, Rónan Kelleher, Tadhg Beirne and Andrew Porter.
A lot of these players are still only getting better. By the time the 2023 World Cup comes around, the likes of Kelleher, Doris and Van Der Flier will hopefully have 10-15 more caps under their belt. That's a scary prospect.
When you throw in the likes of Ryan Baird, Hugo Keenan and Craig Casey, you're looking at a team that can really move around the pitch now. You still have the blend of experience through Conor Murray, Johnny Sexton, Peter O'Mahony and Keith Earls and the younger but highly experienced Garry Ringrose, James Ryan and Robbie Henshaw. Ireland are really striking the balance between getting more experience and holding on to the experience that they already have.
It shows how successful the year has been, despite the slow start to the Six Nations, and is well explained by the fact that Ireland have played 52 players in this calendar year.
Under Mike Catt and Farrell, Ireland have developed their attacking game, although admittedly it only came to fruition in this campaign. The Japanese game was a washout, but it wasn't until Ireland moved New Zealand all over the pitch that we really started to see what the Irish players believed and had bought into.
We need your consent to load this comcast-player contentWe use comcast-player to manage extra content that can set cookies on your device and collect data about your activity. Please review their details and accept them to load the content.Manage Preferences
Ireland have always had good attention to detail around the set-piece. If they can hold on to Paul O'Connell in their coaching staff, a solid set-piece should be expected as well for the next few campaigns before they enter the World Cup in France.
Tadgh Furlong could be described as the best tighthead in the world. Andrew Porter is an absolute animal, transitioning quite seamlessly back to the loosehead side, but this time at international level. Ireland's set-piece is in a really good place. More caps will do the world of good for both Kelleher and Sheehan when it comes to the lineout.
All of a sudden, we have a team that is strong at set-piece but can challenge almost anyone with the way they play the game. The ultimate test was against New Zealand, but you'd love to have a litmus test against South Africa too, we'll have to wait and see if that happens before the end of this World Cup cycle.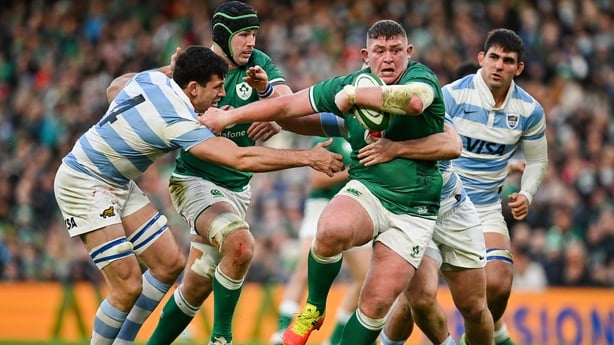 Ireland had the most passes in the Autumn Nations Series, boosted by their dominance in two of the three games but they didn't tighten up either when they played against New Zealand. On balance, it's safe to say that the game plan is much more varied and expansive.
However, it's important not to get carried away with just one campaign. Northern hemisphere teams have had their purple patches from time to time. England dominated in the noughties and continue to have their years of dominance, although more sporadic nowadays. Wales and Ireland have both been ranked first in the world, but northern teams rarely hold on for too long before the southern hemisphere take back their mantle.
This is because the likes of New Zealand and South Africa are always a step ahead with their ingenuity and creativity with the game. New Zealand are the most consistent team to change the face of the attacking rugby, while South Africa challenge the status quo with tactics, both on and off the pitch.
The challenge for Ireland is that they are now on everyone's radar. Wales will be coming to Dublin at the beginning of next year with a good insight into what Ireland are trying to develop and they will have plenty of time to suss Ireland's game plan out between now and then.
If that's not hard enough, Ireland will have to go to Paris and attempt to disrupt the flow that France are creating. In two more matches we could be questioning the Irish gameplan again. Sport is fickle like that.
Ireland have to stay on the front foot and keep developing the game plan that they have laid the foundations for. They need to be imaginative and stay a step ahead of the teams that will be over-analysing them.
The World Cup is no longer the elephant in the room
It's about finding a balance between your absolute non-negotiables, the things you set your stall out on, and a little bit of variety to keep the opposition on the back foot. The worst thing that Farrell could do is believe that this gameplan will get Ireland through to the World Cup, or even through next year.
The momentum and the belief are firmly in their favour and now is the time to develop this team even more. However, it's not all about attack either. Ireland only conceded 32 points in the tournament, across three games. The All Blacks could easily put the score up against you on their own, but Ireland took on Japan and Argentina as well and laid down a marker for their defence.
We need your consent to load this comcast-player contentWe use comcast-player to manage extra content that can set cookies on your device and collect data about your activity. Please review their details and accept them to load the content.Manage Preferences

Yes, the games were at home, and against teams who are either disrupted in their preparations or coming to the end of their season, but you can't take it away from Ireland. If you offered the supporters those stats four weeks ago, we'd have taken your hands off for that result.
The positivity is firmly back in Irish rugby which can now be used as a springboard to push on. Sexton mentioned in his interview after the New Zealand game that they can't stop here. The World Cup is no longer the elephant in the room. Irish players are speaking openly about it, it's what they will base their standards on, and this new approach is beginning to take shape.
Exciting times ahead for Farrell and company.