As each of the 80 pages get turned in the full written judgement into Rassie Erasmus's misconduct hearing the only thing that's clear is that there are no winners in this toxic mess.
For the South African fans who believed that Erasmus was never going to be given a fair hearing, the page after page of damning and often devious evidence is just further proof that the deck was stacked against them by the UK and Irish media way back in July.
For referee Nic Berry, his name and reputation have been butchered, regardless of the fact that the findings of the report support him.
For World Rugby, their relationship with the three-time world champions has been soured arguably beyond repair.
A line may have been drawn in the sand, but the next tide will wash it away.
---
Erasmus was yesterday given a two-month suspension from all rugby activities, as well as being banned from all match-day activities until October 2022 for his conduct before and after the publication of what is now referred to as 'The Erasmus Video', following their first Test defeat to the British and Irish Lions.
In this 62-minute video Erasmus dissected 36 examples of what he believed to be poor officiating from Australia's Nic Berry and his refereeing team, while questioning the integrity of the officials, and implying Berry was disrespectful to Springbok captain Siya Kolisi.
The most damaging of the key findings of the 80-page independent report was that Erasmus was found to be "threatening a match official that unless a requested meeting took place, he would publish footage containing clips criticising the match official's performance".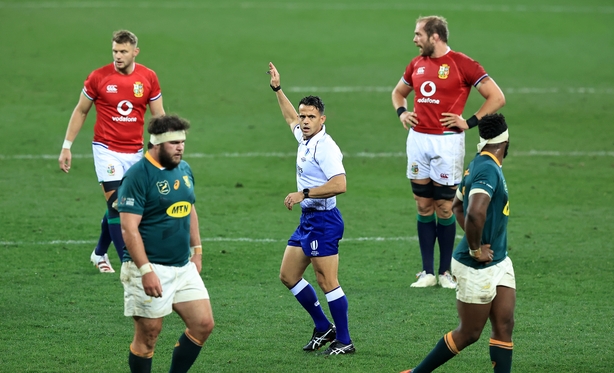 For a game and fanbase that so often champions itself on the respect it offers to its match officials - often times throwing not-so-subtle and tiresome digs at soccer - the moral high ground has well and truly been conceded.
Here we have the director of rugby for the reigning world champions, arguably the best coach in the world, personally threatening a referee into explaining his decisions to avoid a public haranguing.
Erasmus's defence for why he so urgently needed clarification from Berry on the many decisions he felt aggrieved by was that his team selection for the second Test rested on it. This excuse was not accepted by World Rugby whose head of referees Joel Jutge said he "had never heard such an argument in all his time as referee and... it was a different referee for the second Test."
Whether Nic Berry made 36 mistakes that day or whether he was flawless, the details of Erasmus's actions towards the Australian are at best irresponsible. At worst, they're calculated and devious.
Erasmus's contention was that the 'Erasmus Video' was to be seen exclusively by those who needed to see it; relevant individuals on his team and in SA Rugby, as well as certain individuals in World Rugby.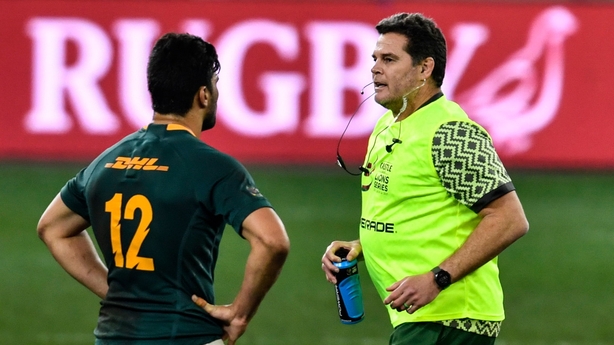 The video was produced and uploaded to the Vimeo platform by Russel Belter of WildCam TV, who then sent Erasmus the link to the video so he could circulate it to those who needed it. While the video wasn't publicly searchable on Vimeo, it was not password protected, had no privacy settings, and could be viewed by anybody who had the link.
Naturally, this link slowly found it's way around the rugby community, an inevitability according to the report.
"Given those actions, along with the Erasmus video being un-password protected and with it having no additional privacy setting, a leak to the public more widely was, in our view, an almost inevitable consequence; and a consequence readily foreseeable to any perceptive person, which we conclude RE (Rassie Erasmus) is," the report says.
---
Ever since the publication of the 'Erasmus Video', there has been an argument lobbied by the South African's supporters that referee Nic Berry will be protected at all costs. His mistakes - or perceived mistakes - would be brushed aside at the expense of Rassie being thrown under the bus.
Given the scrutiny that he has been through and the defiant backing of Erasmus in South Africa, it's inconceivable to think that Berry will be refereeing a Test match involving the Springboks any time soon, or at the very least while Erasmus is still in charge.
Reading his own statement in the report, it's hard to see him as a winner, in spite of World Rugby's backing of him.
"I feel that Mr Erasmus engaged in a character assassination of me on social media," Berry says.
"I have spent many years trying to build my reputation as an international referee and in the course of his video which was posted online, Mr Erasmus has caused it immeasurable damage. Though a small proportion of the rugby community will follow the outcome of this matter, and in the process obtain an accurate account of what really occurred, the wider rugby community will only be aware of me in the context of this incident. I feel that regardless of the outcome and any sanctions imposed, my reputation as a referee and person will forever be tarnished.
"I felt that Mr Erasmus' video brought into question my professionalism and my integrity as a match official and that there was an inference to be drawn that I was in some way cheating as an official, which is obviously completely untrue.
"My reputation throughout the rugby community has suffered immeasurably from his actions and I acknowledge that the impending investigation will likely lead to more public scrutiny and unwanted media attention.
"However, his actions are against everything our game stands for and I feel it's important to take a stand against such behaviour. I sincerely hope that the outcome of the independent judicial hearing will set a precedent to discourage similar behaviour in the future so that no person has to experience what I have these past few weeks," he added.
For a man with such a presence on Twitter, it's hard to believe Erasmus would be oblivious to the social media pile-on that would land on Berry in the days and weeks following the publication of the video.
A quick glance at his Twitter shows how seriously he's treating the findings of the report.
Only in 🇿🇦 😉 pic.twitter.com/nuirp4HVr2

— Rassie Erasmus (@RassieRugby) November 18, 2021
Given the scrutiny that he has been through and the defiant backing of Erasmus in South Africa, it's inconceivable to think that Berry will be refereeing a Test match involving the Springboks any time soon, or at the very least while Erasmus is still in charge.
And with Berry also excluded from refereeing games involving his native Australia, it now leaves him with only one possible Rugby Championship tie he can officiate as the man in the middle each year; New Zealand v Argentina.
South Africa v Argentina no longer looks to be an option for him, and likewise the sport's greatest rivalry, South Africa v New Zealand will be unattainable for him due to the controversy that Erasmus has brought..
The notion that Berry has come through this ordeal unscathed is fanciful.
---
There's also some indirect tension that's been created through this investigation, which is a potential split among the refereeing ranks.
Included in the evidence of the report are statements from referees Ben O'Keeffe, Jaco Peyper as well as World Rugby refereeing chief Joel Jutge, all of whom Berry says he had spoken to in the days following the first Test match in question.
In their evidence given to the report, both O'Keeffe and Jutge were adamant that Berry had told them about Erasmus threatening to go public with his criticisms. Peyper - an employee of the South African Rugby Union - was adamant Berry made no such accusations. The report sided with the evidence of Berry, Jutge and O'Keeffe.
It's one minor detail among 80 pages, but one that could strain relations among the world's top referees.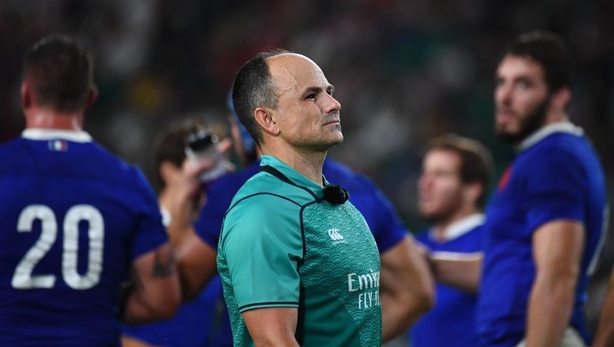 The 'Erasmus Video' was the result of tensions that had been simmering away between the South African rugby community and the wider rugby public for some time.
There had been persistent and legitimate questions about the wider steroid culture in South African rugby, which followed them right through their World Cup win, while their style of play had been derided as "anti-rugby".
These narratives led to the persecution complex that boiled over in July of this year. Given how quickly Erasmus had turned the Springboks around from their lowest ebb in 2017 to world champions within 24 months, his word became gospel.
His waterboy antics in the South Africa 'A' game against the Lions raised the tension further, before his 62-minute video rant burned any bridges that existed between he and World Rugby.
While Erasmus may have broke the camel's back with an anvil rather than a piece of straw, the public pressure being applied to referees by many other top coaches in the world had been growing and growing in recent years.
It has removed any nuance whatsoever from the conversation. Any and all grievances the South African rugby community have with how they are perceived globally has now been boxed off as one large persecution complex.
Not only are they slighted by the outcome of the hearing, they feel slighted by the timing of the result. Some are suggesting that the outcome being delivered three days before their final Test of the year against England is all very convenient. In reality, given the Springboks have had just a handful of free weekends since the end of the Lions series, the timing of any announcement could have been met with the same scepticism.
Even on a more trivial note, World Rugby's snub of South Africa in their end-of-year awards feed into that complex, and understandably so. It's rugby's version of Millwall's, "No one likes us, we don't care...".
---
The waters are muddy, but one thing is clear: World Rugby need to get a grip on how referees are scrutinised.
While Erasmus may have broke the camel's back with an anvil rather than a piece of straw, the public pressure being applied to referees by many other top coaches in the world had been growing and growing in recent years.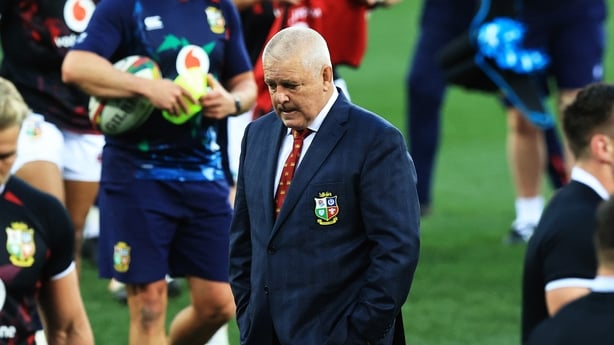 And while it wasn't nearly as sinister as some of the actions Erasmus was found to have taken, the report states the South African director of rugby's motivation for it was in seeing how well Warren Gatland's own comments on the officiating team had worked out in the lead-up to the first Test.
The Lions head coach had put the spotlight on officials following their earlier game against South Africa 'A', while he was also said to be "furious" with the appointment of South African Marius Jonker as TMO for the series, following some last minute Covid-19 complications.
Of course, Gatland never publicly uttered those words, as they were conveniently leaked to several members of the UK media.
This cloak-and-dagger approach all added up to the point that Erasmus released his very own 62-minute bomb squad, which has now resulted in 80-pages of denials, finger-pointing and controversy.
Erasmus and the South African Rugby Union say they intend to appeal the sanctions.
This mess won't be cleaned up any time soon.