South Africa director of rugby Rassie Erasmus has been hit with a ten-and-a-half-month suspension from all match-day activities with the Springboks and a two-month suspension from all rugby.
The former Munster boss and South Africa Rugby were charged with misconduct after Erasmus appeared in an hour-long video criticising referee Nic Berry in the aftermath of the first Lions Test in July, which the hosts lost 22-17.
In it, he aired several grievances about the officiating in an unprecedented and detailed rant, which was addressed to World Rugby's head of referees Joel Jutge and director of high performance Joe Schmidt, the former Ireland head coach.
"An independent misconduct committee has found that behaviour displayed by SA Rugby Director of Rugby Rassie Erasmus towards match officials during this year's test series between South Africa and the British and Irish Lions constituted misconduct," said World Rugby in a statement.
In addition, the 49-year-old has been suspended from all rugby activities for two months, must apologise to the match officials and has been warned about his future conduct.
SA Rugby was charged with allowing Erasmus to commit acts of misconduct and for permitting captain Siya Kolisi and assistant coach Mzwandile Stick to make comments at a press conference on 30 July that were not "disciplined or sporting and adversely affected the game of rugby".
Both counts were upheld by the independent misconduct committee, who fined the union £20,000, issued a warning over future conduct and ordered an apology be made to the relevant match officials.
The parties have seven days to appeal the ruling.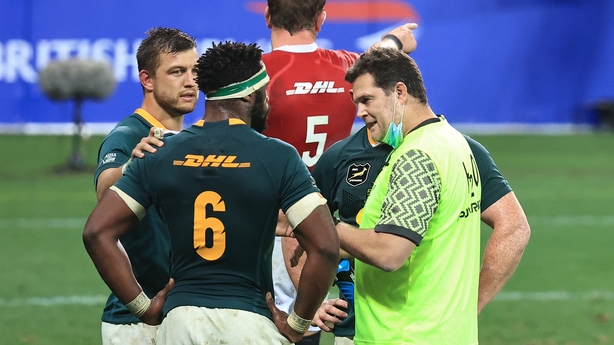 In breach of regulation 18 and World Rugby's code of conduct, Eramus was charged with "threatening a match official that unless a requested meeting took place, he would publish footage containing clips criticising the match official's performance and then making good on that threat; published or permitted to be published the Erasmus Video containing numerous comments that were either abusive, insulting and/or offensive to match officials."
It said he "attacked, disparaged and/or denigrated the game and the match officials; did not accept or observe the authority and decisions of match officials; published or caused to be published criticism of the manner in which a match official handled a match."
Furthermore, he was charged with engaging in "conduct or activity that may impair public confidence in the integrity and good character of match official(s); and brought the game into disrepute when he published or caused to be published the Erasmus Video."
World Rugby added: "Having considered all the evidence, including oral evidence from the match officials, Rassie Erasmus, SA Rugby, World Rugby, and submissions from the parties the committee found all six charges against Mr Erasmus proved."
The independent committee, chaired by Christopher Quinlan QC, together with Nigel Hampton QC and Judge Mike Mika (both New Zealand), decided to suspend Erasmus "with immediate effect from all rugby activities for two months" as well as "suspension from all match-day activities (including coaching, contact with match officials, and media engagement) with immediate effect until 30 September, 2022."
He was given "a warning as to his future conduct and an apology to the relevant match officials."
In the 80-page written judgement accompanying the outcome, the committee highlighted the human cost of the episode to Nic Berry, the referee who was Erasmus' main target.
The committee said it was impressed by Berry's "quiet dignity, humility, and the restraint he showed during his evidence" and acknowledged the "profound effect" the episode had on him.
"Needless to say, the whole situation has been an extremely difficult time for my family and I," Berry said.
"The public attack on my integrity and character is not something that should be tolerated in any workplace.
"I feel that Mr Erasmus engaged in a character assassination of me on social media. I have spent many years trying to build my reputation as an international referee and in the course of his video which was posted online, Mr Erasmus has caused it immeasurable damage.
"My reputation throughout the rugby community has suffered immeasurably. His actions are against everything our game stands for and I feel it's important to take a stand against such behaviour."
Listen to the RTÉ Rugby podcast on Apple Podcasts, Soundcloud, Spotify or wherever you get your podcasts.
Follow Ireland v Argentina (Sunday, 2.15pm) via our liveblog on RTÉ.ie/sport and the RTÉ News app, watch live on RTÉ2 and the RTÉ Player or listen to national radio commentary on RTÉ Radio 1's Sunday Sport.