An emotional Ciara Griffin says she "loved every minute" of her six-year Irish career, having confirmed her decision to retire on Tuesday afternoon.
The Ireland captain briefly welled up as she spoke to the media this evening, ahead of her 41st and final Test match this weekend against Japan at the RDS.
News of the 27-year-old's retirement came as a major shock when it was announced, with the Munster back row a universally popular character in the Irish camp.
The news also came after what had been another controversial week in Irish women's rugby following the fallout from women's director Anthony Eddy's media appearance last week.
However, Griffin insisted her mind had been made up prior to the events of last week, having been thinking about retirement since Ireland's World Cup qualification disappointment in September.
"It hasn't been influenced by the last week at all," she said.
"Obviously it has been a tough time for us as a group with everything. Something that happened to me in terms of my thinking to be honest was the time of the pandemic. It made me re-evaluate a lot of things, made us all re-evaluate a lot of things. Time at home, things at home, getting that time with your family. It made me re-assess different things.
"It's something I haven't come to lightly, something I've been thinking about for a while. Obviously, after the events of Parma and the qualification process, it gave me time to reflect at home with my family.
"I thought about where I want to go next and I've given my life to this game. I've literally given everything to it so it's time to focus on the next chapter and put my family first for a change as well. I'm going to focus on my next steps.
"I've been having this conversation (about retiring) for the last five or six weeks to be honest. My poor husband has had the ear talked off him, he's been giving me loads of different scenarios or what ifs and other things but it's the right decision for me where I am at the moment, and just thankful for everything I have been given.
"People have not so much talked me out of it, but reassured me that it is the right choice for me, the right time for me, and to be honest and throughout those conversations it was clear to me."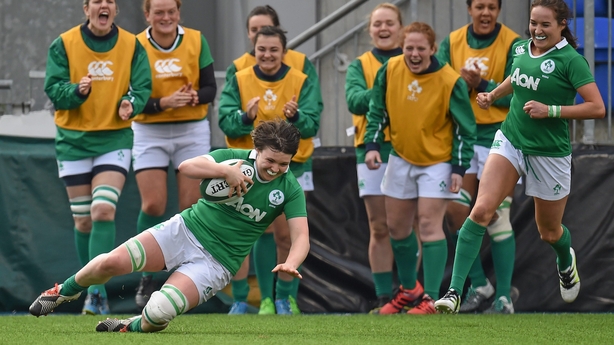 Having had to speak on behalf of her team-mates following several disappointments in recent months, Griffin cut an infinitely more relaxed figure as she looked back on her 40 Irish caps.
The Kerry native says she was a "nervous wreck" on the day of her Test debut against Wales in the opening round of the 2016 Six Nations Championship, replacing Heather O'Brien for the final 20 minutes of their 21-3 win against Wales in Donnybrook.
The versatile back row featured in every game across that championship, before being named Ireland captain by Adam Griggs ahead of his first season in charge in 2018.
"I think I've had so many highlights," she said, when asked for the pick of her memories.
"The friends I've made from this sport are lifelong friends, they're friends off the pitch. I've loved the experience, even though the World Cup didn't go our way, that experience in 2017 of getting to play in a World Cup was a childhood dream. It was one of my goals to play in a World Cup and that's something that stands out to me.
"Obviously being given the honour of captaincy was massive for me in 2018, something I hadn't foreseen and then I think the performance last week by the group after everything is definitely one of my highlights in that it showed the resilience in the group and the connectivity and closeness of the group.
"Seeing the crowd back, they were times that just stand out to me at the moment."
Griffin became quite emotional when she spoke of the sacrifices she and her team-mates have made in recent years.
However, she says the time has come for her to prioritise her family.
"It is a sacrifice but it's a choice at the end of the day.
"It's simple things, saying no different events or not being around... I'm bound to cry at some point I suppose, but it's been a tough year with everything.
"It's just time now to put my family first. It's a sacrifice but I've loved every minute and I think I'm leaving in it in a place that I know I've put everything I could into it. It's time now to focus on the next step.
"I suppose I'd like to be remembered as a person who tries to do their best for the green jersey, always puts the jersey first and their players first. I suppose as a person who led by example, who let my actions do the talking and always played with a smile on my face. I loved every minute in that jersey and plan to again at the weekend.
"I am optimistic for the women's game. I know the reviews are taking place to make sure these events don't happen again and that the right procedures are put in place, so I'm taking solace in that happening."
Follow Ireland v Japan via our live blog on RTÉ.ie/sport and the RTÉ News app, watch live on RTÉ 2 and the RTÉ Player, or listen to national radio commentary on RTÉ Radio 1.