The Samurai sword is destined for pride of place over Johnny Sexton's highly decorated mantle piece.
The gift, which was presented post-match by Japan captain Pieter Labuschagne, will sit just out of reach of his youngest for fear Luca will practice his swordsmanship on his little sisters.
"You've been a great ambassador for rugby for a long time, representing your country for 100 caps is special. We want to present you with this," said Labuschagne.
"The Samurai sword is something really special for us. And we wanted to give him something to remember this game and this occasion and it will symbolise it."
For the Ireland captain, the whole day went like a dream, so much so that in his post-match press conference he was afraid someone was going to pinch him and wake him up.
The 36-year-young out-half won his 100th cap, kicked 11 points from difficult angles and ran over for his 15th Ireland try as his side battered a disappointing Japan, 60-5.
Try as he might not to make the day about him, he failed miserably. Japan and the even the rest of the impressive Ireland team were a sideshow.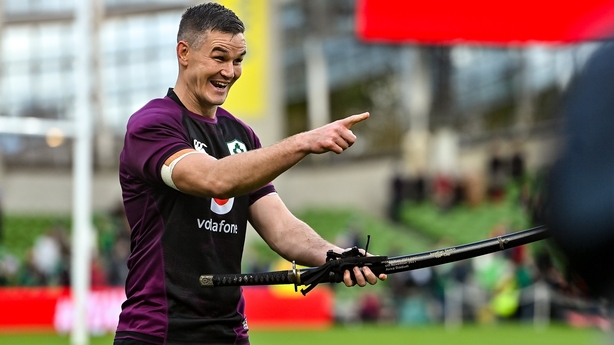 "It's a special day and that's a special memento to get from an opposition team, that's very special for me and it will take pride of place somewhere in my house," said Sexton after the game.
Sexton's try, when it came in the 48th minute, brought a huge cheer from the Aviva crowd, but when if fully dawned on the fans that it was the centurion who touched down, they erupted again as he was swamped by all of his team-mates.
"You couldn't not notice it," he added. "It was a very special moment for me. It's up there with the best moments of my career.
"There was an incredible ovation and then I saw my family, I knew where they were sitting before the game, and they were just smiling, so then I was trying to switch in and get the conversion. I was probably more happy about that than anything.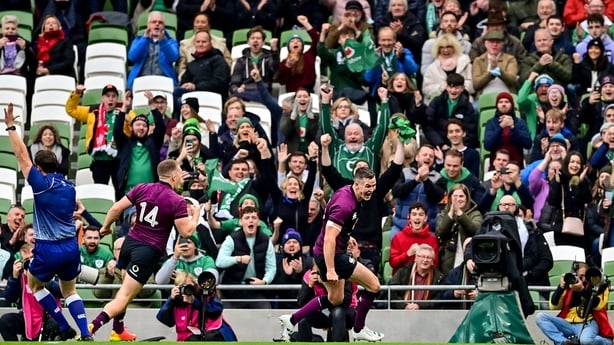 "There were very special moments throughout the game. Leading out your country for any game is special but to do it today with the crowd today...
"I feel a bit guilty because there are guys like Cian Healy who won his 100th cap and then two of my best friends in the game, Fergus McFadden and Rob Kearney, who retired in an empty stadium.
"So I do feel a bit guilty that I got to this point."
"It was up there. I said it to the lads in the dressing-room that it was one of the best moments of my career.
"I don't think Andy Conway came in 'cos he felt I should have passed the ball to him [for his hat-trick] but it was very special and the crowd at that moment, I'll remember it forever."
An emotional Johnny Sexton receives an incredible reception from the home crowd after making his 100th Test appearance for Ireland. pic.twitter.com/mnCkkDN1yC

— RTÉ Rugby (@RTErugby) November 6, 2021
Sexton could even laugh off Andy Farrell's attempt to lower his mood by bringing up the result of the Manchester derby, in which the Dubliner's beloved United took another home beating.
He then revealed that among the message of congratulations for joining the six others on the 100-cap mark that came during the week was one from a childhood football hero.
"All the lads with a hundred caps made the effort to reach out," he said.
"That meant a lot to me. Obviously some boyhood heroes. Paul McGrath. It was on Instagram, that one.
"So many, to be honest. Again, I feel like I'm going to wake up and it's going to be the morning of the game. It's just been a surreal day and a surreal week."
Follow Ireland's November internationals v New Zealand and Argentina via our live blogs on RTÉ.ie/sport or the RTÉ News app, or watch live on RTÉ2 and RTÉ Player. Live commentary on RTÉ Radio 1.