Ireland out-half Stacey Flood says the decision to keep the Women's Six Nations in a standalone window is "hugely beneficial" for the game.
Six Nations chief Ben Morel yesterday said the 2022 tournament would continue to be played in a separate window to the men's championship, just as it was this year, while it will also revert back to it's traditional five-round format.
It's an announcement that has been welcomed by Ireland out-half Flood, who made her 15-aside debut earlier this year.
Speaking at the launch of Ireland's new Canterbury home kit, the 25-year-old said that giving the women's championship it's own space in the calendar put a much greater spotlight on it.
"I thought it was hugely beneficial," she said of the 2021 tournament.
"It's hard when there's so many games on. I love sport and I will sit down and watch it all day, any sport, but it is hard for someone to sit there and try and watch three or four games and block out your Friday, Saturday and Sunday for this, that and the other.
"You might have your own things on as well so them being separated a bit is beneficial, just for more eyes on it and just having more spectators and the headlines even, you (the media) having the interest in the team," she said.
More importantly, Flood says it has the potential to get more and more young girls out and playing the game.
"It's great for women's sport in general and not just rugby.
"Girls seeing girls play is only going to push on how many people are playing and how much interest is in it and you're starting to see now the numbers build in the grass roots. Maybe in five or ten years you will see triple the number of players in the player pool and it is only getting better for Irish rugby."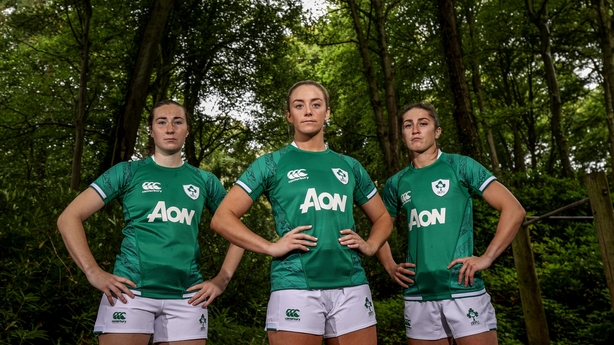 After the disappointment of their failure to qualify for next year's World Cup in New Zealand, Ireland will get back to work next month with games against the USA and Japan at the RDS.
It will be a final pair of games in charge of Ireland for outgoing head coach Adam Griggs, who is to be replaced by former Ireland assistant Greg McWilliams in 2022.
The departure of Griggs had been expected following their World Cup qualifier disappointment, with Flood thankful the players have the chance to send him off on a high.
"I think it is hard when you've been with a coach for some amount of time, and I have worked with Griggsy through 7s as well. I suppose coaches come and go, but the main thing is to try and leave the jersey in a better place that you've found it.
"We're coming off a low, so it'll be tough to get back to it, and we're looking forward to writing our wrongs, and we definitely want to get a few wins under our belt and beat the USA, beat Japan and just see what we can do.
"I've never worked with him (Greg McWilliams) before, but obviously he's been involved in previous World Cups and the girls have performed well at them.
"I know he's very tactically minded - so I've heard anyway - and his rugby CV is quite extensive which is really good. It's a positive that he's worked with women before, so that's an added bonus.
"Hopefully he can add another notch to our belt, and I'm looking forward to working with him. I've only heard good things."
Listen to the RTÉ Rugby podcast on Apple Podcasts, Soundcloud, Spotify or wherever you get your podcasts.