Anthony Foley wasn't an "arm around the shoulder" man in the literal sense of the words.
But that doesn't mean he didn't have his ways.
Sensing one of his Munster player's upset following a match against Ospreys in 2015, Foley found another way to comfort his man.
"Pop over to my house tomorrow and we'll have pizza," Foley, who passed away five years ago today, told Ian Keatley.
The out-half had just helped Munster to the Pro12 final with a Thomond Park victory in what was Paul O'Connell's last game at the stadium.
However, the fact that he'd left a few points behind off the tee bugged Keatley. Foley sensed it and initiated his own style of bear hug.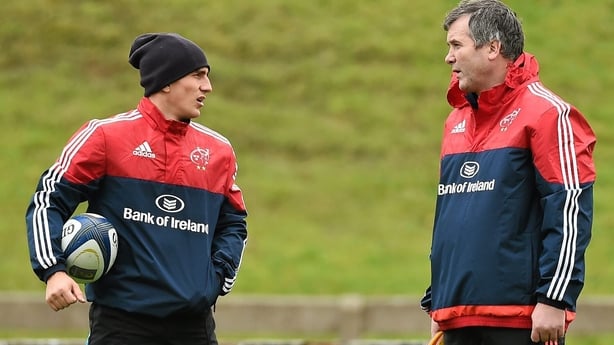 "I thought I had the worst game ever, missed a few kicks. We won but all I could think of was the missed kicks," Keatley tells RTÉ Sport.
"As a kicker, if you have a bad day you almost forget that you are a player too.
"He knew I was upset, he rang me up and invited me over.
"It was very relaxed, there with his family and Keith Wood's family too.
"He said I played really well, set up these two tries, maybe the kicking wasn't great but without you setting up the tries we wouldn't have won that match.
"He had his special way.
"Him giving you a pizza was his way of putting an arm around your shoulder.
"Sharing those moments with his wife and kids and his best friend, bringing you into his home to meet those people, it means a lot."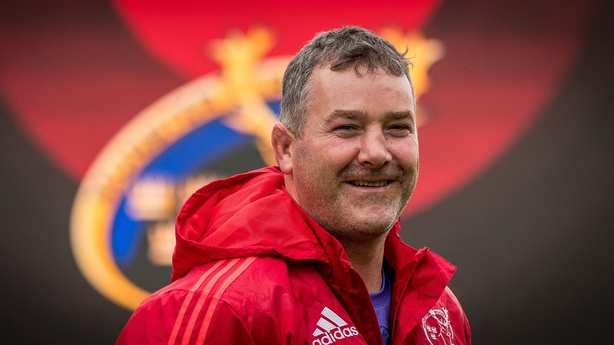 It's hard to believe it happened in the first place, and hard to believe half a decade has passed since.
On Sunday, 16 October, 2016, as Munster were preparing to face Racing 92 in the Champions Cup, the news filtered through that Foley had passed away in his sleep in a hotel in Paris.
Aged just 42, Munster's former captain, leader and then coach, suffered an acute pulmonary oedema due to heart disease.
In a Munster career that lasted 13 years, Foley had become the first player to surpass 200 appearances.
'There is an Isle' - Mourners line road outside Thomond as remains of Munster's Anthony Foley pass by https://t.co/U6CIewq49J #rterugby pic.twitter.com/PBOyKId1xu

— RTÉ Sport (@RTEsport) October 19, 2016
The Clare man captained the province to a long-awaited Heineken Cup victory in 2006 and announced his retirement following their second success in the competition two years later.
In 2011 Foley, holder of 62 Irish caps, was appointed forwards coach for Munster and three years later took the head coach job, with the team enduring a difficult period under the Shannon great.
When Rassie Erasmus came in as director of rugby in 2014, Foley returned to a more hands-on role.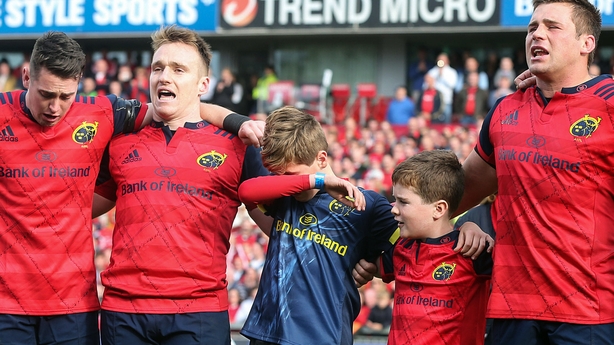 Keatley, the former Ireland international out-half who spent eight years at Munster between 2011 and 2019, has fond memories of his old boss, acknowledging the difficulties and sourcing some solace in the return of Foley's "mojo" before he died.
"He went back to head coach, and more importantly forwards coach, and just before he died it was like he had his mojo back," Keatley, now a member of the coaching staff with Munster's academy, said.
"He was enjoying his rugby and there was a smile on his face.
"Obviously, he went through a tough time, especially in his second year and he got a lot of stick in the press. You could see it in his face, he went grey, his demeanour.
"He always had a glint in his eye, always joking, he kind of lost that.
---
WATCH: Anthony Foley: Munsterman on the RTÉ Player
---
"But he got that back when Rassie came in and you could see he was enjoying his rugby. He loved rugby, he loved winning, he loved Munster.
"At least I know at the very end he was back doing what he loved, coaching, coaching the forwards.
"Things were going well under Rassie, Axel had those cheeky comments, a glint in his eye and the smirk was back.
"That's my last memory of him and that's the one I want to keep. He got back to what he loved just before he passed away."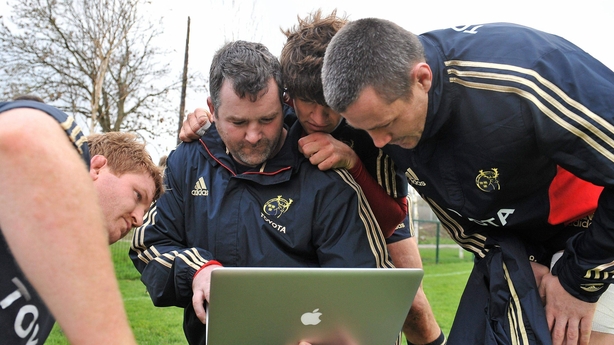 Soon after Foley led Munster to their holy grail in 2006, a young James Coughlan came on the scene looking for back row action.
A threat to his starting XV chances, Foley did nothing but encourage the young gun.
"He took me under his wing when I came into it," says Coughlan, now defence coach at Toulon.
"There'd be some mornings when we'd be in the dressing room and he thrown me a pair of boots or other gear that he had in his stock.
"He'd make sure there was no one else there, so it wasn't a grand gesture, it was just a little thing but to a player coming up that means a lot.
"Then when he started coaching he might say we can do this review, look back at the review or we'll go and talk bullshit over a cup of coffee, forget the rugby for a while.
"They are the kind of things that you hang on to after and we learned off Axel. I'd try to do the same with any of the young bucks coming through because Axel showed us that was how things should be done.
"He could be grumpy and cranky but he was our grumpy and cranky man, no airs and graces and everything was genuine. All he ever wanted was the best for Munster."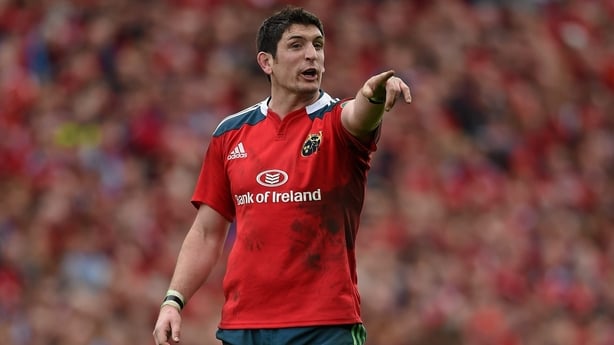 Former centre James Downey (above), who had two spells at Munster remembers his first encounter with Foley.
The Reds were on the road in an early-season Celtic League game in 2006 and lost. Eager to put the poor performance behind them, Downey soon realised that's not how it worked in Foley's world.
"We were over in Glasgow, playing in Hughenden, the worst pitch ever, and we got absolutely pumped," said Downey, who was capped by Ireland in 2013.
"I remember Axel in the huddle after saying how much of a disgrace it was.
"Us young lads were like 'whatever, let's move on to the next game'.
"He was like 'this was Munster and this could not happen, the standards were not right'.
"He commanded such respect. I know people talk about auras but there was such an aura about him."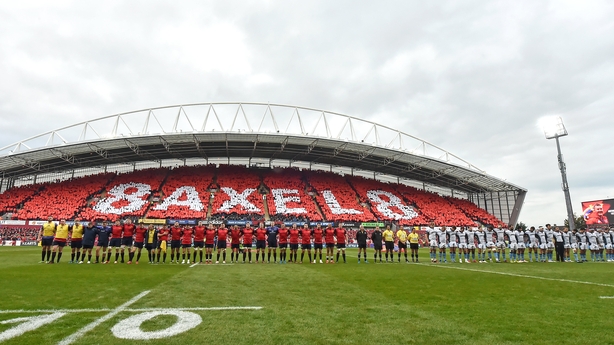 Tonight, Axel will have a special place in Thomond Park when Munster host Connacht in the United Rugby Championship.
Widow Olive, sons Tony and Dan, family, friends and former team-mates will be in attendance as Foley's image takes pride of place on the big screen.
Speaking to reporters during the week, Munster and Ireland second row Jean Kleyn says that the gathering at tonight's game is "fitting".
"It's not something you celebrate but it's something you remember, and it's a perfect night to remember him," said the Ireland international, who joined Munster in 2016.
"I only knew him for a short while but there were guys here like CJ [Stander] and Pete [O'Mahony] and Keith [Earls] - Keith even played with him - that spoke so highly of him and still speak so highly of him.
"I think that's testimony that five years after his passing he's still being spoken of, he's still being mentioned.
"He's not a memory.
"To a lot of people he's still very much real and remembering him with a match back at Thomond Park after we've all had this sense of separation from each other and reality over the last 18 months, two years, I think it's really fitting that we can remember him as well on this occasion."
Listen to the RTÉ Rugby podcast on Apple Podcasts, Soundcloud, Spotify or wherever you get your podcasts.
Follow Munster v Connacht (Saturday 7.35pm) via our live blog on RTÉ.ie/sport or the RTÉ News app, or watch live on RTÉ2 and RTÉ Player. Watch Ulster v Lions (Friday 7.35pm) on RTÉ2 and RTÉ Player.