On this day, exactly two years from now, we should just have found out whether or not Ireland have broken their quarter-final hoodoo at the Rugby World Cup in France.
That's the goal. Break the quarter-final barrier that proved too much in 2019 and 2015 and 2011.
Let's not even talk about 2007.
The plan for the next two years - let's say 19 games to bring us up until the end of the 2023 Six Nations - is to figure out how Ireland will play in France 2023, but even more importantly who will play.
You can see it in the make-up of the autumn training squads, with Eddie Jones making England's future plans clear by annexing the Vunipola brothers, Jamie George and George Ford. A ruthless move, but one that may well pay dividends,
From an Irish point of view, plenty of positions are taking care of themselves. Tadhg Furlong seems pretty immovable at tighthead, while Andrew Porter should have settled back into the loosehead jersey within a couple of years, if he hasn't already.
The second and back row options look healthy, with trusted combinations of good age profiles in place, as well as a bustling queue of younger, versatile options set to build up their experience of Test rugby.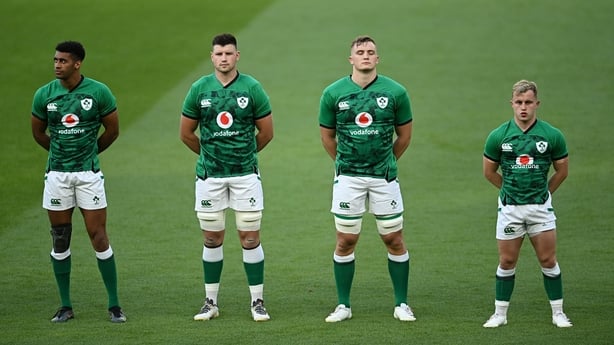 Likewise in the back three, the options come and go.
Robert Baloucoune of Ulster looks to be the hot hand for the moment after his debut during the summer, but Andy Farrell doesn't need to marry himself to a select few just now.
For context, at this moment in the previous World Cup cycle, Jacob Stockdale was only getting ready to announce himself on the world stage.
Supporting Johnny Sexton is a collection of talented potentials, none of whom seem able right now to offer a convincing point of difference.
The key area that needs to be nailed down however, is the half-backs.
Scrum-half has an element of uncertainty, but there's a solid succession plan beginning to take shape; Conor Murray currently has the jersey and given his athletic profile, could conceivably still be the man by 2023.
If he isn't, Ireland's prospects still look exciting in the form of 22-year-old Craig Casey and 19-year old Nathan Doak. Beware the Jamison Gibson-Park wildcard though, a player that clearly fits Farrell's plans.
If there is one area of the depth chart that has a large question mark it's out-half. Unfortunately it's probably the one area you don't want to have a significant question mark over.
Supporting Johnny Sexton is a collection of talented potentials, none of whom seem able right now to offer a convincing point of difference.
In theory there's no reason to panic. This is exactly why we use the World Cup cycle as we do, exposing players to the rigours of Test rugby over the four years to keep the conveyor belt moving.
The worrying part of it is that we've been doing this for the last four years, and in 2021 we seem further away from the answer than we were in 2017.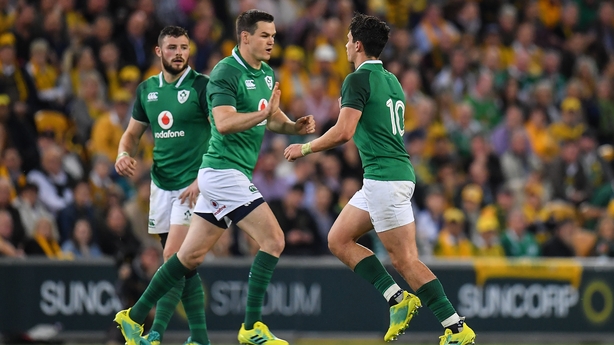 At this stage in the previous World Cup cycle, we had a clear heir to Sexton's throne in Joey Carbery.
Nobody needed to look around the provinces to find the next candidate, Carbery was shouting and screaming in front of us, and had acquitted himself well in his early caps.
Through no fault of his own he's been forced into backwards steps. Even with hindsight, misfortune has found Carbery, rather than the other way around.
He took on a high-profile move to Munster in 2018 in a bid to break out from Sexton's shadow,.
He wanted to prove he could lead his own team and maximise his exposure to Champions Cup rugby before the World Cup, and for the most part it was moving smoothly. There was a couple of niggly injuries in his opening season, but when he played, he played well.
As we all know by now, he's still picking his career back up after the ankle injury he suffered against Italy shortly before the 2019 World Cup, playing through the pain barrier in Japan, which led to a complicated rehab process, ultimately removing him from the game for the better part of 18 months.
Having returned to the international scene during Ireland's summer games against Japan and the USA, the hope for Carbery has been that he would begin to look more and more like his electrifying self with a full pre-season under his belt.
It's very early days in the season, but he looks far removed from his 2018 version right now. His distribution hasn't been as sharp, his place-kicking has been off-radar, he's sent restarts out on the full, and his defence has been weak.
Sharks out-half Boeta Chamberlain picks off Joey Carbery's floated pass to conjure up a try out of nothing #RTERugby #URC #UnitedRugbyChampionship #MUNvSHA

Watch live - https://t.co/CStwnXf2cB

Live updates - https://t.co/lfHCGRGbhj pic.twitter.com/sDlqQfUzO7

— RTÉ Rugby (@RTErugby) September 25, 2021
Of course, time is on his side to iron out those skills, but now he has the added pressure of a fight for the number 10 jersey at Munster as well as Ireland.
As pointed out by Donal Lenihan on this week's RTÉ Rugby podcast, Ben Healy has started the new campaign with a point to prove.
"I think he (Healy) definitely has to come into the equation. We saw cameos of Ben Healy last year, most of the time coming off the bench, cameos with 20 minutes to go," Lenihan said.
"We know the basics of his game are pretty solid, kicking out of his hand he's phenomenal, place kicking he's a 50 metre-plus guy depending on conditions, so therefore for a young player, you're development is around your ability to manage a game.
"Physically he's developed even more. We saw him in front of our commentary position from Munster's 10m line, imploring Peter O'Mahony to give him a shot at goal. And Peter scratching his head wondering what he's talking about.
"There were a couple of excellent passes off his left hand, place and line kicking was strong as ever."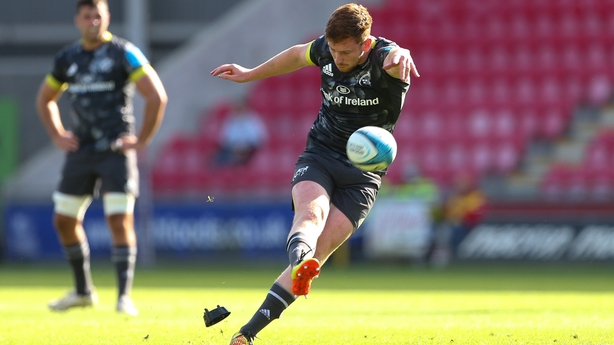 Healy turned down advances from the Glasgow Warriors last season to sign a senior contract with Munster, and his decision to only sign a one-year deal has put pressure on him to perform and ensure his province and country recognise his value.
At the moment, he's dealing well with that pressure.
---
It doesn't help the issue that Sexton still has his form. Like the patriarchal Logan Roy in Succession, Ireland's out-half shows little inclination to let the next generation run the show.
This isn't a case of an ageing star awkwardly trying and failing to hit those high notes, reminding us of how good he was by how far he's fallen. This is an ageing star who is still running the show, still able to produce the hits and still able to command the audience.
And it's why he's probably going to start for Ireland when they host New Zealand next month, even if there's nothing to be learned from it.
"I think he's loving the challenge that none of these guys are standing up and putting the pressure on him, that he would have put on Ronan O'Gara at the same stage of their careers a number of years ago. That's not Johnny Sexton's fault," Lenihan continued.
"In the Rugby Championship they (New Zealand) chopped and changed their side, and gave opportunities to younger players against the best teams in the world.
"We tend to do that against the USA or Georgia or Japan. We don't take the challenge in the really big games when you want to find out are they up to this or not."
In theory, Ross Byrne should be banging down the door. Sexton's consistent and capable deputy at Leinster, Byrne has never been fully trusted on the Test stage.
Sexton has previously spoken about playing until he's 40, and while it's entirely possible he could still be the best option Ireland have at out-half when that time rolls around, he's also a player who has struggled to avoid injury in recent seasons.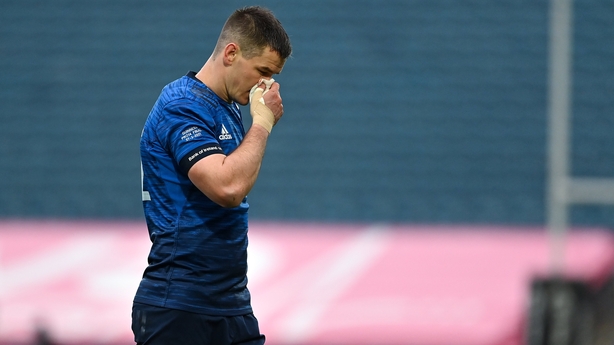 Even if he remains the first choice, there needs to be a viable option, or better yet viable options, beneath him.
In the final years of Joe Schmidt and the first two years of Andy Farrell, a number of other internships have been handed out, almost all of which have proved unremarkable.
In theory, Ross Byrne should be banging down the door. Sexton's consistent and capable deputy at Leinster, Byrne has never been fully trusted on the Test stage.
He can make an arguable case that he hasn't been given the chance to shine, his only starts in 12 caps both coming against England at Twickenham, games in which Ireland's pack were dominated, and his supply of ball horrendous. It's a fair suggestion that any out-half would have struggled on those days.
But even at Leinster, there are question marks over his ability to change a game, to bring the ball right up to the line and risk himself in the same way Sexton does.
His omission from the squad for Ireland's recent games against Japan and USA suggests he's fallen down Farrell's pecking order.
---
His younger brother Harry seems to have that conviction though, and the desire to play the game on a sharper edge. His presence in Farrell's training squads in recent seasons would indicate he's being primed for a breakout, but injuries have consistently hit him at the wrong time in the last 12 months, denying him Champions Cup starts and extended game time in the Leinster team.
He made his Ireland debut off the bench against the USA this summer, but the niggling injuries have continued; a foot issue delaying his start to the season, and a hip injury picked up against Zebre could potentially cost him a place in the squad for November's Test matches.
His talent is undeniable, but would it be correct to send him out against the All Blacks in November having played such little rugby this season?
With so much of Ulster's game being driven by John Cooney at scrum-half - or Nathan Doak this season - Burns is more facilitator than dictator in the white jersey.
Then there is Billy Burns, the Ulster out-half Farrell has been consistently drawn to in the last 12 months, playing seven of Ireland's last 11 games.
But he's yet to really inspire in the role, and unfortunately his game-deciding miskick against Wales in February brings an added pressure to his game every time he plays. Until he does something special, that's the moment people remember.
Burns is a player that seems to fit Ulster's system better than Ireland's. With so much of Ulster's game being driven by John Cooney at scrum-half - or Nathan Doak this season - Burns is more facilitator than dictator in the white jersey.
Ireland's game runs off 10 rather than nine, and Burns hasn't shown those levels of game management which we regularly see out of Sexton.
---
Jack Carty hasn't played for Ireland since the 2019 World Cup, but his comments this week would indicate he's still very much on Farrell's radar.
At 29, the Connacht 10 is the oldest of the contending bunch, and spoke in confident terms about his own game and how it suits the Irish plan.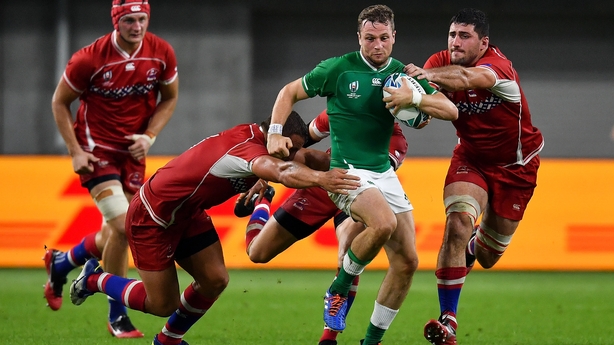 While his rivals for selection all seem to be trying to quietly go about their business, Carty - at the very least - is screaming for attention.
"The thing that gives me confidence is the fact that a lot of the things we're trying to do with 10 (in Connacht), in terms of attacking square, a lot of them are quite similar to what [Farrell] wants from his 10," Carty said.
"It gives me confidence to know that I'm doing that here, and there's a direct correlation between the two."
If there is a wildcard option, Leinster's Ciarán Frawley could be it.
Originally an out-half, the Skerries 23-year-old has played the bulk of his rugby at centre in the last couple of seasons, and is realistically in the mix to be an Irish international in the coming season.
While he was pushed out to the centre owing to Leinster's logjam at 10, their style of having two ball-playing first receivers in the backline means he still has all the skills that are transferrable back to the out-half.
At around 6ft 3in and above 90kg he's physically imposing, while his kicking game in open play is as good as any of the other contenders.
A skillful distributor, and capable of taking a risk when needed, he looks they type of player that could play the Sexton kind of game.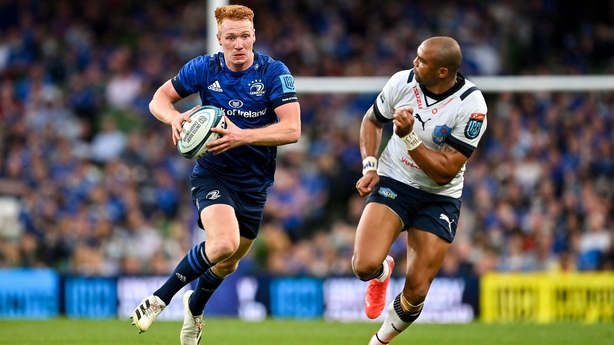 ---
Before Farrell can choose who starts at 10 - or even 22 - at the World Cup in France, his first job is to assemble a cast for the three November Tests against Japan, New Zealand and Argentina.
The temptation will be to give one of the apprentices a start against Japan, before Sexton takes over again for the remaining two matches.
But when the Six Nations rolls around, are we looking at another five Sexton starts - or four, with a rest against Italy - before a high-pressure series against New Zealand next summer?
If Andy Farrell wants an experienced stable of 10s supporting Sexton, or indeed taking over from Sexton before the World Cup, he has more than enough time to get them ready.
He just needs to take the risk.
Listen to the RTÉ Rugby podcast on Apple Podcasts, Soundcloud, Spotify or wherever you get your podcasts.
Follow Munster v Connacht (Saturday 7.35pm) via our live blog on RTÉ.ie/sport or the RTÉ News app, or watch live on RTÉ2 and RTÉ Player. Watch Ulster v Lions (Friday 7.35pm) on RTÉ2 and RTÉ Player.