Fiona Hayes, a stalwart of the Ireland team that won two Six Nations titles and beat New Zealand in 2014, admits she was "baffled" by some of the selection calls made by Adam Griggs.
Ireland will miss out on next year's Rugby World Cup in New Zealand after losing to Spain and Scotland in the qualifying tournament in Parma.
The IRFU is to conduct a review into the failure to make the event, in which they had actually targeted a top-six finish.
Many pundits have urged the union to examine the structures of the women's game in the country but, that aside, decisions made in the build-up to and during defeats to Spain and Scotland will have to be analysed separately.
Hayes, who coaches the Munster U18 Women's team, feels that there was a certain "disrespect" shown to the 15s game by one of the decisions in particular, the selection of 7s captain Lucy Mulhall at outside centre for the Spain match.
Listen to the RTÉ Rugby podcast on Apple Podcasts, Soundcloud, Spotify or wherever you get your podcasts.
A superb athlete in her own right, the Wicklow woman, uncapped, would have had limited experience of playing competitive 15s games in that position for club or province.
After starting the 8-7 loss to Spain, the 27-year-old did not make the squad for the Italy game and was an unused replacement against Scotland.
"Lucy is probably one of the best 7s players in Ireland," Hayes told the RTÉ Rugby podcast.
"She's outstanding at what she does and it was really sad to see for her to be put in there at that level in that high-intensity game that was really important for the entire country and that thrown on her shoulders and then dropped.
"Some of those decisions... [Adam] made them and he has to back them and he has his reasons, but for the whole benefit of the squad, I would wonder about that."
Hayes also questioned the negative effects on the rest of the squad of parachuting inexperienced players into the front line.
"There's no issue with the 7s players coming in, they are talented full-time athletes," said the former UL Bohs and Munster prop.
---
Ireland underperformed but systemic issues should be main focus of IRFU review
---
"But for players, from my understanding, sometimes it's an absolute disrespect for the game of women's 15s that you can say 'here, just throw that athlete in there and they will be able to play outside centre'.
"Can they? Of course, they can and they would have the ability to be the best in the country but why aren't they playing rugby like the rest of us?
"You earn [your place]. You are told to play your 15s rugby, get out there, play it every week and we'll have a look at you then.
"If you are thrown in, and that's something that's been said to me by a few people, when you are up there and all of a sudden someone comes in, who hasn't spent years practicing the fine intricacies of [their position].
'Absolutely baffled' - @fihayes27 was not impressed by some of the selection decisions make by Ireland in the Parma round-robin - this and more on the latest #RTERugby podcast #RTESport https://t.co/1TSzTqcZVe pic.twitter.com/zWpxeVrlIh

— RTÉ Rugby (@RTErugby) September 29, 2021
"It won't happen in front row, I hope to God, yet. But imagine you are propping and going through all that and then someone just comes in having never endured that lifetime of people drooling on your face in the AIL.
"There is that disconnect and the girls will tell you there probably wasn't, and they mightn't have noticed it but sometimes there's something hidden there when you are not playing with people week in, week out."
While Ireland lost both game in Parma by a single score, they were hampered across the tournament by a shambolic lineout, shaky scrums and poor handling errors.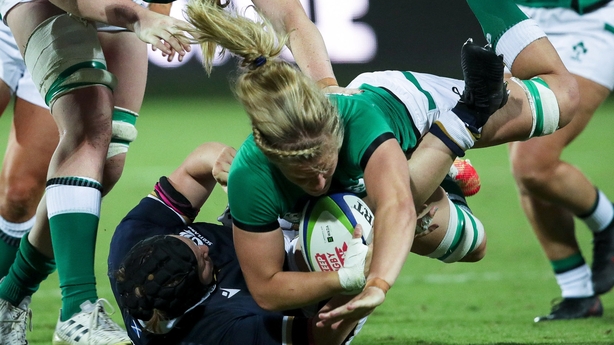 Temperament and decision-making were also poor, reckons the Limerick native, who admitted she struggled to understand why the experienced Claire Molloy didn't feature against Spain and was reduced to cameo roles off the bench against Italy and Scotland.
Molloy announced her international retirement on Monday.
"I'm absolutely baffled at some of those decisions," said Hayes.
"Claire Molloy, 74 caps, what she can offer you. Whether she is .4 of a second slower getting off the ruck, the way they measure things now, getting up off the ground and whoever is coming in behind her.
"When it comes to the heat of the battle in the game, that does not matter.
"What she did offer when she came on in the last two games was immense.
"There was a turnover, and there are very few players who know how to judge a ruck like that.
"It's the years of playing where you give the referee that look up and you know if you can go in and get away with one, if you are quick enough and she just absolutely has that.
"She is one of the best in the business, the best 7 I've ever played with or seen play. It baffled me.
"If you want to breed in youth you still have to have a couple of old heads around to show them the ropes and that's what they lacked."
Follow Dragons v Leinster via our live blog on RTÉ.ie/sport or the RTÉ News app, watch live on RTÉ2 and the RTÉ Player or listen to national radio commentary on RTÉ Radio 1.