Ireland's lack of discipline gave Scotland confidence that they would get enough chances to win their World Cup qualifier, according to head coach Bryan Easson.
Adam Griggs' side saw their qualification chances go up in smoke in Parma on Saturday when Scotland kicked a winning conversion with the clock in over-time.
The ramifications of the 20-18 loss will be felt in Irish rugby for a long time and it's understandable the focus here was on the failure of the team to get the job done.
However, for Scotland, who had won just once in their last 15 games against Ireland, there was elation as they booked a place in the repechage for a chance to qualify for the New Zealand tournament in 2022.
Ireland had lost to Spain in their opening match before recording an unconvincing win over eventual table-toppers Italy.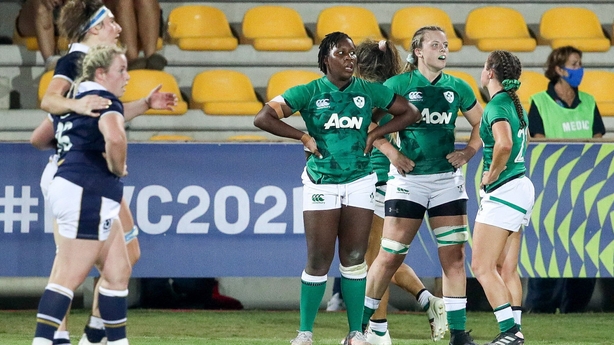 The Scots, who had lost to the Azzurre and beaten Spain, sensed an opportunity.
"We talked long and hard about Ireland, about keeping the ball against them," Easson said of Ireland, who had four players yellow-carded over the three-game round-robin, including two against the Dark Blues.
"They were always going to give away defensive penalties. They have given away more defensive penalties than anyone during this tournament.
"We knew that if we just kept the ball we would get another chance. We've a never-say-die attitude."
Leading 18-13 with 15 minutes to play, Ireland needed two more tries to book an automatic place in the finals and eschewed a shot at goal that would have taken them two scores clear.
However, Scotland forced a turnover and the fightback began.
That moment, Easson felt, shifted the momentum.
"I think there's an appetite within the Irish public to see Irish women's rugby improve at the top table"@CoghlanFiona is confident Ireland can bounce back from Saturday's World Cup qualifying heartbreak @mariecrowe reports #RTERugby pic.twitter.com/LkvQkJ5QqW

— RTÉ Rugby (@RTErugby) September 26, 2021
"I thought there was a turning point in the game when Ireland at 18-13 had a kickable penalty and they tapped and went," he said.
"We soaked that up then turned them over and it was interesting just watching the energy that that gave us.
"We played like we knew we would get another opportunity and I think that is testament to the group. That belief has not just come from this game or the game before, it has come from the work we have put in over the last two years.
"We've worked really hard for this, and you can see that.
"We've not just won two games here. Over the last seven games, we've drawn with France and won another three other matches, so we're going in the right direction, but we're certainly not resting on our laurels.
"We're determined to keep improving, improving and improving."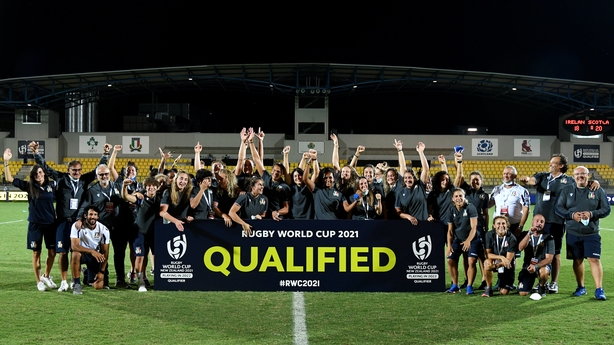 On Sarah Law's winning kick, Easson said: "She's the calmest person we've got in this squad.
"She's got such a good rugby brain, she understands the game inside out, and for her to just place the ball down there and stroke it through the posts … I'll be honest, I didn't really doubt it.
"She works hard on her kicking. Mossy [Chris Paterson] has done a great job helping her with her technique and her processes, so a big thanks to him on that.
"If there is one person you want to kick a goal for you in the last play of the game, it is Sarah Law."
Captain Rachel Malcolm echoed her coach's thoughts.
"I'm not going to say I can't believe it because I 100% believed this would be the outcome," she said.
"We believed that we could do this and we knew it could take until the last second and that's exactly what happened."