Beibhinn Parsons say it's "unthinkable" that Ireland won't qualify for next year's World Cup in New Zealand.
Following a loss to Spain and a win against Italy, Adam Griggs' side have to beat Scotland next Saturday, and hope for an Italian win versus Spain.
A second-place finish means entry to a repechage tournament against Samoa, Colombia and the second-place team from the Asian qualifiers.
Ireland's eighth-place finish at the last World Cup, held in Ireland, in 2017 meant they had to go through the qualification process.
A crucial @IrishRugby score from @ameeleigh95! ??

Don't sleep on that break from @ParsonsBeibhinn ??#RWC2021 pic.twitter.com/Vn8TaODMAP

— Rugby World Cup (@rugbyworldcup) September 19, 2021
"Absolutely, it is [unthinkable]," Parsons said about the prospect of missing out on the showpiece, which was pushed back by one year due to the coronavirus.
"It's a thought that I don't want to even cross my mind. All I want to do is get on a plane to New Zealand.
"It's everyone's dream here, we all have that common goal to get to a World Cup so yeah, it would be unthinkable.
"That's our main motivator and everything outside that is just background noise."
Parsons was the star of another poor performance by Ireland against Italy, with the Galway woman getting Ireland's first try and setting up the second with a stunning run, beating seven defenders before Amee-Leigh Murphy Crowe scored in the far corner.
"Honestly, I don't know if anything goes through your mind when there's a defender right in front of your face," the 19-year-old said of the play.
"Once you beat one you want to beat the next, stay going forward and get over the whitewash.
"The best thing about that run was that we were able to convert it into points at the end of it, at least scored a great try.
"The run was great but getting points on the board was better.
"We are confidence-based players and the confidence is growing as the weeks go on, hopefully that will peak against Scotland and we'll go out all guns blazing and play our game plan with the best of our ability."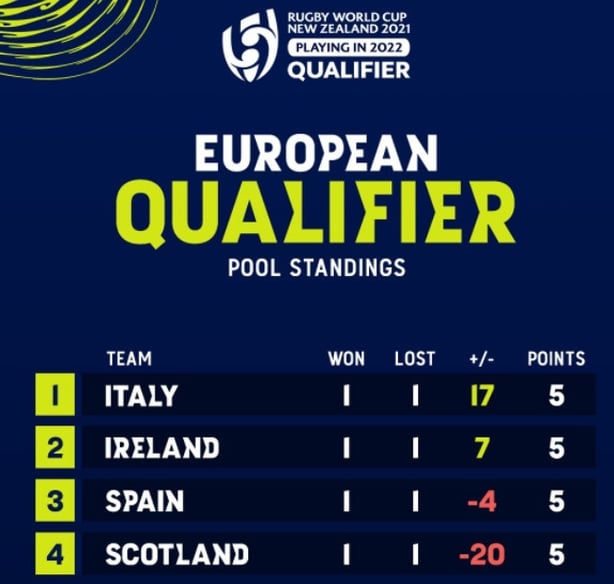 ---
RWC 2021 Europe Qualifier schedule
Monday, 13 September
Scotland 13-38 Italy
Spain 8-7 Ireland
Sunday, 19 September
Italy 7-15 Ireland
Spain 22-27 Scotland
Saturday, 25 September
Italy v Spain (2pm)
Ireland v Scotland (5pm Irish time)