Italy 7-15 Ireland
Ireland's fight for a place at the 2021 Women's Rugby World Cup is back on track, thanks to a powerful defence, and the world class talents of wing Béibhinn Parsons.
The Connacht star scored Ireland's opening try in their 15-7 win against hosts Italy in Parma today but it was her role in Ireland's second, where she waded through Italian defenders like Jonah Lomu, that turned this game on its head and put her side back in contention for World Cup qualification.
The eight-point win brings Ireland up to second in the group. Following Scotland's 27-22 win against Spain this evening, all four teams are now level on five match points, with Italy's points difference standing on +17, Ireland's on +7, Spain on -4 and Scotland on -20.
Adam Griggs' side know will know what they need to do in advance of playing Scotland next week, with Italy and Spain playing in the day's opening match.
Should Italy win, Ireland will just have to match that given their superior head to head record. However, should Spain win, then Ireland will need a bonus point versus Scotland to qualify. A Spain win with a bonus point would be insurmountable for Adam Griggs's side.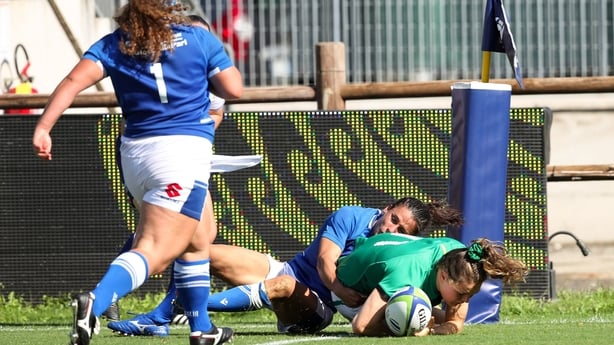 The home side controlled possession in the opening 10 minutes but struggled to make any real dent into Irish territory, thanks in large part to Ireland's aggressive defensive line, and the disruptive efforts of Cliodhna Moloney at the breakdown.
Neither side could figure out their role in the game in the opening quarter. Italy owned the ball, but couldn't get out of their own half, while Ireland were dominating physically, but unable to get possession.
Just as it did on Monday against Spain, the Irish set-piece struggled. They conceded three penalties in the first four scrums of the game, while their first real venture towards the Italian tryline was ended when they coughed up a lineout.
Following the water break midway through the opening half, Ireland grabbed control of the fixture though.
After sustained pressure in the Italian 22, Ireland won a penalty midway between the touchline and the left post. Having turned down plenty of scoreable penalties against Spain, Ireland weren't willing to make the same mistake again, and Stacey Flood called for the tee, but her left-footed strike rattled the post and stayed out.
It was to be a brief Italian reprieve. Four minutes later, Ireland went deep to Nichola Fryday at the tail of the lineout. The maul was moving instantly, before collapsing just short of the Italian line.
But the ball was ready for Kathryn Dane. Dane passed to the blind side to Flood, before the out-half went wide to Parsons. Flood's pass wasn't too forgiving, and Parsons did superbly well to catch one-handed before touching down in the corner.
Beibhinn Parsons has given Ireland the lead against Italy in Parma with this try.

Sustained Irish pressure and they had to withstand some Italian attacks.

Second half coming up on @rteplayer https://t.co/BT0TXIL7nv pic.twitter.com/UA6ZJT1rm6

— RTÉ Rugby (@RTErugby) September 19, 2021
Flood's touchline conversion fell short, and the try only served to wake Italy up. They charged down the pitch and were on the Irish tryline within seconds, but a true captain's intervention from Ciara Griffin prevented Italy getting in for the score.
Italy had been playing with an advantage at the time though, and after kicking to the corner, Ireland's defence came to life. The Italian maul never got going before Elisa Giordano broke down the blind side, where Moloney was waiting to bundle the number eight into touch.
Ireland saw things through to the half-time break, and started the second half brightly, before the game took a huge swing on 55 minutes, when full-back Eimear Considine was sent to the sin-bin on for a high tackle.
---
AS IT HAPPENED: ITALY 7-15 IRELAND
---
It was punished further within four minutes when Beatrice Rigoni broke down the touchline to score Italy's opening try, and Michela Sillari's wonderful conversion from the far touchline put Italy in front.
A crucial @IrishRugby score from @ameeleigh95! ☘️

Don't sleep on that break from @ParsonsBeibhinn ⚡️#RWC2021 pic.twitter.com/Vn8TaODMAP

— Rugby World Cup (@rugbyworldcup) September 19, 2021
That was as good as it would get for Italy though. Their try-scorer Rigoni was sin-binned for a deliberate knock-on just as Considine returned to the pitch, while Flood nudged Ireland back in front with a penalty shortly after.
Then, on the hour mark, Parsons took over.
Picking up a loose kick inside her own 22, the Connacht wing fancied a counter attack. Ducking, diving, weaving and skipping, she evaded seven Italian tacklers before eventually being brought to ground inside the opposition half.
Amee-Leigh Murphy Crowe touches down for Ireland as they rescue their World Cup hopes

Italy 7-15 Ireland https://t.co/jXCqJOITri pic.twitter.com/ahK2GiOY5q

— RTÉ Rugby (@RTErugby) September 19, 2021
But the process of stopping Parsons had taken its toll on Italy's defence, allowing a huge overlap on the open side of the pitch which Ireland spotted, running the ball through the hands where Amee-Leigh Murphy Crowe was waiting to touch down.
The conversion from Flood was straightforward but crucial, extending Ireland's lead to eight points, an advantage they saw out to the final whistle.
It denied Italy a losing bonus point, and ensured Ireland's qualification drive would at the very least go down to the wire next Saturday against Scotland.
---
Ireland scorers
Tries: Parsons, Murphy Crowe (1)
Con: Flood (1)
Pen: Flood (1)
---
Ireland: Eimear Considine; Amee-Leigh Murphy Crowe, Eve Higgins, Sene Naoupu, Beibhinn Parsons; Stacey Flood, Kathryn Dane; Laura Feely, Cliodhna Moloney, Linda Djougang; Nichola Fryday, Sam Monaghan; Dorothy Wall, Edel McMahon, Ciara Griffin (captain).
Replacements: Neve Jones, Lindsay Peat, Leah Lyons, Brittany Hogan, Claire Molloy, Emily Lane, Enya Breen, Lauren Delany
Referee: Hollie Davidson (SCO)