Johnny Sexton admitted it was tough to be left out the Lions squad as he believed he's done enough to earn a call-up for the South Africa trip.
The Ireland captain, a two-times tourist, finished top scorer in the 2021 Six Nations, memorably capped by a tour de force performance in the win over England in Dublin on the final day.
However, a subsequent injury suffered while playing for Leinster against Exeter in April in the Champions Cup was his last action before Warren Gatland named his panel for the ultimately unsuccessful series, which they lost 2-1.
"I was jealous and wished I was there but that's life and we move on now," Sexton told RTÉ Sport when asked how it felt to look on from the sidelines.
"I suppose at the start, I was training quite hard, very hard, for potentially, if somebody had gone down, if I was on standby, I wasn't fully sure [who else was] on standby but I staying fit and ready to go and making sure that if I did get a call I was ready.
"So at the start it was very much trying to figure out what they were doing and how they were attacking and stuff like that but then by the end when it was obvious that the call was never going to come you view it as a fan.
"You are still very attached to it. You are watching Tadhg Furlong, watching Jack [Conan] and Robbie [Henshaw] and Conor Murray, these guys are playing the Test matches and you wish you were there with them.
"It's very hard to detach yourself fully from it and be a fan.
"It's a long time ago now. I know it's my first time talking to [the media] in a long time. I had a bit of a sabbatical. It was tough but it was good to have a break and hit the ground running this year."
When the squad was announced former Wales boss Gatland indicated that the reason he had omitted Sexton was down to concerns over his "durability" in the face of what was sure to be an exceptionally tough tour.
Sexton, who decided against playing in "one or two league games" at the end of Leinster's season, admitted he was somewhat bemused by that suggestion.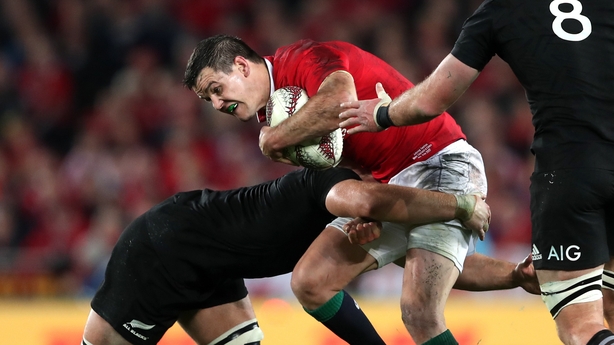 The 36-year-old said: "At the time I was like a little bit kind of going 'wow'... I've just played four games in the Six Nations.
"Yeah, I'd picked up a knock [against Wales in the opening game]. When you are holding a guy in the tackle and you get a knee in the side of the head there's nothing you can do or nothing that you can control.
"Obviously, it was gutting to hear that because I'd worked so hard before and during the Six Nations to stay fit.
"I thought I'd proved that by playing three 80 minutes in a row by the end in consecutive weeks that that maybe would be put to bed.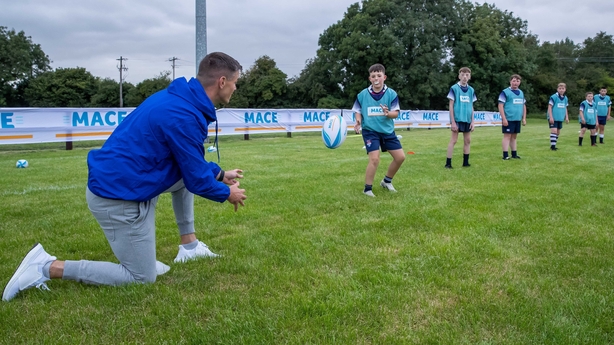 "But they went a certain way, I don't know if that was something that he just said to the media. They went a different way and I have just have to move on and accept it.
"At the start, of course, it was tough to accept. Any player who didn't get picked would be going... feeling sorry for themselves or a little bit angry about it. It's how you react to it.
"I think I've been gutted reacting to setbacks over my career and they've always set me on a path to somewhere else and getting success somewhere else down the line. I tried to use it wisely, the time and tried to learn from it."
The Leinster out-half was staying fit and ready but also decided to tick some items off the bucket list and went to see his first cricket match at Lord's and checked out the tennis at Wimbledon.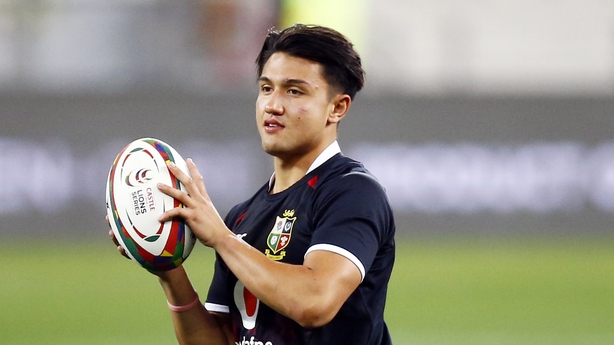 And he was in England on 10 July when the news came through that England's Marcus Smith, who had just made his international debut the previous week, was drafted in to cover for Finn Russell after the Scottish fly-half suffered an injury.
"I was over there when the news came in," he revealed. "The first I heard of it was when a player texted me, 'have you heard anything?'. So then I was searching my phone and saw the alerts come up that he got the call.
"Look, fair play to him. He finished the season incredibly well, with Quins - leading them to the Premiership - and he was playing well with England.
"That's the direction that the coaches wanted to go. I think he's an exceptional young player that is going to do great things in the game, over the next number of years."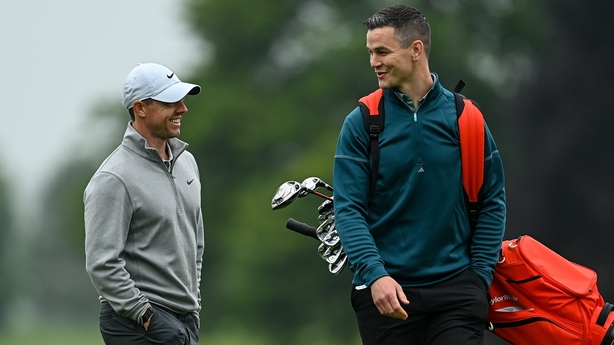 The former Racing 92 player also got an opportunity to tee off with Rory McIlroy at a pro-am event prior to the Irish Open.
A keen golfer, Sexton says he prefers to play his game out of the limelight.
"I was playing golf with Rory McIlroy, that's something I never thought I'd do - that wasn't even on the bucket list," he said.
"It was an incredible experience. Playing rugby in front of a crowd, and place-kicking, is tough, but playing golf in front of any type of crowd... with social distancing and restrictions, there was not meant to be a crowd but slowly, through the day, there were more and more people following Rory around.
"I had to hit a few shots in front of people which was... yeah! Playing golf with your mates is much better.
"You have so much admiration for them, dealing with that. He was a class person, on the day. I couldn't speak highly enough about him. It was a brilliant experience."
As for getting more time on the golf course, Sexton, who has a one-year contract with Leinster and Ireland, says he won't make any decision on his future until later on in the season.
"I've thought about whether this will be my last year or not," he said
"Like I've said, post-Six Nations next year is probably when I'll go, 'Okay, how much rugby have I managed to get through this year? How have I played? Am I still getting picked? Do Leinster and Ireland still want me?'
"There's so many things to consider. At that point, I'll weigh everything up. But, like I said, you can finish on an injury.
"You can't plan too far ahead, as I found out at the back-end of last year. I'm just trying to make the most of it, at the moment, and enjoy every bit of it."