Ireland attack coach Mike Catt is satisfied with Joey Carbery's performance in Saturday's win over Japan as the Munster out-half made his first international appearance since the 2019 Rugby World Cup.
Carbery has missed long stretches of the last two years due to injury but marked his reintegration with a start at the Aviva Stadium and is in contention for further game time against the USA this Saturday.
Catt said he was hopeful that Ireland can get the 25-year-old back up to speed in the short-term.
"It's the first time I've worked with Joey. For 18 months he's been sitting there twiddling his thumbs and not getting an opportunity, but eased his way back in there like a few players who haven't played internationally for a while, it does take a little bit of time," he said.
"But I thought him and Jamison Gibson-Park performed well. I thought they controlled the game quite nicely and again, it's just the start of Joey's recovery really in terms of where he's at.
"We know what he's capable of doing and it's just about how quickly we can get him up to that speed for him to really go and impress."
Leinster's Harry Byrne is also in contention to make his Ireland debut. Catt said that the 22-year-old out-half's emergence has benefited the competitive edge in the battle for the 10 jersey alongside Carbery and Billy Burns while Johnny Sexton is rested for this summer's tests.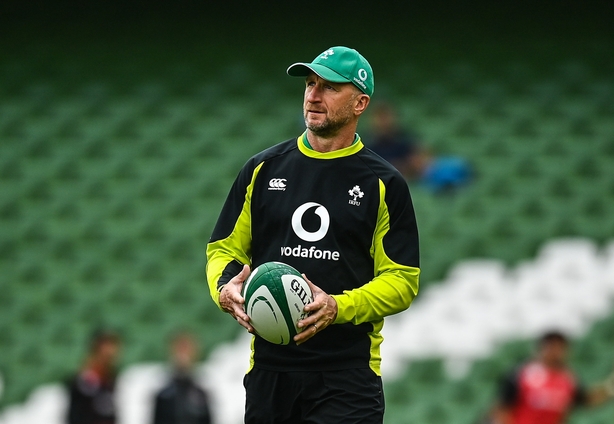 "Him, Billy and Joey are all pushing each other - exactly what we want, a little bit of competition in the squad. It's the same with the nines and the centres.
"Harry's got a fantastic skill-set and he's been able to train with us today which has made a big difference too. Whoever gets their opportunity at the weekend needs to make sure they take it with both hands."
The competition for places is no less fierce at scrum-half with Craig Casey, Caolin Blade and Jamison Gibson-Park.
All three of them have been pushing each other
"The three nines that we've got it's their ability to play quick. They're quick to the ball and their skill-set is exceptional," said Catt.
"So their passing, their distribution and their understanding of the game has been very, very impressive and all three of them have been pushing each other.
"We want to play the game quick. We don't want to hang around and those three nines are the ones that complement us at the moment."
With the evolution of the team's style still under scrutiny since the last World Cup, Catt feels finding the route to victory against an impressive Japan side was the most satisfying aspect from the weekend.
"We can always be better. Every team wants to be better but I think we scored some very good tries, very quickly against a top, top side," he said.
"With the new faces and the amount of time we had together, we've all been pretty much pushed to make sure we can deliver a winning performance.
"I think the boys did an exceptional job on the weekend. They found a way to win and that's what international rugby is about ultimately."