Bernard Jackman says Ireland still appear to be a work in progress in facets flagged up by the post-2019 Rugby World Cup review.
Andy Farrell's side, missing a number of regulars due to British & Irish Lions commitments or because they are being rested, were back in action for the first time since the Six Nations as they recorded a 39-31 victory over Japan in an Aviva Stadium thriller on Saturday.
Japan were the side who put the first big dent in Ireland's World Cup hopes two years ago in the pool stage as the hosts pulled off a stunning result.
Speaking on RTÉ's Game On, Jackman pointed out that one of the outcomes from the post-tournament review highlighted the area of skill-set but feels the evolution on that front since then has been limited.
"Definitely in terms of skill level, there hasn't been the improvement that is needed," he said.
"So one of the big focus points of the World Cup review was that our skill level wasn't as good as it needs to be to compete with the top teams in the world.
"Once again, in terms of attitude, work-rate and desire, there was no difference between Ireland and Japan. But [Japan] certainly found scoring tries a lot easier.
"Their speed of thought, skill-set and their kicking game - actually their attacking kicks - was a level higher than Ireland's.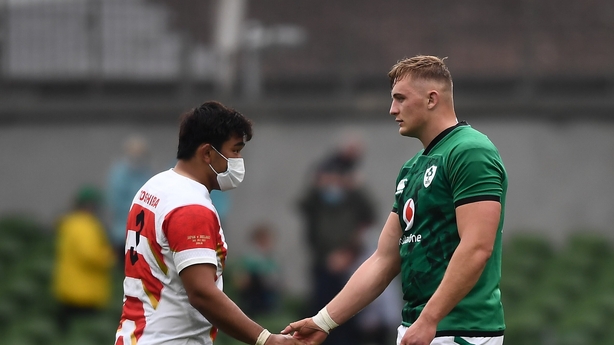 "So there is still a lot of work to do. You could see glimpses of what Ireland are trying to do. Sometimes it worked really well and other times just little inaccuracies or a player not fulfilling his role properly led to the ball being turned over."
While further personnel changes are expected for the USA game on Saturday in order to give fringe players more experience, Jackman expects pressure for more evidence of evolution to ramp up in the autumn and felt the likes of Gavin Coombes could have seen more game-time against Japan.
"It will really be in November when they get the Lions players back, I think there will be big pressure on to start seeing some more complete performances," he said.
"There's no doubt [Farrell] felt the pressure to get the win against Japan and he picked the most experienced team that he could.
"I'd be a little bit critical of the fact that someone like Gavin Coombes was left on the bench until the 68th minute given he's just been Munster's player of the year, given how good he looks and is ready to step up.
"America were decent against England but realistically Japan was a higher level in terms of a test and I want to see the likes of Gavin Coombes and Craig Casey playing for Ireland against better quality opposition and seeing have they the potential that we believe they have."